Rembrandt Deeply White + Peroxide Whitening Toothpaste 2.6 oz (pack of 6)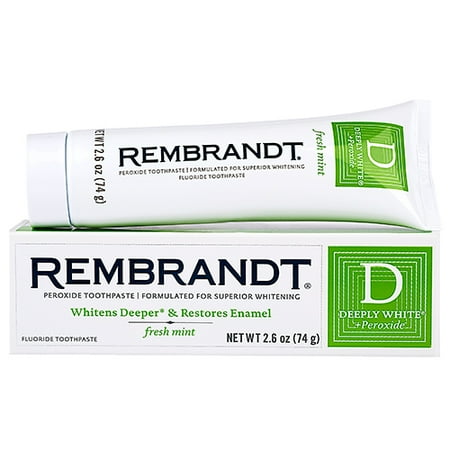 MSRP :

$20.82





Sale :

$7.88

Sold & shipped by Pharmapacks
Product Description

Additional Information

Reviews
Product Description
Whiten your smile from the inside out while restoring tooth enamel with Rembrandt Deeply White + Peroxide Toothpaste. Specially formulated with a rapid-release peroxide ingredient, this mint whitening toothpaste starts working immediately on contact for visibly whiter teeth. Unlike most whitening toothpastes, which only whiten on the surface, this daily-use deep whitening formula is expertly designed to provide double the whitening action: On the surface: gently polishes away surface stains, without scratching the enamel Below the surface: safely whitens below the enamel to help remove deep stains where they start.
Additional Information
Specially formulated Teeth Whitening Toothpaste with rapid release Active Dental Peroxide Deeply Whitening Toothpaste; Active Dental Peroxide releases oxygen for the best whitening Sodium Fluoride helps Restore Enamel, Strengthen Teeth, and Prevent Cavities Strong Stain Fighting Ingredients Remove Coffee, Wine, and Tobacco Stains
Reviews
ale4ka
defective
Unfortunately I got the pasta defective. There was a foil to the paste and a tube inflated. (((
jmorford
Mixed Feelings
I have mixed feelings about this product. It has a massive .884% Sodium Fluoride. It is hard to find anything close to this price. The taste is not horrible. The consistency is a little runny, but that is normal with this much fluoride in the toothpaste. The main problem that I felt was with the amount in the tube. I used the product 32 times (16 days x 2 brushes per day) and I only have about 1 day worth left of toothpaste. I did have a big puff of air on the first day and that was expected since the container said so, but there was another. My tube was probably only filled a third of the way. This may be normal, but still this would mean over $125 a year just in toothpaste! That would be the cost of about 2 cavities a year with my insurance. I will say this though, when I called Rembrandt they did refund me my purchase price plus tax for this product. Good product, good customer service, but a little pricey for the benefits.
QuianaM
Don't waste your money!
I purchased this product to see if it could whiten my teeth. I do not smoke or drink coffee and my teeth are not stained. My teeth are just yellowed because of time. Since the product claimed to whiten I thought that I would give it a try because no other toothpaste has. Unfortunately this toothpaste worked just as well as any of the cheaper whitening toothpastes. I do not recommend it if you only want to whiten your teeth because of age. Also the tube is only about half full because of the peroxide in the paste. So do not expect a full tube. Lastly make sure that if you want to try this product that you have the little plastic device that id used to squeeze the toothpaste up from the tube because it is a little difficult to get out of the tube.
Bfcope
Rembrandt D-green
Does not taste good and is extremely thick and hard to dispense from the tube. Haven't been using long enough to rate its whitening efficiency but is pretty abrasive so should work for any surface stains. I also use the Rembrandt red with peroxide,
sbj1104
cleans very well, prevents film from forming
After brushing each morning and at bedtime, I did not experience that nasty film I used to get on my teeth or that gross film on the inside of my cheeks by the time I get to work. I rinse first with my germ killing mouthwash, then brush with this and my teeth always feel exceptionally clean. No more film, yay! I do prefer the Winter Mint version taste wise, and because I eat/drink a lot of staining foods (and am a past smoker), I don't get the best whitening results but my teeth look and feel a whole lot better than they used to. I like this paste so much that I have forsaken all others. I switch up every now and again but always come back to it because it's so good and I've yet to find a toothpaste that eliminates the nasty film as well. I've tried the 12 hour pastes, but don't like them as much.