Hawkeye 2-Gallon Aquarium Kit, Power Filter and LED Lighting 10"DIA x 10.56"H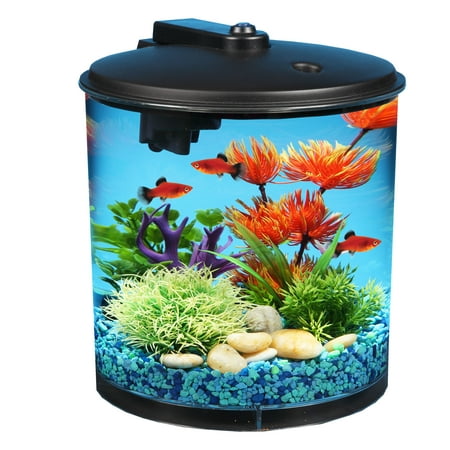 Sale :

$26.86

Sold & shipped by Walmart
Product Description

Additional Information

Reviews
Product Description
This Hawkeye 2-Gallon 360 Starter Aquarium Kit With Led Lighting works well for beginner aquarium owners as it is relatively easy to set up and install. Imagine sitting in front of your tank watching beautiful tropical fish swim gently back and forth. Having an aquarium at home or at the office is not only decorative, but is known to provide therapeutic effects also, relaxing your mind and increasing your overall well-being. Research has shown that folks who own an aquarium have better health than those who spend their time lounging on the couch watching TV.
Additional Information
Energy-efficient LED lighting with 7 selectable colors to enhance your viewing pleasure

Internal power filter with premium filter cartridge keeps aquarium pristine and your fish healthy and happy
Uses Tetra Whisper XS Filter Cartridges
Impact-resistant plastic construction with crystal-clear clarity so good that most think it's glass
Reviews
ChickiePoo55
An Okay Little Aquarium
This is a great sized tank for a betta fish. The color changing lights are fun and the kit does come with basics to get you setup. There is a guard that snaps around the bubble line and over the inner tube to keep fish out so they don't swim down the bubble tube. However, my fish in his fourth day with us got way too adventurous and still managed to get all the way down under the gravel bed filter. Sooo, with the next fish, I am going to secure a bit of netting under the snap-on guard to really prevent anyone else from going down the tube. Plus it will help disperse bubbles so the water surface doesn't move as much. We had to turn the pump off for a while because the fish was freaking out every time the pump was on. He would hide in his plant and rarely surface with all the bubbles going on.
sowhatmatters
Very Nice
I baught this and my toddlers have been mesmerized ever since! lol I got the clear marble rocks for my tank and it allows the color to really shine threw, some of the colors arent that bright but the others are really cool and my kids get a kick out of a diff color everyday :) Make sure you only put one or two little fish in it otherwise it will get cloudy, I would also recommend you buy the tiny filter to set up with it. Ive included pics from morning to evening and no flash.
Andmart
Awesome aquarium
I bought this aquarium because " Santa" gave a betta fish to my little 7 years old boy last Christmas in a very very small aquarium. We are thankful to Santa because he couldn't have made my son and my little daughter happier! I would like to keep them very happy and their new friend (pet) alive for as long as we can. I didn't know much ( actually nothing) about fishes so I started to read many things online and I discovered that our Jhonny ( our betta has this name now) needed a bigger place to be happy and live more. I ended up choosing this aquarium 1st because it seemed to be big enough, 2nd it looked beautiful and 3rd it had a very nice price ( just 22 box including colorful LED and air pump!!). When it arrived I noticed that it had no black background as shown on the picture, the bottom also is not black but everything else is just like advertised. The air pump works just fine and also we can adjust the air flow by turning to the right or left a piece of the air pump ( sorry i don't know the name of this part in english-I'm from Brazil) which is amazing because during the night is better to have less noise even though it didn't makes a lot of noise. ( I let it runing 24/7 as I 've read online to do so). The colors are just awesome! Everybody in my home is in love with this little aquarium! I'm almost as excited as my little boy and my 2 y/o daughter with it. Now my son loves to remain on his bedroom because he is no longer alone ! :). And I'm sure that the little Jhonny is glad to have his new home. The pictures speaks for itself. So beautiful! So nice. Good quality and an awesome price.
Kaj4711
Love it!
I bought this tank for my daughters betta fish. I love the way she can see it from every direction in her room & the fact it now is her night lite. I think our fishy loves having more room too I know it's only a 2 gallon tank. But seems perfect for one betta fish.
DJDaddio1
Fun Product!
This is a great aquarium for you if you only have a fish or two. Plenty of room for a heater, thermometer and even I even was able to put in a cave for the fish to swim through! The cover and base are white-not black as in the ad. The L.E.D. light is AWESOME!! There are about 12 different settings. Solid colors and flashing or sow rotation-it makes this tank FUN! My son has had a Betta fish in it for a couple of weeks now, and the fish is doing much better than when it was in a glass fishbwl. I highly reccomend this tank!!