Holmes Smoke Grabber Ashtray (HAP75-UC2)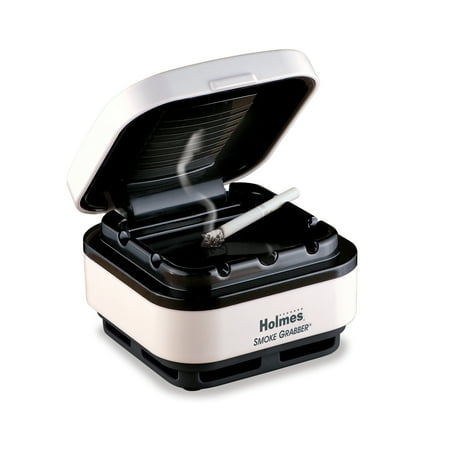 MSRP :

$16.99





Sale :

$10.44

Sold & shipped by Walmart
Product Description

Additional Information

Reviews
Product Description
Non-smokers can sit and enjoy time with their smoking friends with the Holmes Smoke Grabber Ashtray. This piece is designed to absorb plumes from cigarettes and cigars as well as reduce the odor from secondhand fumes. This smoke ashtray is made with a specialized carbon filter that absorbs the smoke as the cigarette rests in the tray. Just plug it in while smoking to keep the room smelling better. It comes with a home adapter and can also be run on two "D" batteries.
Additional Information
Also operates on two "D" batteries (not included)
Replacement filter: HAPF7PDQ-U)
1-year warranty
Battery operated
Tray is removable and dishwasher-safe
Reviews
Jaysmoove
Used item
I ordered myself one because my grandfather smokes a lot of cigars, and when I went to pick it up about 2 days ago, it looked new, until I opened the box and it was disgusting inside as if someone has been using it for YEARS plus it doesn't even work! I'm waiting for my other purchases to be ready for pickup before I return it but don't waste your time going it online, if your going to get it go in stores smh.
Katie
Don't waste your money
These gadgets just do not do a serious enough job to be worth a buck. I unpacked the one I just bought and put it together using the instructions, to then find out (surprise) it takes C batteries. Not a word about the batteries required anywhere on the box, but the picture shows what definitely looks like an AA. Very deceptive. So when I saw it takes (4) C batteries I was annoyed at having to make yet another trip to the store for the proper batteries. I keep AAs and AAAs around, but who keeps C batteries lying around? So my trip back to the store will be to return this toy. I will use my regular HEPA room filter when my smoker friends come visit so they don't have to go out into the bitter cold. I have asthma but my room size HEPA more than cleans the air without my guests having to hold their cigarettes inside a little box that doesn't do anything effective.
Rocky222
Holmes portable is one of the best for price.
PROS - Inexpensive and it works. filters are relatively cheap and easy to change. Actually filters out the smoke, tar and odor. Comes in battery style and 110 volt style. CONS - Filters MUST be changed out often. Can not find the 110 version that is advertised. Entire unit must be replaced because of cigarette residue. This is a pretty good unit. Some things you can do to make it better are - Double up the filter. Dish washer will clean it, but it must dry for a long time and be lubed with WD-40. It's easier just to replace the unit. Just remember, it does do the job.
allura
Excellent Product
I have purchase this item before and I am very happy with the item stops the smoke in a room, you must clean it, best smokeless ashtray I have found, Walmart is the cheapest for this item, you can also get the filters at walmart, I will continue to purchase this item,
Muffet
WORKED FOR 3 WEEKS
Worked well for 3 weeks. Smoke was drawn into the filter and I blew the smoke into the ashtray. Kept the area pretty much smoke free. Was pleased at first. Then the batteries died. Bought two sets of "D" batteries. One set to use later. Replaced the batteries and the dern thing wouldn't turn on. I always kept the lid down when not in use. So disappointed! Now I have to try and find another one. I won't be buying this one again!