Sunbeam Warm Mist Humidifier, White (SWM6000-UM)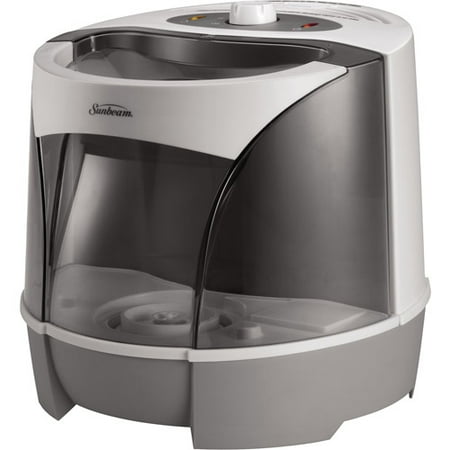 Sale :

$29.99

Sold & shipped by Park Slope Outlet
Product Description

Additional Information

Reviews
Product Description
The SWM6000-UM Sunbeam Warm Mist Humidifier helps improve humidity levels room by room. This device is easy to operate and allows you to adjust the desired level of moisture. The aromatherapy humidifier comes with a tray for adding scents and medicated vapor to your air. The tray is dishwasher-safe for added convenience.
Additional Information
Incorporated handles located for quick and easy relocation
Easy-to-operate controls will aid in maintaining your desired comfort and humidity level
Sunbeam humidifier, white with dishwasher-safe tray
1-year warranty
Reviews
Jill
You pay for what you get
Bought this in the store for around $20 because it was on sale and filterless. Have had this product for a two weeks and have used it for a solid week due to respiratory sickness. The only family member that can tell a slight difference is the one who is sick. Again, that is a verrrry slight difference. All well family members do not notice a change at all. The machine is rather noisy & it does gurgle. When on the low setting, it does run for a longer time. However, when running on the high setting, it runs for nearly five hours. I have read the instruction booklet before using this product. I have noticed we have to jiggle the water container to fit in the way it should upon placing the container back onto the humidifier sometimes. The machine does power down after the water tank has emptied. We're not impressed, but minimally satisfied for the slight notice of it's ability. Again, you pay for what you get...
moochickatkin
Sturdy, Clean, and Easy to use
The running time is a HUGE plus. The clear tank is an awesome feature for me; my old humidifier got moldy and we didn't know about it. That won't happen with this one, though! This isn't the most quiet humidifier you can find, but its also not the loudest. It's great for the price your paying. Tip: do not carry the water tank by the handle, you'll drip condensation if you do.
RpDn
High maintenance joke, humidifies when it works
Two stars because this warm mist humidifier is 'filter-free' and while it worked, it did humidify my small room. However, in my opinion, it is too high maintenance while claiming the opposite... and auto-shuts down/scales the heating element too quickly. - The 'Instruction Leaflet' specifies Daily Maintenance which consists of lifting off the tank, removing the misting chamber (simple) and placing the base in your dishwasher top rack... washing daily. Also, you are to wipe the heating element (after an hour cool down), which "is lined with a coating that is designed to provide the easiest cleaning...". Hah. - I filled the water tank, placed it on the humidifier (for recommended two minutes +), plugged it in and turned on high. After a few minutes, you are treated to a slightly muffled sound of boiling water and a -very- warm merest wisp of mist (unless your room is cold perhaps). (The 'medicine tray' is merely a very small/shallow depression, perhaps a thimbleful, near back edge of the mist vent on top of humidifier.) - It brought my 225 sq ft bedroom humidity up fairly quickly, from low mid 40s to about 61%. I shut it off to avoid condensation on my window (mid February). This warm mist humidifies from the ceiling down... for example, using two humidity meters, 57% at 5ft, 50% at two ft... the humidifier base sitting at a little more than one foot. My bed is not very high, so the lower number matters. I also saw a 9% difference later. After humidity dropped a bit, after maybe an hour, I turned humidifier on low. It ran for a short time and then the 'reset light' came on and the humidifier shut off the heating element. The water tank was at least two thirds ful or morel. This shutdown is supposed to occur if... the water tank is empty, if scale builds up on the heating element, or if you do not Reset properly after a water tank refill. The humidifier would not run properly, even if I got the Reset light off... it came on again quickly. - Turned out that the heating element, after such light usage, already was covered with a white scaling. I disassembled the humidifier, topped off the water tank, took the misting chamber with heating element to the bathroom, and had to use the scrubbing side of a small double-sided scrubbing sponge to get scaling off. After reassembly, the humidifier began working when I turned it back on. We are on city water... perhaps this scaling was partly due to being the first use with manufacturing residues present, I don't know, but the daily maintenance and Reset procedure are more than I care to do daily... constant dishwasher use and scrubbing the heating element. - The Reset Procedure consists of refilling the water tank, doing a Daily Maintenance procedure, and waiting 15 minutes for the automatic shutoff to reset. If the Reset light remains on, you are to do this Reset Procedure again. - Guess I'd rather try the ultrasonic I had intended to buy, if it had been in stock. (Included photo shows "medicine tray".)
LLBulldog
Pug has hacking cough
After a teeth cleaning, my friend Cookie has a hacking cough. The humidifier has helped him and his hacking cough is almost gone.
disgruntled
sunbeam fails
As a quality professional is pains me to see products like this that perform unacceptably, and then when dealing with customer support to discover that they are incompetent and failing miserably to satisfy their customers and protect their brand. I went through 2 customer svc reps and a manager before I finally announced that I will no longer buy any sunbeam product based on the encounter that I had with them. I am amazed that they are apparently unaware of the issues with their products that users are posting all over the web site, and are not properly trained to deal with customers. Here is my short recommendation....don't use their products because it perpetuates the continued sales of inferior products and accepts the lousy service they provide in support of those products ......that we pay for and have to suffer through. Demand quality in products and service......do not compromise.........otherwise it only gets worse....and you will have no one to blame but yourself!