Holmes HAWF2021-WMUM Dual Blade Twin Window Fan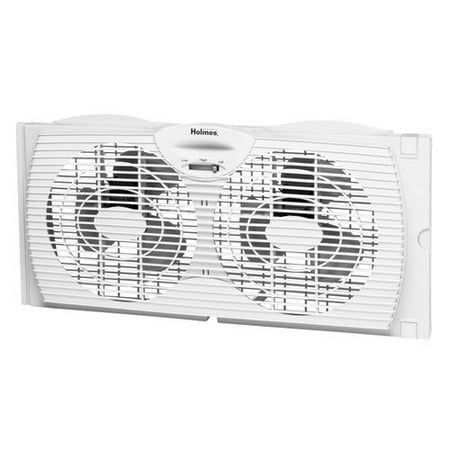 MSRP :

$25.99





Sale :

$22.44

Sold & shipped by Walmart
Product Description

Additional Information

Reviews
Product Description
The Holmes window fan can provide some relief from hot weather by drawing in cooler air from the outdoors. Or this Holmes fan can be mounted in reverse in your window to exhaust stale indoor air. This twin window fan is designed to fit into most slider and double-hung windows. Quiet operation makes the Holmes window fan a good choice for living room or bedroom use.
Additional Information

Holmes Window Fan:
Twin 6" blades
Designed to fit into most double-hung and slider windows
Holmes window fan features a slim design that allows for use with a window screen in place
2 speed settings
Adjustable extender screen and bonus extender panel help to securely mount the twin window fan into larger windows
Replaceable 5-amp fuse for safety
1-year limited warranty
Holmes window fan model #HAWF2021-WMUM
Cool the air in your home or mount it in reverse to get rid of stale indoor air
Available in white
Reviews
TrueWalmartShopper
Why I'm returning it
It looks nothing like the picture and it's not even white, it's grey and has yellow tape inside where the blades are. The high speed doesn't feel high and the low speed is super low.
Blackwood13
Unexpected value!
I bought one of these from my local Walmart about 4 years ago, and it's still going strong. It cools a small to medium sized room all by itself, and the 2 speeds are quite adequate for the job. I moved this year, and will be buying another to use in a larger livingroom, and I expect it to work well. I use it almost every day in the summer. I have a friend with an air pressure tank, and this year I will be bringing the old fan for a thorough cleaning. Since it is a few years old, I plan on doing this plus adding some Mystery Oil to the motor, though I dunno if it will be before or after the summer season. To sum up, it works *SO* much better than I thought. I had bought another brand the year before I got this one and by the end of the season it was DEAD; this one is going into it's 4th year with little care on my part. Moves are well for it's size, is fairly quiet (but does make noticeable noise) and lasts longer than I thought as well. To me, an excellent and unexpected value for my money.
jim2332
Dual Blade Twin Window Fan
First the price is right, second this fan only has two speeds lo and hi which is perfect for where and how i wanted to use it in a kitchen small window to pull cool air in when the sun is not on the back of the house. It works great i wanted lo power reliable construction so that it can run great part of the day, and i also wanted lo power because i did not want it to sound like a exhaust fan wanted no more them minimal amount of noise from it this fan is quite. Assembly really easy you add one piece on the side boom its ready for the window the other side is accordion style it has two clips you pull out and stretch to fit your window length. Also the top has two raised bumps so you can bring the window down to catch it. Works perfect for what i needed hope this helps you make your selection.
notenoughtoys
ok fan, but nothing great.
Biggest issue I have with this is that the "slot" at the top where the window closes on is too small, so instead of closing against the body of the unit, it rests on the round slot walls. Doesn't move as much air as a box fan, but it is a little quieter.
JACB
It is loud, but it works.
It is loud on low. It is so loud on high, you will not want to be in the same room with it. :p That said: It works pretty well once the air starts moving through the house. I put it in a back bedroom and raise the window a bit in MY bedroom. It draws in cool night air. It was worth the money - even with the noise. ;)