Crimestopper Rs4-g5 Remote Start And Keyless Entry With Trunk Release - 1-way - 2 X Transmitters - 2000 Ft (rs4-g5)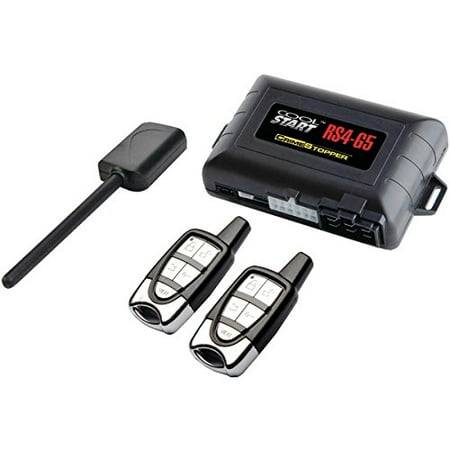 MSRP :

$48.49





Sale :

$56.18

Sold & shipped by 4Wheel Online
Product Description

Additional Information

Reviews
Product Description
The RS4-G5 Cool Start 1-Way 5-Button Remote Start and Keyless Entry System from CrimeStopper Security Products is the manufacturer's most popular remote start system. It uses two newly styled brushed-metal extended-range five-button transmitters that operate at a range of over 2,000 feet and gives you the added convenience of a full keyless entry system to make getting into your car a little easier as well as trunk pop so you can open your trunk at the click of a button. The RS4-G5 is compatable with gas, diesel and hybrid vehicles and also includes safety systems to make it compatible with manual transmission vehicles as well. One of the best features of the RS4-G5 is that it can be completely converted into a two-way paging system without having to re-wire any of the harnesses or removing the brain.
Additional Information
Crimestopper RS4-G5 Cool Start 1-Way 5-Button Remote Start and Keyless Entry System:
2 new-style 5-button transmitters with extended range
New smartphone interface port
Keyless entry and trunk pop
Additional aux output for window roll-up module or rear defroster
2-vehicle operation
Compatible with high-current and low-current vehicle ignition systems
1-way and 2-way conversion ready
Reviews
MisterPlow
Crimestopper RS4-G5
Very simple install, assuming your a hand's on person. I put it into my older 95 Toyota 4Runner, and it works like a charm. If you know how to read a volt meter, you can easily install this great system
Watchtower
Awesome range
Excellent universal remote start and relatively easy to install. Make sure you pick your ignition bypass! All vehicles after 2001 will need a Idata ALCA, or a FORTIN Evo-all or a DEI Dball2 or 3. I used the FORTIN Evo-all and got all the wiring off their website www.fortin.ca for my 2011 Hyundai Veloster. Works awesome!!!
jett
Good Deal
I purchased this for my 2006 Honda CR-V. Was easy to install. works very good. Also has to get a Fortin by-pass module to by-pass security system.
brooks12987546441
great
easy online instructions and pictures for your specific model vehicle. only 48 hours free use of online instructions then you have to pay. worked great for my vehicle. you must be able to get under dashboard and play with tiny wires to hook all the optional stuff up (door locks, trunk, windows)
HAPPY
Too Cheap And Too Good!
I never write reviews but I had to today. I have had Bulldog and Viper remotes but this $40.00 remote has more options than I will ever use. I hooked it up today using the directions and a work sheet from the Bulldog Remote web site for my model that tells you where to find the wires and what color they are. I almost had one installed for $450.00 so I saved $400.00 for a afternoon work. Super Happy!!!!!!!!!!!!!!!!!!!!!!