Call of Duty: Infinite Warfare Legacy Edition, Activision, Xbox One, 047875878631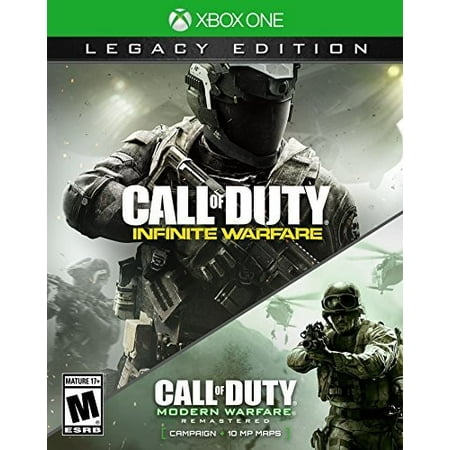 MSRP :

$79.96





Sale :

$21.98

Sold & shipped by Walmart
Product Description

Additional Information

Reviews
Product Description
Call Of Duty: Infinite Warfare - Legacy Edition for Xbox One
Additional Information
Call Of Duty: Infinite Warfare - Legacy Edition for Xbox One
Reviews
Tttt
Worst Call of Duty Game
Poor game. They've gotten away from the core of what made Call of Duty #1. It's like they gave in to all the ten year demands of flying around, goofy ways to get meelee kills, and a repeat of B-Ops 3 with just a different kill steak and guns. They need to stick to what made COD great and thats the gun play and good balance to the game. I gave this game a try and was disappointed. I mainly bought it for the CoD 4 remake, but notttttt worth the high $$$ tag. Just wait until the price lowers or they sells CoD 4 by itself.
Katsudor
Call of Duty Infinite Warfare is Choic
Buy a Call of Duty Infinite Warrior game if you like shoot'em ups. I like this one.
Littlefoot
Awesome purchase
I bought this game because I absolutely loved in on the Xbox 360. It was the first game I ever got when I started playing Xbox in high school and I fell in love with the game. They did a wonderful job at remastering it for the Xbox one. I am very glad that they have not really changed anything about it from the original. The only things I have noticed are: More slots to create a class, which is a good thing. More camos and you can change the reticle design. Other than that, they have done a pretty good job at keeping the game original, which is what everyone wanted.
Buckeye
Awesome game
Better than black ops 3 but ops 3 has better maps
Memyself
Husband loves this game!
Graphics are amazing.