Kidde Sealed Lithium Battery Power Smoke Alarm I9010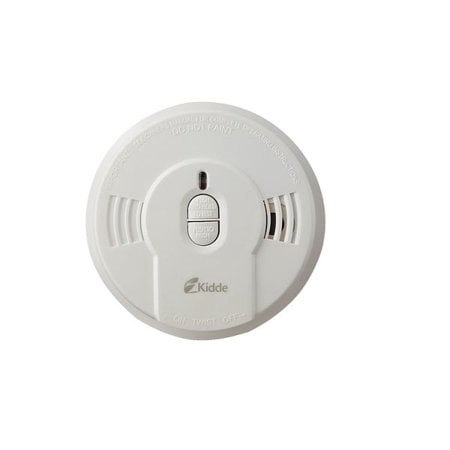 MSRP :

$18.87





Sale :

$14.84

Sold & shipped by Walmart
Product Description

Additional Information

Reviews
Product Description
The Kidde i9010 lets you sleep with the peace of mind that comes from knowing that you're going to be woken in an emergency. It has a battery designed to last for up to 10 years so you can go a long time between replacements. This smoke sensor has an excellent ionization sensor to detect fires. It sends out a loud 85 dB alarm so you can hear it from a distance. This model comes with a mounting bracket to hold it in place. Since it's battery-powered there's no need to drill or hardwire any electrical components. A tamper-resist feature keeps everything in good working order. A hush button lets you turn it off when you light candles.
Additional Information
Sealed-In Lithium Battery – Sealed-in lithium power supply; no battery replacement required over the 10 year life of the alarm. Eliminates worry about battery removal or unauthorized deactivation of alarm.
Self Activation – Alarm automatically activates when attached to the mounting bracket.
Alarm Memory – Rapidly flashing LED alerts user if the alarm has sounded since the last time the test/reset button was used.
HushTM – Will temporarily silence nuisance alarms and will not allow hush mode to be activated unless the unit is in alarm mode.
Test/Reset Button – Tests unit's circuit operation and resets memory after an alarm condition occurs.
End of Life Warning – Alarm chirps every 40-45 seconds indicating the alarm is in need of replacement.
Tamper Resist – (when activated upon installation) effective in preventing someone from removing the unit from the mounting bracket.
LED – A flashing red indicator light with four modes of operation: standby, alarm mode, hush mode, and memory set.
Reviews
Larrybear
UPC : 047871095933 - Kidde Sealed Lithium Battery Power Smoke Alarm I9010 - PickPanda.com
Just purchased about a week ago. Installed in one room over from kitchen farthest side from kitchen but for some reason about 5 to 10 mins after turning on oven, or boiling a pot of water the thing goes of and although the hush button works fine so it's not too annoying. My thinking is that the battery won't come close to lasting the ten years at this rate. All though this is the case with me and I am very dissatisfied with the product and that it apparently will only last for a short time. Doesn't necessary declare it to be a bad product as perhaps it's just not a good product for smaller apartments like ours. Although different brand/model the photoelectric smoke alarm installed in kitchen does same thing only not as much/often. Nevertheless, don't recommend this product for small apartments or rooms fairly close to kitchen.
DeeAnalyst
Great alarms
Packaged well for shipping. Mounted on the wall without difficulty. Didn't like the install date label at the bottom (looked tacky). It peeled off clean. Wrote install date on back. Already had installed one in the kitchen
D
Smoke detector
Seemed to work when I tried to set it off by blowing a candle out and letting all the smoke go into it.
teresa
Smoke detector
Had to disable alarm and return to store. Once activated, the alarm continually went off and would only silence while holding down on the silence button. I bought 2 of these but only one malfunctioned.
Bearshaka
Kiddie 10 year battery smoke detectors
Very easy install. Had all 5 up and running in less than an hour. No more 3am false alarms.