DENTEK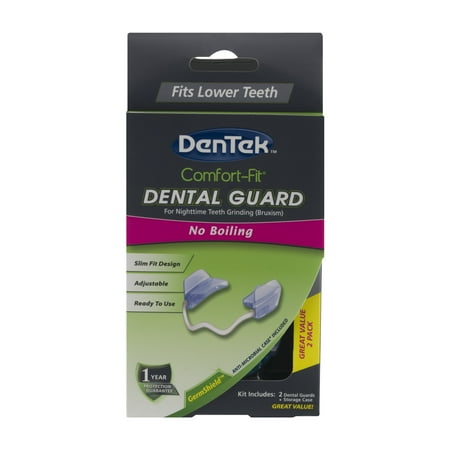 MSRP :

$33.62





Sale :

$29.97

Sold & shipped by Walmart
Product Description

Additional Information

Reviews
Product Description
Are you a nighttime teeth grinder? Does your wife, husband, or significant other complain about the annoying sound keeping them up? The DenTek Comfort Fit Dental Guard is here to solve your problem (and theirs). The Bruxism Night Guard is one size fits all. The DenTek Comfort Fit Night Guard is designed to be worn to protect your teeth from nighttime teeth grinding (bruxism) and to silence the grinding sounds that go with it. Your Bruxism Night Guard requires no boiling. Proving durable protection to your teeth, this DenTek Comfort Fit Dental Guard comes with a bonus 2 for the price of 1!
Additional Information
DNTK DNTL NGHT GRD ASRTD
DENTAL ACCESSORY
Reviews
SRSmith85
Great for small mouths
I'd always been told two things by every dentist I've seen: 1) I have a small mouth and 2) I grind my teeth. After recent extensive dental work because of this problem, my teeth were extremely tender and the grinding only aggravated it, giving me the worst jaw pain I'd had in years. I bought these after trying one of the boil-for-custom-fit ones and finding it hard to fit and bulky. On the smallest setting, this fit well in my mouth and I could almost forget I was wearing it. The very first morning, after I took it out, my jaw felt peculiar and it took me awhile to realize it was the first morning I'd woken up with no jaw pain/tension in a long time. On a whim, after a few days of using it, I tried sleeping without it and the jaw tension came back. I can't speak to the durability of this item yet, as I've only owned them for a week, but 2 for the price seems like a deal to me! Being unable to attest to the durability is the only reason I didn't give this product a full 5 stars.
KCTX2
It actually works!!
Upon reading the other reviews and finally purchasing this product, I was thrilled to see for myself that the product actually worked! As flimsy as this mouth guard "appears" to be, it seems to work better than a mouth guard made by a dentist. I've used an expensive dentist-made mouth guard for over 20 years but when I didn't want to spend hundreds of dollars to replace my last guard, I was unsure that an over the counter guard could be an ideal replacement - but this one is (I have tried other over the counter guards that didn't work). And although I've only used this DenTek Comfort Fit Guard for 3 weeks, it had me sleeping better from day one!!! I was surprised and thrilled with it's performance and I haven't been disappointed yet. For anyone needing a replacement guard OR if you've been told that you need to start using a mouth guard to help with clinching or grinding your teeth at night (I do both), this guard is definitely worth a try! I'll admit that I'm really curious to see how long this guard will last, but with all things considered, it's been worth it so far.
JFrit
Jaw Clenching
I bought these mouth guards about six months ago after having serious jaw pain from clenching my teeth at night. My dentist recommended going back to my orthodontist, who I haven't been to in years (I'm 28), to get a mouth guard made to fit my teeth. After looking into it and realizing how much they were, I decided to look into an alternative option. I did my research and decided to try this brand and kind. I have had so much relief. They fit very well in the mouth and are adjustable. I like how they give you two, so you can rotate them nightly. I definitely can see teeth marks where my molars are, but they still work and I've had them for six months. I believe there is a year warranty on them as well, just save your receipt. If you are looking for a cheaper alternative to Ortho mouth guards, these are your best bet!! They really work.
Rayhandyman
It Has Worked!
For the last 2 months I've been having some discomfort with clicking and pain on the right side of my jaw when I'm chewing or yawning. I bought this product hoping it would help. The when I got it home it said on side of the box, "Do not use: if you have (TMJ) pain or clicking of the jaw. I was fishing the receipt out of the garbage to take it back to the store. I then just said to myself, why not just give it a try. The first night I wore it, it flet weird and unnatural sleeping with it. I got up in t he morning with a notable less degree of the clicking. But a few hours later the full effect returned and I even felt a headache on top of everything else. The second night I wore it and woke up the next morning with no clicking or jaw pain. It lasted all day. So far I have had no pain or clicking sounds on my jaw for two days in a row. I am getting used to wearing the mouth guard too.
RubyMonday
Best Grinding Product I've Ever Used!
I have tried several products for bruxism (including other Dentek products) and have never enjoyed any of them. They made my teeth hurt, didn't mold correctly, or made me drool at night because they were so large that my mouth couldn't close. I tried this and have been hooked for almost 2 years now. Sure, there may be a short time where you have to find out which adjustment setting is right for you, but stick with it and I promise it will be worth it! I highly recommend this to anyone I know who grinds and will continue happily using it myself!