DenTek Lost Filling Repair, Maximum Hold - 3 applicators []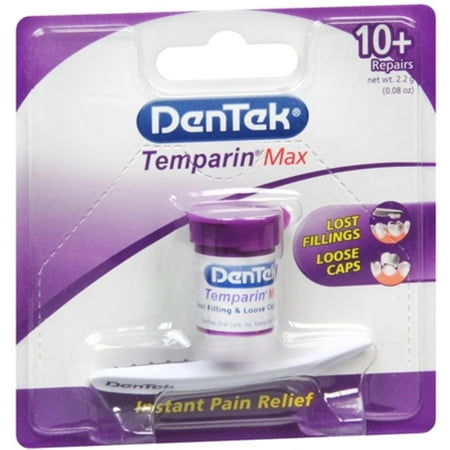 MSRP :

$4.64





Sale :

$6.37

Sold & shipped by The Online Drugstore
Product Description

Additional Information

Reviews
Product Description
Get instant tooth pain relief with the DenTek Temparin Max Lost Filling Loose Cap Repair kit. It offers a temporary remedy to lost fillings or loose caps, crowns or inlays until you make it to your dentist for repair. It's easy to use this temporary tooth filling kit: scoop a small amount of filling, roll it to a small ball and fill the cavity. Temparin Max dries fast and hardens in a few minutes. This DenTek Temparin lost filling repair process is clinically proven and safe for use.
Additional Information

DenTek Temparin Max Long Lasting Temporary Repair Caps and Filling:
50% more repairs
Quick set
Maximum hold
Immediately alleviates pain
Long lasting, temporary relief
13+ repairs
1 step formula
Dual ended no mess applicator
Temporarily replacement for crown, filling, cap or inlay
Designed with same ingredients dentists use
Dentist recommended
Temporary tooth filling comes in a 1-count pack
Reviews
GodsGood
The best
Works like a charm.
DW
Should've tried this first!
I was very apprehensive about using this because I was afraid I would trap food or bacteria or some other foreign object in the cavity. However, desperation for pain relief pushed me to give it a shot. I broke a molar this past weekend and exposed a nerve. I spent two days practically inhaling over the counter pain meds and ambesol to no avail. I should have started with this. It was so easy to use and provided relatively immediate and lasting pain relief. Very affordable. A few pieces chipped off after about 24 hours, but were easily replaced. The majority won't be coming out easily. The dentist will need to do it, for sure. The nerve still gets triggered by extreme temperatures, but those are easy enough to avoid. An absolute life saver! I never would have made it through the past few days without it. Literally. Thank you!
MyDogIsPenelope
Does what it claims
I have gotten a massive cavity all of the sudden and I wasn't able to eat, I was super hungry and desperate for anything cause I have a cold sore, a cut gum and a cavity spread all around my mouth and the cavity was the hardest to overcome, I had tried to use my other teeth to eat but food kept getting stuck I had about 2 weeks till my dental kicks in so I am buying time, I washed my mouth before I went and got this and I didn't have an issue getting it in or drying and then I made the mistake of going to dinner as planned I was able to eat my entire meal since I hadn't eaten much in a couple days but by the time I left and got back to my car where I left this it was time to apply more, it DOES say to wait and you really should it last longer if you wait, I have had to re-patch it a few times but it keeps the pain at bay once it dries I have experienced some pain while it is drying with it irritating the nerves but once it is in as long as I avoid gum, fiborus meats like steak and jerky etc, its fine, it tastes kinda gross but its not bad and its a whole lot better then the pain I was in
InTopekaKansas
Very Satisfied
Thanks to this product, I have kept a much needed molar for WEEKS so far rather than having the tooth pulled! I lost a LARGE filling from a molar and was desperate for relief, so the first time I used the product I rushed the prep and learned a painful lesson. As much as it may briefly hurt, COMPLETELY clean all loose debris out of the area you want to fill - loose debris is not a surface that can hold the product. After cleaning the area, rinse your mouth with WARM to almost hot water and do not dry: moisture activates the adhesion. (If the product is the least bit 'crumbly' in the tiny container add ONE drop of water and work it into the product. It should be the consistency of stiff putty.) Pack the product FIRMLY into the hole - this is not a time to be tentative! The tooth should stop hurting within seconds of properly packing the product into the cavity. Use the tool to carefully remove any excess material, and to smooth the filling surface - a rough filling is annoying. If your teeth are discolored and you are using this in a visible tooth 'paint' the uncured surface with tea or coffee on a cotton swab (rinse promptly if too dark). I managed to almost exactly match my own tooth color. After waiting several days for complete curing I was able to chew carefully with the surface, but treat it like the temporary filling that it is. The repair from my second try has lasted 6 weeks so far.
Dave
Very Satisfied
Works great if You need emergency filling till You can get to the dentist!