Natrol Melatonin Fast Dissolve Tablets, Strawberry flavor, 5mg, 90 Count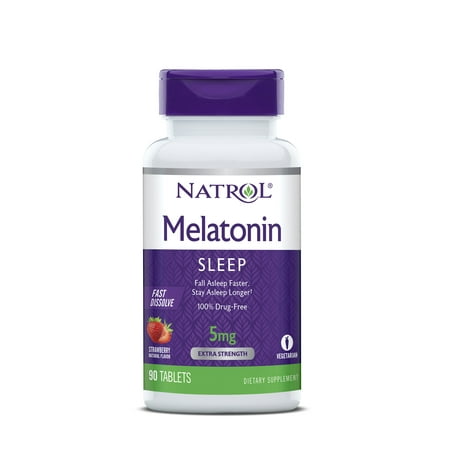 MSRP :

$8.19





Sale :

$

Sold & shipped by Walmart
Product Description

Additional Information

Reviews
Product Description
Natrol Melatonin 5mg Fast Dissolve is a fast-acting sleep aid for relief of occasional sleeplessness. Getting a good night's sleep is even easier with Natrol melatonin supplement 5mg, 90ct. This melatonin dietary supplement is a natural nightcap and comes in a single tablet. Melatonin, a hormone found in the body, helps promote more restful sleep, a more relaxing night and better overall health. These supplements are 100 percent vegetarian and do not contain any yeast, wheat, milk, soy, egg or glucose products. Natrol melatonin supplement 5mg, 90ct, tablets come in a strawberry flavor and easily dissolve in the mouth.
Additional Information
GET BETTER SLEEP – Melatonin is naturally produced by our bodies to manage sleep cycles, but its balance can be easily disrupted. Natrol Advanced Sleep Melatonin helps you fall asleep faster, stay asleep longer, and wake up feeling refreshed†, plus, it's 100% vegetarian

100% DRUG FREE – Natrol Advanced Sleep Melatonin is a nighttime sleep aid that assists with occasional sleeplessness.† This drug-free sleep aid means no morning grogginess. It is non-habit forming, so you can use it with confidence whenever you need to adjust your internal clock.†

BETTER OVERALL HEALTH – Natrol Melatonin helps to establish normal sleep patterns and give you a more restful and relaxing sleep and in turn, better overall health. Research shows that better sleep can lead to improved performance and focus.†

#1 MELATONIN BRAND IN AMERICA – Natrol is the #1 melatonin brand in America and one of the nation's leading manufacturers of vitamins and supplements

FAST DISSOLVE TABLETS – Natrol's unique fast dissolve strawberry formula enables faster absorption that can be taken anytime, anywhere. No water needed.†

Reviews
SM19
Great sleep!
Great melatonin fast dissolve melt away tablets. Strawberry flavor was good a light taste and they melt away quickly. I tried these because I have an odd sleep schedule working midnights and not always getting good sleep or enough sleep. I often wake up 2 to 3 hours after I fall asleep, which I know is not good for me. These not only have helped me fall asleep fairly quickly, but they have been great at helping me to stay asleep longer generally 6 hours or more, which works for me as my goal is usually to get 6 hours of sleep per day. More than that is just a bonus for me, but that's my odd schedule again. When I woke up After taking these I felt great not groggy or tired, which means I got some good sleep! I would recommend these to others needing a little help getting better sleep without gettting an overtired feeling.
djdavyb
Melatonin 5 MG. Quick Disolve Tablets
I always have had trouble sleeping, my mind wouldn't shut down and relax for me to sleep after hectic days at work. I found out that as we get older we lose what is called Melatonin, which is your bodies natural sleep mechanism. Since I started taking these tablets, an hr before bed time ( I've also taking them 1/2 hr before bed), my mind slowly shuts down and I can get some sleep. They have really helped me get some sleep, and I have a very busy and imaginative mind that keeps going and going and going like the energizer bunny's battery. I've also told my mother of 85 about these, she tried them and likes them, and also talked to her doctor about it, and her doctor told her it was good and ok for her to take. So if you or someone has trouble sleeping, I recommend trying these according to the label.
RB
Melatonin 5 MG. Quick Disolve Tablets
Makes me yaun, so it's working to make me sleep. 4 stars only because it's truly a potion strawberry taste
Deaner
Sleep!
This really works for me; I love it. It is all natural, so I don't worry. I get a more restful sleep. Just one supplement, twenty minutes before bed, and I have no side effects.
sewingbee2
Get ready for a good night of sleep.
If you have trouble falling asleep, try this. Dissolves quickly, tastes good and it works. Like a lot of supplements and vitamins, the bottles are much larger than they need to be. I wish you could buy a bottle this large that was filled to the top, cut down on the trips to buy more. Overall, excellent.