Graco LiteRider Click Connect Travel System, with SnugRide Click Connect 22 Infant Car Seat, Signal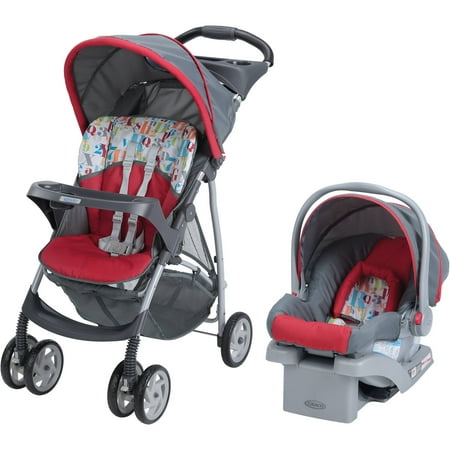 MSRP :

$150





Sale :

$81.34

Sold & shipped by Walmart
Product Description

Additional Information

Reviews
Product Description
Stay light and ultra-mobile with the Graco LiteRider Click Connect Travel System. It includes a stroller and the top-rated infant car seat. There are plenty of convenient features to keep you and your baby happy. The car seat is rear-facing for an infant from 4-22 lbs. It connects to the stroller with a secure, one-second attachment. The Snugride travel system is sure to get you where you need to go. The stroller includes a parent's and child's tray with cup holders and a large basket. The extra-large storage compartment can hold extra supplies for your baby. From pacifiers to blankets to diapers, you never know what you will need when you are on the go. Now you can have all of your bases covered with space for your essentials. You'll also appreciate the one-hand fold and lightweight baby stroller design. It weighs less than 17.5 lbs. The padded, two-level reclining seat ensures a comfortable ride for infants.
Additional Information
The canopy shades your child and the peek-a-boo window allows you to sneak a peek at your little one. The stroller is made to support a toddler up to 40 lbs so it can stick with you as they grow. This infant travel system brings you right back to basics with the adorable ABCs and 123s of the brightly colored pattern. Bold primary letters and numbers are complemented with soft grey in this fun gender-neutral fashion. Cover your transportation needs with the Graco LiteRider Click Connect Travel System.Graco LiteRider Click Connect Travel System, with SnugRide Click Connect 22 Infant Car Seat, Signal:SnugRide Click Connect 22 Infant Car Seat, rear facing from 4-22 lbs and up to 30"Click Connect system provides a 1-step, secure attachment of infant car seat to stroller, with an audible clickUltra-lightweight stroller weighs less than 17.5 lbs, so it's easy for parents on-the-goParent's tray with cup holder and storage conveniently holds your essentialsChild's tray with cup holder pivots for no-fuss stroller entryExtra-large storage basket can hold extra supplies for your childStroller folds with 1 hand, so your other hand is free for babyLocking front swivel wheel for easier maneuverabilitySnugride travel system has a 2-position reclining seat, for a comfortable position for your childCanopy shades your child and peek-a-boo window lets you sneak a peek at your little one at any timeStroller holds child up to 40 lbsQuestions about product recalls?Items that are a part of a recall are removed from the Walmart.com site and are no longer available for purchase. These items include Walmart.com items only, not those of Marketplace sellers. Customers who have purchased a recalled item will be notified by email or by letter sent to the address given at the time of purchase. For complete recall information, go to Walmart Recalls.
Reviews
Mowens74
Great price, but headrest is cheap
We bought this travel system for our daughter before we knew we were having a girl. I picked it because I felt it was neutral enough for a boy or girl. I love travel systems because they are so versatile. For the price you can't beat it and there is plenty of padding in the carseat unlike some of the other cheaper models out there. However, the headrest that comes with it is terrible! It doesn't provide any support at all. I'm constantly either having to move her head or stuff a receiving blanket in one side to support her head better. Also, her head tends to lean forward when in the car. I'm not sure if that is the car seat or if it is how the seats are in my SUV that cause that. Also, the button to unfasten the harness is very hard to push in. Sometimes you have to press really hard to get it to release. I'm sure over time that will improve, tho. The stroller portion is great and has plenty of room in the basket. I can fit the diaper bag and my purse in it.
jeniceangel
Love it! Mother of 3!
(First off, let me tell you that I am very opinionated, and if I have a problem with something, I let people know.) I love this system! This is my 3rd child, but my 1st new stroller & car seat. (Other 2 had hand-me-downs). My little boy is almost 5 months old, we use the car seat almost daily, and I have no problems at all! I guess occasionally I have to tighten the straps, but I just pull on them from the back and they tighten just fine. Only had to do it twice. Never had a problem with the buckle at all. We use the stroller ...maybe 3-4 times a month. I love it! I like that the drop down basket fits my diaper bag without me having to wrestle it out. I can put the stroller up & down with one hand and I don't have to bend over!!!! I have an EXTREMELY bad back and can hardly bend at all, and I can handle this stroller with no problems. It took a few times opening the stroller from the closed standing position to get the hang of it, but now I can open it just fine. Love the deep cup holders, I know my drink isn't going to tip over. Easy to steer. The car seat is easy to snap in. At first I was worried that it wasn't secure enough, thinking it could tip over toward the front of the stroller, but then I figured out the little red locks on the stroller that flip and secure it in place. I love this system and wish I'd had it with my other two!
jhenegan
GREAT BRAND AND SAFE PRODUCT
My husband and I have looked and looked for a travel system within our budget. We didn't think to find anything at Walmart, so by chance we came across this combo indeed, it was the only one hidden in the back of all the other travel systems in Walmart. For the price, we thought lets purchase it!! I'm so glad we did because it was very easy to assemble, easy to clean, my son is very comfy in it and he falls asleep in it with ease. Anything of the Graco brand is a safe product to purchase and is always highly recommended anyway. The color pattern is the same as you see on this site and just a wonderful product overall especially for the price.
JustSaying
Love it
The carseat and stroller came in great condition.It was very simple to assemble the stroller.It took about 15 minutes.They are both light weight but seems durable.Carseat base was also super simple to install in our car. I love how the carseat clicks easily in and out of the car base and stroller.Im 5'10 and the strollers height is perfect for me.Folding and storing the stroller is a breeze.The stroller only has two settings for the seat.I can't wait to use with my lil one.
Smiley
Very affordable
Great savings on the two combinations great price for a baby shower gift The nicest 30 but I wish you came in low colors but I'm greatly satisfied and I'm sure the baby will be to