Graco Nautilus 65 3-in-1 Harness Booster Car Seat, Track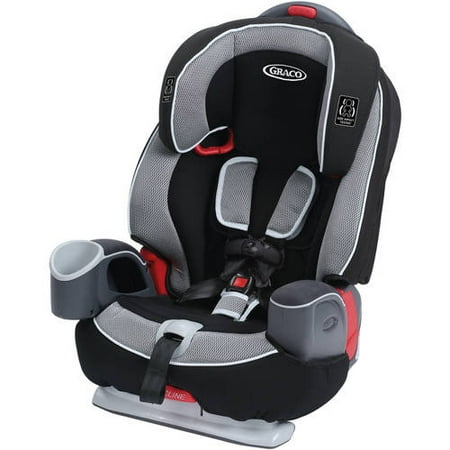 Sale :

$149

Sold & shipped by Walmart
Product Description

Additional Information

Reviews
Product Description
Keep little ones consistently safe while traveling using the Graco Nautilus Harness Booster, Track. This top-rated Nautilus 65 3-in-1 harness booster can be adjusted as a child grows into different stages from toddler to youth. The Graco harness booster is designed for children who have grown into the forward-facing position. It secures the child in a five-point harness when the child weighs between 20 and 65 lbs. The harness booster seat then converts into a belt-positioning booster to accommodate a weight of 30 to100 lbs. Finally, it becomes a backless booster seat as a child grows from 40 to 100 lbs. It features an extremely strong steel-reinforced frame for added protection and long-lasting use over a period of several years. Soft, padded energy-absorbing foam is built into and throughout this seat.
Additional Information
Graco Nautilus 65 3-in-1 Harness Booster Car Seat:
3-in-1 harness booster helps protect your child, from toddler to youth
Harness Booster (22-65 lbs), highback booster (30-100 lbs), backless booster (40 – 100 lbs.)
Simply Safe Adjust Harness System is safe and simple
Engineered and crash tested to meet or exceed US standard FMVSS 213
Steel-reinforced frame provides strength and durability for years of use
3-position recline helps keep your growing child comfy
Available in Fern, Sylvia or Sully
Questions about product recalls?
Items that are a part of a recall are removed from the Walmart.com site, and are no longer available for purchase. These items include Walmart.com items only, not those of Marketplace sellers. Customers who have purchased a recalled item will be notified by email or by letter sent to the address given at the time of purchase. For complete recall information, go to
Walmart Recalls
.
Reviews
Biel1
Exelente product of great quality.
Graco top-rated Nautilus 65 is perfect, because it's 3 in 1, as it says in the ad, the last time you buy one carseat !!! Graco as always makes great products of exelente quality, super confortal, beautiful and elegant. Protect my son, there can make safer travel, support rubberized arm, cup holder and compartment for toys. easy to clean, Easy to handle. I recommend this product.
klyle78
The Last Car Seat You Will Ever Buy
This is the Last car seat you will ever need to buy. Just recently having my 5th child I have owned many car seats and booster seats over the years and the Graco Nautilus booster is is definitely a 5 star car seat. Graco really paid attention to detal with this one. Sharp, stylish looks, super comfortable, and lots of little extras to keep the little one happy and safe. I have a 4, 6 and 7 year old so I especially like(appreciate) how easy it is to adjust the headrest and harness to fit which ever child is in the seat, although it will primarily be my 4 year old using it. Fitting the seat to your child is simple with a one-hand headrest and no rethread needed harness adjustment. This seat cradles him perfectly and in the event of a car accident I am confident this seat will keep him well protected. With plenty of plush cushioning and 3-position recline he is sure to be comfortable too. This booster seat is easy to install using your cars seat belts or the LATCH system provided. The slick black and grey with white pinstripe detailing makes for a sporty stylish looking seat. My son calls it his race car seat and loves to sit it in. Of course he especially likes the cubby holes on either side on the inner portion of the armrest. He keeps his cars and toys or whatever else he thinks is cool in there, and away from his sisters. Comfortable enough for extended drives and even has a cup holder for a drink. This car seat is a forward facing only seat and is for children over 20 pounds. The American Academy of Pediatrics now advises parents to keep toddlers in rear-facing car seats until age two, or until they exceed the height or weight limit for the car seat. However many parents currently choose to flip their child to forward-facing around his or her first birthday. For children between age 1 and 2, it is 5 times safer to ride facing the back of the car. What ever way you decide to do it, your child must be at least 20 pounds to use this seat. Another great thing about this seat is you can use the 5 point harness system for children up to 65 pounds or 49". The AAP and NHTSA also recommend that children should use the built in harness system for as long as possible, until they reach the maximum weight and height for their car seat. Lots of other car seats only keep them harnessed until about 40 pounds so I really appreciate the added safety in the Nautilus. When you are ready to use the car's shoulder and lap belt instead of the 5 point harness this seat transforms to a belted booster with a back and then a backless booster in a few easy steps. To use the booster with the back you just slip the car's shoulder belt through the shoulder belt guide and the lap belt behind the armrest in the booster's belt path which ensures they are in the correct position on your child. With the backless booster you keep the lap belt in the same position and the shoulder belt accross your childs shoulder. You can also use the belt positioning clip to keep the shoulder belt in place. Also this car seat Expires 10 years after the manufacture date while others frequently expire in only 6 -9 years. This is another important point since many children should still be using a booster until they are 8-12 years old. I am extremely impressed with this booster seat and I look forward to using this seat for many years to come.
bp717
BEST CAR SEAT EVER
I have 2 granddaughters that are 3 almost 4 yrs old and I have 2 grand babies coming within 2 months of each other so really needed a car seat that would grow with them I didn't want to have to get another car seat ever again, lol. I love Graco Nautilus 65 Harness Booster, Track it is the sturdiest car seat I have ever had it weights 22 lbs so is heavy. It's crash tested and has a steel-reinforced frame. Your child can be 20 lbs to 100 lbs and has a cup holder and 2 hiding spots that they can put there snacks or toys. I love, love, love adjustable straps no more taking it all apart to adjust the harness just hold down a button and do the adjusting so much easier to do for each child. The seat also comes with padding things so the straps won't irritate the child's skin. It's has 3-position recline but to tell you the truth doesn't move a lot but just a small amount. The upholstery is very soft and seems it will be strong and last a long time. I love the built-in 5-point harness system snuggles them right in and there safe as can be. There so much more safer then the ones I had for my kids. Please go and buy one for your child and keep them safe.
atomanu2
Great Fit and comfortable
This car seat is definitely great. I love the color of the carseat too.The main features includes recline option, adjustable headrest, forward facing and booster seat. So this covers you till 8 years of the childs age. I would have loved it if this had the rear facing option too.I would ideally look to buy all in one so that I dont have to spend a lot. This is similar to Graco4ever with out the rear facing. This car seat is not that wide. It is a great fit and v safe. The harness can be adjusted by pulling the black strap hanging in the front of the car seat. Headrest can be Pulled up and down(Adjusted) as per the childs height. Buckle is v easy and swift to lock. Padding of the carseat makes it more comfortable so I am sure the child will enjoy his or her ride without any fight.. I installed the car seat using the car belt. It was pretty easy to install. This car seat heavy, sturdy and durable.
Takoyakiplease
middle of the road car seat
The Graco Nautilus 3-in-1 car seat can be used as a harnessed booster (regular car seat), high back booster and backless booster depending on the size of your child. Sadly, it does not work as a rear-facing carseat which is now recommended for children age two and under. This car seat is average when it comes to features and comfort. It does not recline like some of the more expensive car seats. It also is lacking in padding and support around the head. When the child is sleeping, their head bobbles up and down. The LATCH clips are not as easy to operate as the seat belt push button type. I do like how the there a cupholder and compartments on both sides to hide snacks and toys. The headrest and shoulder belt adjustment is easy and straightforward. The harness adjustor is smooth and easily accessible. This is helpful for getting the child out of the car seat quickly. The fabric is smooth and feels nice on the skin. It is pretty heavy so I would not recommend this if you were constantly moving it from car to car. I rather have a solid and heavy car seat than a flimsy and light one.