Graco Nautilus 65 3-in-1 Harness Booster Car Seat, Track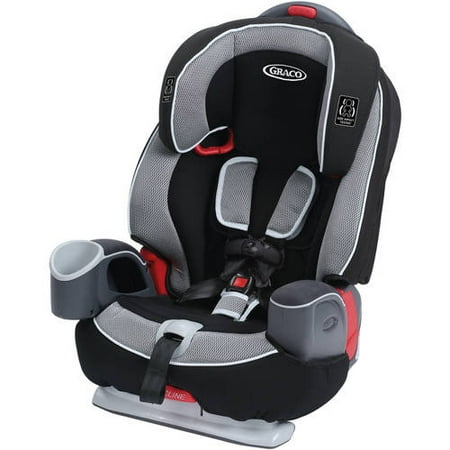 MSRP :

$139.99





Sale :

$99

Sold & shipped by Walmart
Product Description

Additional Information

Reviews
Product Description
Graco's top-rated Nautilus 65 3-in-1 harness booster seat can be used from toddler to youth, keeping your growing child safe. It secures your child in a five-point harness from 20 to 65 pounds, converts to a belt-positioning booster from 30 to 100 pounds and becomes a backless booster seat from 40-100 lb. Its Simply Safe Adjust harness allows you to adjust the harness and headrest together as your child grows, with no time-consuming rethreading. You'll appreciate the strength of the steel-reinforced frame, three-position recline for comfort and fit while your little passenger enjoys a personal cup holder and storage compartment.
Additional Information
3-in-1 harness booster helps protect your child, from toddler to youth
Harness Booster (22 – 65 lb), highback booster (30 – 100 lb), backless booster (40 – 100 lb)
Three seats in one: 5-point harnessed car seat, highback belt-positioning booster and backless belt-positioning booster
Converts from 5-point harnessed car seat (22 – 65 lb) to highback belt-positioning booster (30 – 100 lb) to backless belt-positioning booster (40 – 100 lb)
Simply Safe Adjust™ Harness System adjusts the height of your harness and headrest, in one motion, to ensure that your child is always properly secured
The American Academy of Pediatrics (AAP) and National Highway Safety Administration (NHTSA) recommend that children should use the built-in harness system for as long as possible until they reach the maximum forward-facing weight or height for their car seat, and after reaching the maximum forward-facing weight or height, that children 4 feet 9 inches tall or under should ride in a belt-positioning booster seat.
Side Impact Tested; New Car Assessment Program (NCAP) – peak crash force approximately 2X car seat standard; Extreme Car Interior Temperatures
Reviews
MomOfOneBoy
Great for us
We purchased 4 of these after deciding to harness our small children past 40lb. Our children are not going to be tall enough to use the seat belt correctly on the cheaper seats we had in daddy's car, and our better seats didn't fit in his car correctly.......so we started all over with these. Our kids are 2 (20lb 32 in) and 4.5 (33lb 40 in) and love them. Our 4 year old can buckle and unbuckle himself, which is helpful. Our 2 year old loves the fact hers is just like brothers. They each love the little cubbies and can both reach their drink. Both kids have slept comfortably in them as well. They were easy to set up and install and installed rock solid in both our Chevy Uplander and Buick Rainer. I will say the seat is a bit heavy, but we don't ever take ours out. Their safety means more to us now than ever since a stint in the hospital for one. I am glad we took our pediatrican's advice and got new ones so we could harness them longer. We purchased 2 in store, and then ordered 2 more on line.......saved $15 on the second set.
USMCWIFE4
LOVE IT.....
My husband and I bought this carseat for our 3yr old son...We already had another one, but wanted to get another one so we could both have one in both of our trucks. That way we would not have to switch it out, if my husband was gonna take him somewhere in his truck. Anyways, I did a lot of looking around and reading the reviews of many carseats, and decided on this one. I do like how the 5 point harness goes up to 65 pounds. My son is already 3 ft 5 in at 3 yrs old...tall for his age, and weighs about 42 pounds, so this is perfect for him. I did read the reviews about how it is not a good one for sleeping, how it doesnt really recline too good. Well, I dont know if it depends on what car/truck you have...but, in my 2008 Dodge Truck (quad cab) it is perfect....I guess it is how my seats are, because my husband didnt even have to recline it back...it is already perfectly reclined for my son. So, his head will not be leaning forward if he falls asleep in it. I love that it has a cup holder.....my son thinks it is the coolest thing! My son and I will be driving up to Northern California in May to go visit my new nephew, and I am very comfortable knowing that he will be comfy and safe in it as well. It will be about a 6 hour drive for us...and I know he will be just fine! I would definitely recommend this!!!
Mommy2TwoPlus
Safety, Comfort, and Value!
We love our Nautilus! The seat installs easily and secures tightly with the LATCH system. My daughter never complains about being uncomfortable and has fallen asleep in the seat with no problems. The ability to harness up to 65 lbs. and use it as a belt positioning booster means it will last longer than the Britax Marathon (which runs $120+ more). I purchased a Britax for my youngest (needed rear facing) - wish I would have known Graco was coming out with a convertible that will harness to 65 lbs, would have saved me some money! - and fully intend to buy another Nautilus when we transition to forward facing in a year
Branca17
Very nice, just a small disappointment...
My, 3 year's old, dauther and I really liked the seat. It look's good and it feel's good. She liked the cup holder and the 2 inner spaces on both arms of the chair. She keeps her toys there like hidden treasure! It was easy and really fast to install. We did it in 15 min. at Walmart parking lot when we picked it up. The only annoying detail that I did not like was the red buckle button. It's really hard to open! It's too flat! It is not ergonomic. Hard to open with only one hand. This was a surprise to me as we do own an older Graco car seat, that I now use for my younger son, that has a perfect buckle!! Really ergonomic and easy to unbuckle! A small disappointment! But overall really nice!
emylieecate
A Great Transition!
This carseat was a breeze to put together. I pulled it out of the box, snap snap snap and that was it! (It was even easier to install since I have the Latch system in my vehicle.) My son LOVES sitting forward-facing so he can see what mommy is doing. The cup holder is a little tall for his sippy cup - so he can't easily reach it, but I'm sure that will be remedied as his arms get longer & his sippy cup gets bigger. This was a wonderful value for his first birthday and will grow with him well into double digits. Also, because I ordered it with the e-gift card, I got birthday thank-yous super cheap too!