Gillette Foamy Sensitive Shave Cream 11oz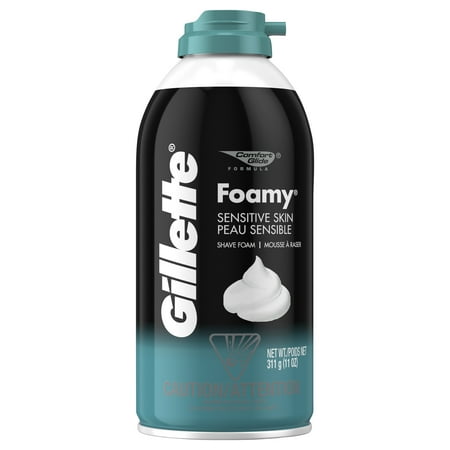 MSRP :

$8.32





Sale :

$1.87

Sold & shipped by Walmart
Product Description

Additional Information

Reviews
Product Description
Simple, honest, classic--that's the Gillette Foamy shave. Gillette Foamy Sensitive Skin Shave Foam's lightly fragranced for sensitive skin lather spreads easily and rinses clean for that foamy shave men have enjoyed for generation.
Additional Information
• Simple. Honest. Classic.• Shaving foam lightly fragranced for sensitive skin• Instant lather spreads easily and rinses clean• Comfort Glide™ formula reduces friction• Rich lather reduces friction• Use Gillette Foamy Regular Shaving Foam with any Gillette razor.
Reviews
PhilWoj
New favorite for shaving
So, let me start off by saying that shaving is not one of my favorite things. With the sharp line on my jaw and how sensitive my neck area is, I hold off shaving as long as possible, while still being presentable at work. I was eager to try the new Gillette foamy shaving cream, to see if it would make a difference. I waited till a Monday came around, with my weekend warrior scruff, to really put it to the test. The first thing I noticed was how thick and creamy it was, and how smooth it felt going on. You could feel it soothing the skin as I set about the task of scrapping off 4 days of facial hair growth. The next thing I noticed was how well it held, even with the wet razor hitting it, most shaving gels wash off quickly. My skin felt smooth afterwards, and no shaving burns or scrapes. I was really impressed. I have been using it ever since. While I still don't like shaving, at least this has made it a more enjoyable experience. [This review was collected as part of a promotion.]
PhilWoj
It's Foamy Alright
I can remember growing up and watching my dad shave with his foamy shaving cream. And, like most kids, I would put some of that on my face and pretend I was shaving. Here I am...many years later and Gillette's Foamy Sensitive Skin cream takes me back. I recently had the opportunity to try this foam shaving cream for more than a week. I must admit that I normally use a shaving gel for sensitive skin, so this was a good test for me. Initially, the first thing I noticed was the pleasant smell of the foam and the cooling sensation on my face. I applied it across my beard area and neck, then used a new blade. I found the shave to be consistent with what I normally get. My face was smooth and the scent remained for a while, which was nice. I also noticed that I did not have any sign of dry skin where I shaved, which was a plus. I felt like I wasted a lot of foam though...probably because I used to much since I don't use this stuff every day. All in all, I doubt I will switch from my gel, but that's not because I didn't like the Gillette foam. I'm a creature of habit and have been doing it this way a long time. I would recommend the foam cream to others to try . [This review was collected as part of a promotion.]
CConnor0626
Thick Lather!
I'll start off by saying that I have really sensitive skin, so I tend to shave mostly in the shower under hot water as my pores seem to be most open and I can get a much smoother shave that way. Most shaving creams when used in the shower with hot water will melt away or become very runny. Sometimes I even need to re-lather with it. This was NOT the case with the Gillette Sensitive Skin shaving cream. It had a nice rich, thick lather that lasted the entire shave while in the shower. As I would finish a section the cream even had a cooling sensation which felt very refreshing. It certainly exceeded my expectations. I also tried the cream while doing a traditional shave over a sink. Good lather, cooling wasn't as intense but the cream did the job. I was left smooth and irritation free in both cases. [This review was collected as part of a promotion.]
FP
Thick Lather!
This was the product that I ordered but when I checked it saw it was manufactured in 2015. 3 years ago! You should be alerted before you place the order
XlibertyX
Great Shave
Up to today, I have been very pleased with Foamy Sensitive. Came home tonight and found the can had sprung a leak along the top seam, and there were a couple piles of foam.