Gillette Foamy Regular Shaving Foam, 11 oz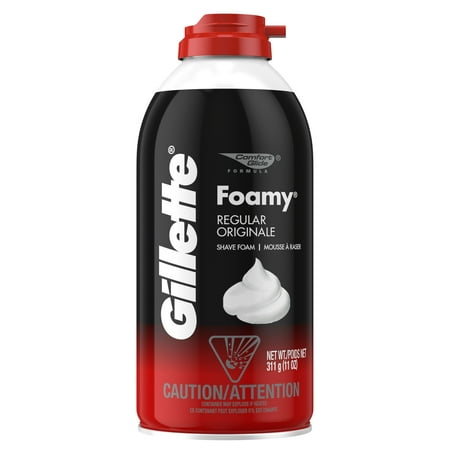 MSRP :

$7.73





Sale :

$1.87

Sold & shipped by Walmart
Product Description

Additional Information

Reviews
Product Description
Gillette Foamy Shaving Foam Regular provides a rich, creamy lather that spreads easily and rinses clean. This is why Gillette Foamy Shaving Foam has been enjoyed by generations of men!
Additional Information
• Get a truly smooth, close, comfortable shave with this aloe-rich shaving cream formula • Enjoy healthy looking, well-protected skin • Shaving cream spreads easily, rinses clean leaving skin feeling soft and smooth • Gillette Foamy
Reviews
GrumpierAndGrumpier
Great product. Bad can.
The product is excellent, but the can has gotten progressively worse: First, the big red cap was eliminated. I used to store the can upside down with the cap on, so that any rust wouldn't mark up the counter. I can still sort of do that with the small cap, but the can tips over too easily. Next to go was the peel away label. I used to remove it, leaving a nice plain silver can instead of Gillette's garish packaging. That is now impossible, as the labeling is enameled to the can. The new shape also eliminates the possibility of easily wrapping the can in some other material. Finally, judging from other reviews, gripping the new shape is a problem for short-fingered individuals. I suspect our president will be tweeting on this important issue in the near future. I appreciate that the new can is probably cheaper to produce, but the product is so cheap to begin with, I wouldn't mind spending more for a more functional design. To make matters even worse, Walmart slaps a giant inventory sticker on the can. It can be peeled off, but leaves a horrible sticky mess. Really brilliant. Whoever came up with that idea should be forced to use the product every day for a year. Even if I continue with Foamy, I won't be buying it from Walmart.
Thom
New can is hard to hold!
The new can has smooth sloping shoulders that make it very difficult to hold when my hands are wet! The shaving cream is excellent, but I may have to switch brands due to the difficulty I am having with the new can.
TexasTJ
New Closure Design Not OK
Was a satisfied Gillette Foamy customer for decades, but the new non-Closure is not OK. Gillette was right to replace the big red cap with the very small cap. Not OK to eliminate that too.
Sir2Echo
I found it thick and stiff, clogged the razor
I use a dual blade disposable razor. I'd like a more slick or slippery soap foam rather than the stiff mix in the Foamy Regular [This review was collected as part of a promotion.]
Hayden14206
Excellent product!
I recently returned to using Foamy. I could not ask for a better shave cream! Lather with Foamy, wet my Gillette Mach 3 and I get the best possible shave Thanks Gillette! [This review was collected as part of a promotion.]