Gillette Series Moisturizing Shave Gel, 7 Oz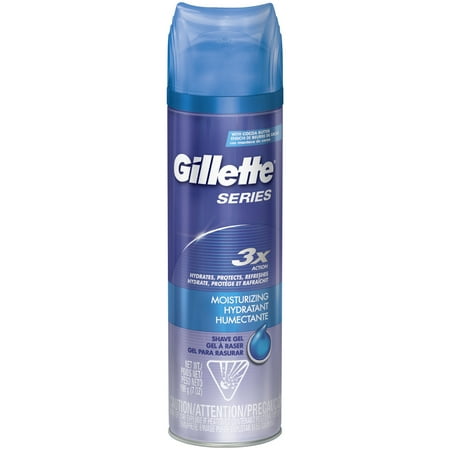 MSRP :

$6.53





Sale :

$2.74

Sold & shipped by Walmart
Product Description

Additional Information

Reviews
Product Description
Gillette Series Ultra Moisturizing Shaving Gel is formulated with glycerin to hydrate & moisturize. This anti-friction gel enhances razor glide for a close, smooth, comfortable shave and delivers protection and comfort you need for healthy looking skin.
Additional Information
Gillette Series Moisturizing Shave Gel, 7 Oz:
Helps protect against 5 Signs of Shaving Irritation
3x action: Hydrates, Protects and Soothes
Helps protect against irritation
Hydrates to soften hair and lubricates to help protect
Invigorating scent to refresh
Gillette Series Moisturizing shave gel delivers protection and comfort
Use Gillette Series Moisturizing Shave Gel with Gillette Mach3 razor
Reviews
MrTGibbs
Thick and Quick
Just used the shaving gel again and I cannot stress how thick the gel is and quick it was to remove my hair! I highly recommend this product! I did not have to use a lot of the gel. It truly follows the saying less is sometimes better! I made the mistake of using too much my first time. Shave gels that I have used in the past, I have had to use a lot each shave. Not with Gillette Series Moisturizing Shave Gel! I used (literally) a dime sized amount and was able to cover my entire beard area with it. And it was still thick! I also really liked how quick it was to shave. I have a six blade razor, and I only had to go over each area one time, and then once over for harder to reach areas. That's amazing! It usually takes me two or three times because I like to have shaving cream with each swipe. It is very true to its name: moisturizing. My face did not feel dry or scratchy afterwards. I didn't feel the need to use shaving lotion afterwards. And a day or two after: no razor bumps! [This review was collected as part of a promotion.]
Ernestoooo
What is Moisturizing?
When I tried this shaving gel I was looking forward to the moisturizing aspect of it and thinking it was going to feel a bit moisturized and make shaving a bit smoother and what not. However, I am not sure if there is anything moisturizing about this shaving gel. When I would shave I felt like my skin would feel the complete opposite and would get dry instead and that hasn't happened with other shaving gels that I would use. Normally, just with any other shaving gel, after shaving you would want to moisturize your skin, and when usually if I use any other shaving gel if I forget to moisturize after my skin is still fine. However, with the Gillette Series Moisturizing shave gel, it would dry out my skin and as soon as I finished shaving I have to go moisturizing right after because it would leave my skin real dry. I would think this is better off as a regular shaving gel than advertising it as "moisturizing." Maybe for someone else it may be good, but I didn't enjoy shaving with this gel. [This review was collected as part of a promotion.]
williamcharlessettle
Wow! That's Smooth!
So, I got my package in the mail and I could not wait to tear into it and use my new shave gel! I immediately lathered up good, with a liberal spread of Gillette moisturizing foamy gel! I was using a pretty cheap single blade razor for this test, so the gel had pretty high stakes. It did not even have a moisturizing strip! Anyhow, I went ahead and started shaving. The blade just glided right across my stubbly face. The gel was more than enough to make sure that there was nothing standing in the way of an amazingly smooth, soft and non abrasive shave. Even with my sub-par razor, it easily glided across my skin. I then started the clean up, washing the left over foam off of my face to notice how baby soft my face was. It was amazing. I verbally exclaimed, with no one else in the room, "Wow! That's Smooth!" What an amazing job Gillette! I love it. The scent is also great, with just a hint of very clean smelling musk. My face today is still baby smooth a day after using it and super soft! A++! [This review was collected as part of a promotion.]
theosdad
Refreshing Shave
I can't remember the last time I bought shaving cream, so when give the opportunity to try this product I said why not. When this product arrived I figured why not use the free Gillette razor I received a couple years back and never opened. I typically use an electric trimmer-razor, and in most cases leave stubble except for my lip. The gel has a pleasant smell, and felt great lathered on my face. I enjoyed the shave very much it did not leave my face dry or with razor burn, and rinsed off well. For me the bigger test was how my face felt the next day... It felt great! I'm not the kind of person that can tell you whats in it without reading the label, I just know I liked it. I've shaved with this product 4 times already since receiving it. That's the most I've used a razor in the past 3 years. I did received this product as sample from BZZ Agent, so that I could give an honest review. P.s. My wife tried it as well. I like what it did for her legs even more than what it did for my face! [This review was collected as part of a promotion.]
JesseChanley3
Very smooth for hours
I think that the Gillette series moisturizing product worked great. My favorite thing was that I got a really smooth shave and my skin felt great for several hours. Normally I shave my face with water or a little bit of lotion on my hands, I know not ideal, but it works for me. The difference in using a shaving gel as opposed to my method is enormous! My face after using my message is kind of sticky and dried out feeling immediately. With the Gillette product my face felt smooth, almost like I've used some sort of product on it, for several hours. I also didn't get any bumps at all. And I didn't miss any hairs anywhere which I tend to usually do. I think it's because my Razor with glide so good over it. The only thing I didn't like was that the phone rinsed off very quickly period when the water would drop off of the razor it would clear any of the gel that was in its path. But that actually came in handy when it was time to rinse my face off for good. [This review was collected as part of a promotion.]