Gillette TGS Series Shave Gel Sensitive, 7 Oz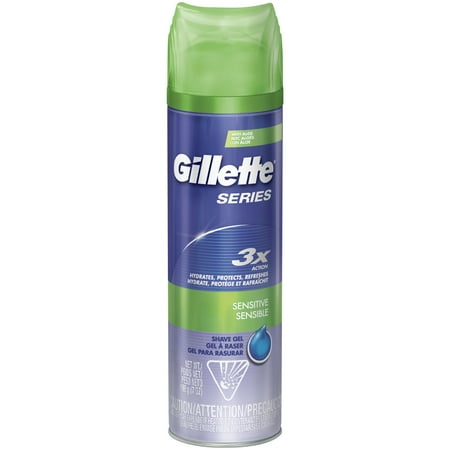 MSRP :

$4.83





Sale :

$1.97

Sold & shipped by Walmart
Product Description

Additional Information

Reviews
Product Description
Gillette's Series Sensitive Skin Shave Gel is formulated with aloe to gently soothe. This anti-friction shave gel enhances razor glide for a close, smooth, comfortable shave and delivers the protection and comfort you need for healthy looking skin.
Additional Information
Gillette TGS Series Shave Gel Sensitive, 7 Oz:
Helps protect against 5 Signs of Shaving Irritation
3x action: Hydrates, Protects and Soothes
Helps protect against irritation
Lightly Fragranced for sensitive skin
Formulated with Aloe
Use Gillette Series Sensitive Shave Gel with Gillette Mach3 razor
Reviews
DBray6
Smooth, Comfortable Shave!
Let me start by saying that I am not a regular shaving cream guy. My beard isn't coarse, so I have never found a need for a shaving cream when shaving. My regular shaving regimen is usually just shave right out of the shower when my beard is still soft and easy to shave or I will use a shaving oil occasionally. When I was offered to try Gillette Series Sensitive Shave Gel for free in exchange for my honest review, I thought, sure why not? Today was my first day using the shave gel and I have to say that I am impressed! I waited a while after my shower to shave. So I could a feel for the shave gel on my dry beard. The shave is nice and smooth and my skin feels invigorated. The shave gel lathered up nicely and rinsed off easily. The odor is pleasant and light. I can't see my using this everyday as my beard doesn't require shave cream but it is nice to have for those days when I get distracted and can't shave right away. I received this product for free in exchange for an honest review. [This review was collected as part of a promotion.]
cowboy14024
What a great Shaving Gel
I received my free sample of Gillette Series Sensitive Shaving Gel through Bzzagent as a free sample from Gillette. Not only to I have sensitive skin but also take Blood thinners and need extra moisturizers when shaving so that is something that I looked into before requesting the sample . Before getting the free sample, I used a competitors brand but was never really satisfied with it because I would still get nicks here and there. I have been using the Gillette Series Sensitive shave gel for 5 days now, and not a single nick. I am sold on this product and have now switched brands because of the free sample that I received through Bzzagent and Gillette. I would highly recommend this shave gel to anyone that has sensitive skin or needs the extra moisturizing as I do because of the blood thinners that I am on. The razor glided across my face with no nicks or cuts. I was at a cookout this weekend and discussed it with both neighbors, friends and my older children that are shaving. Recommending it to all of them as we discussed it. [This review was collected as part of a promotion.]
Atatakaidan
Gillette Series Sensitive Sensible Shaving Gel
I have been shaving for more than 5 decades and have found that this gel is perhaps one of the best products on the market. It rates highest from me because: a. The gel is rich, making the shaving itself very easy and smooth, helping the blade glide through the whiskers. b. There is so little needed to work into a lather to cover the face that one ends up not only having one container last a longer period of time than any normal shaving cream, but one saves a great deal of money using it as well. c. It smells great, and people with whom I have shared my experience with this product (ladies!) have commented how fresh I smell more than an hour AFTER shaving. d. I am a 5 O'Clock Shadow shaver, but have found that it helps the shaving to be so close that there are times I do not have to even shave the next day! In short, if you are a man with sensitive skin and/or who just wants a close shave, or if you are a lady who wants her man to have a smooth face and smell good, Gillette Series Sensitive Sensible Shaving Gel is the product! [This review was collected as part of a promotion.]
lmhufty
Follow up to previous review
First, I received this product courtesy of Gillette with the request to write a fair and honest review. My first review took a hard line approach to the Gillette Series Sensitive Shaving Gel. So I felt that it was only right to try it again for several days and see how I felt. Again, it is "okay". Nothing special to this product. Not sure of what gives it the "sensitive" rating, but it did nothing for my face. As I mentioned in my previous review, you must be careful when dispensing this product, push a little too hard on the plunger and you get a couple of days product in your hand. There are a lot of shaving creams and gels on the market. Gillette alone has a whole bunch of them. So when they came out with a new product line, one would think that there was something unique and positive about it compared to the other products available. Unfortunately, it is just another shaving gel. A pretty decent one, but nothing special. [This review was collected as part of a promotion.]
Nickels612
Great for sensitive skin!!
If you shave daily like I do, you know the importance of getting a quality gel to avoid that dreaded burn and irritation. Over the years, I have tried many different brands catering to people with sensitive skin and thought the one I mainly stuck with best suited my needs. I have to say the Gillette Series Sensitive actually did "feel" better! Initially I wondered what could really be that different, but they apparently added a hydrating agent that is definitely noticeable after the shave. My skin felt smoother and there was none of that bumpy raw feeling afterwards. The shave was quick and easy and there wasn't any of that residue from the dispenser that turns into that blue/green crust so commonly seen around the top of similar product lids. If you're a guy that has any issues with burning or irritation, you might want to consider trying the Gillette Series Sensitive. I would actually buy another can of this product myself. [This review was collected as part of a promotion.]