Gillette Sensor2 Plus Pivoting Head Mens Disposable Razors, 10 Count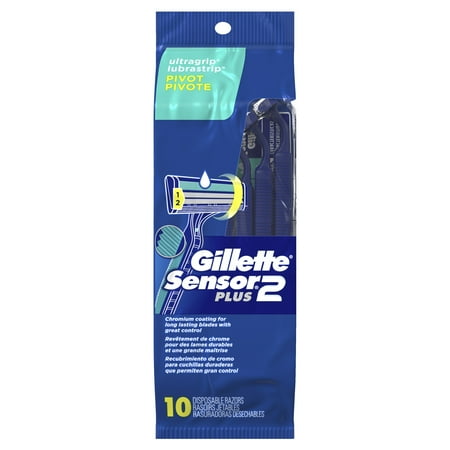 MSRP :

$11.32





Sale :

$7.97

Sold & shipped by Walmart
Product Description

Additional Information

Reviews
Product Description
Twin Gillette Comfort Blades.
Additional Information
Gillette Sensor2 Plus Pivoting Head Men's Disposable Razors, 10 Count
Chromium Coating for long lasting blades
Men's Disposable Razor with thin twin Gillette Comfort Blades
Water-activated lubrastrip with aloe provides instant lubrication
Pivoting head adjusts to the contours of your face
Soft Ultragrip handle for great control
Reviews
sunydays33304
1 razor lasts a
1 razor lasts a few shaves great product for the cost
owens
Gillette Sensor 2 plus Comfortable Shave
The Gillette Sensor 2 plus is a 2 blade disposable razor that is a decent comfortable shave. Day one is a clean close shave with no irritation or nicks. Day 2 of use and the lubricating strip kicks in and the shave is smooth with no irritation or nicks. My face feels smooth and hair free. No razor burn or nicks. Aftershave does not have a pronounced burning after using this razor. Days 3 and still smooth and clean. No nicks or irritation with this razor. Day 4 and the same smooth clean shave. Day 5 and it is still smooth sailing. This razor maintained clean shaves for the week and is still going. The libricating strips glides the razor over your skin and removes stubble efficiently. Good disposable razor that is easy on your budget. These razors last through multiple shaves. [This review was collected as part of a promotion.]
jefccu
Good for disposables!
I have sensitive skin and I do not need to shave daily. These are a good solution for me for travel or when I get stuck at work. They provide enough lubrication to soothe and comfort without that greasy feeling afterwards. The product was of good quality plastic and the blades all were sharp and caused no irritation (which says a lot for me). My wife tried one for her legs and she was neither impressed nor unimpressed. All in all, I would recommend these for travels or in cases when you need something in a rush with minimum hassle. I told my brother about these as he travels for work frequently. We also have a family trip coming up which I plan to purchase a pack of these prior to going. [This review was collected as part of a promotion.]
TheSloneRanger
Two is all you need!
My beard is somewhat like a professional athlete- it simply doesn't like being cut! Over the past few years I have been using blades from one of the many monthly razor delivery services with so-so results. Do those razors work? Sure but not to the level I prefer. These Gillette Sensor 2 disposable razors cut closer with less irritation than my current blades and last just as long. I can get a solid week from just one razor. For years I believed 4 or 5 blades were needed to get the job done- it's just not true. Blade quality and sharpness is key to a close shave. Try these blade and I believe you will be pleasantly surprised. [This review was collected as part of a promotion.]
yemo
Gillette Sensor 2. Plus Men's Razor
I received my Gillette Sensor 2 disposable razor with pIvoting head yesterday. This morning I decided to try the razor for the first time. I noticed that the Gillette 2 disposable razor was very light weighted with a ultra grip handle which gives the razor great control . The razor also has a pivoting head which contours to the shape of your face . The razor gives a clean shave no nicks. The Lubrastrip with aloe makes the razor glide easily on your face and has a great scent. I really like the Gillette 2 Plus Pivoting head disposable men's razor razor and I would recommend to my friends. [This review was collected as part of a promotion.]