GPX AM/FM Armband Radio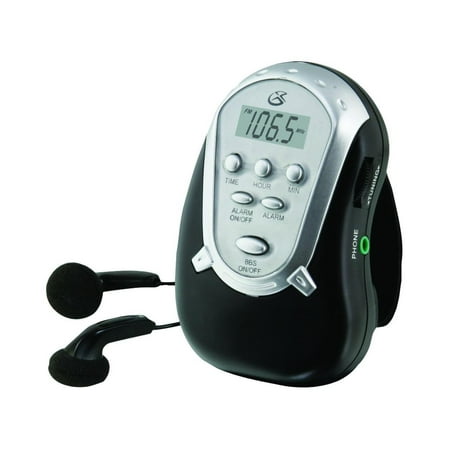 MSRP :

$14.99





Sale :

$11.53

Sold & shipped by Hippo-Deals
Product Description

Additional Information

Reviews
Product Description
With the GPX AM/FM armband radio, you can listen to your favorite radio stations anywhere, make your commute more pleasant or enhance your exercise routine with a soundtrack. Featuring an easy-to-read LCD display and intuitive controls, the portable digital armband radio is designed for both outdoor and indoor fun. The GPX armband serves as an ideal listening companion in many scenarios and features full digital stereo sound from an AM/FM receiver with bass boost. The digital alarm clock is useful to wake you up and remind you of important events or deadlines. For hands-free listening anytime, or to remain informed about the news or the weather forecast, the GPX armband radio is a wise choice.
Additional Information
AM/FM DLL radio
Clock function
Includes armband & earbuds
Requires 2 AAA batteries
Reviews
MiamiGarner
Powerful little piece
Very powerful amplifier. I'm using good Sony headphones,the ear buds sound thin.Pretty easy to learn to program.I love it.
MrkE
Don't buy it
This product was a piece of junk. First problem was the reason I bought this radio, its digital tuner. For example our local country station is 100.7, when I tuned to it, it would bounce up and down. I would finally get good reception then while walking the radio would come in an out. I would check and the tuner would show something like 101.0. Next problem after only two weeks the battery needed changing. The straw that broke the back is after about a month of ownership it developed a short causing it to turn on and off. It hit the garbage can a couple of days ago. I bought a memorex pocket radio for the same price that serves it purpose perfectally.
PaulCA
Nice inexpensive digital radio
I just bought this item a week ago. So far, it seems to be fine for my use which is casual listening. I haven't taken it to the gym as yet, so we'll see how durable it is. Essentially, the only negatives I have are 1) seems to be no way to go backward on preselected stations. That is, if you are on the station on preselected P05 and want to change to station on P04, you cannot go back one, you must click through the rest of the preselected channels to get to P04. Quite inconvenient. Also, the armband could use more velcro on its present length. But, I am most interested in the sound and that seems fine, hence the 4 stars.
DallasNYPSD
Music Helper!
If you love to listen to music at anytime and anywhere, the gpx-R300S Digital AM/FM Radio is for you. I have to garden to clean up my yard so I like to listen to music to make the chore more easier to accomplish. I have a radio that I can listen to while I am in one part of the yard but when I moved further away I can barely hear anything. This radio straps onto your arm and travels with you. I know have music in all locations. Great product. [This review was collected as part of a promotion.]
Spider7272
Great radio for the price!
This armband radio has great reception and selectivity. The audio is from many of the FM and AM stations come in great. I use this radio when I'm out cycling. It doesn't matter whether I'm going North or South, East or West I still can hear FM stations from 50 miles away and AM stations 1500 miles away if the conditions are right. I would recommend this radio for anyone that uses it for running, jogging, cycling and walking. I hope that this review helps everyone.