GPX 2 Channel Stereo Home Music System, HC221B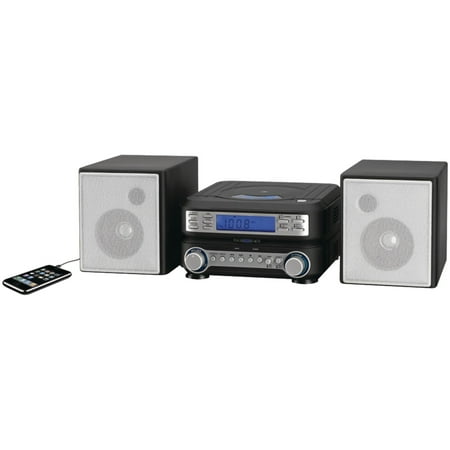 Sale :

$51.35

Sold & shipped by Walmart
Product Description

Additional Information

Reviews
Product Description
The GPX 2 Channel Stereo Home Music System, HC221B is a compact CD / MP3 stereo music system with Dynamic Bass Boost System (DBBS). The 2 channel stereo sound is rich and deep, and with the detachable speakers you can customize the sound to your space. The system also features AM / FM radio and a digital alarm clock, so you can wake up to your favorite tunes. Includes remote control.
Additional Information
GPX Horizontal AM/FM/CD Player:Top-loading CD playerAM/FM radioLCD displayClockSingle alarmUsers can wake to CD/Radio/AlarmDimmer controlAux inputIncludes remote
Reviews
mycarema
Good for a cheap CD player.
Pros: -Top loading (this might be a pro just for me, as I have had problems with both front-loading systems I've had, but never with a top-loader) -Great value--one of the cheapest CD players I could find, yet feels just as sturdy and is so far as reliable as much more expensive systems -Easy to set up -Simple, no unnecessary bells and whistles -Sound quality is sufficient for someone who doesn't like blaring music; I can hear as much richness and complexity as I could on my previous, less reliable $100 Sony -Has remote -Small, convenient size Cons -Blue LED screen stays lit even when off and is too bright even in the "lo" setting so that I have to cover it at night -Remote does not have power or volume buttons -Buttons in front of player offer enough resistance that I have to hold the CD player down when pressing them -Buttons are in odd location (for instance power is next to the tuning knob and awkward to press) Verdict: If you're looking for a cheap CD player, it's great--but the LED screen will be annoying if you want it in your bedroom.
2W171
Not a bad little unit for the price....!
....Spotted this unit on Walmart's web site so decided to give it a try - intended to replace a late 1980s stereo system that had given up the ghost. However, I use that system's considerably larger speakers instead of the ones that come with this unit - much better sound, for sure. A goodly number of "pros" and some "cons": the AM radio mode is not the best - considerable background noise and static, although in FM mode it is great. The tuning knob is very sensitive - breathe on it too hard and the radio will go off frequency. Of great benefit, using an audio cable and a 1990s-era tape cassette player, I can now play the several hundred cassette tapes that I have acquired over the past 20 years or more. I have encountered no problems playing any of my many CDs.... sound is great and no mechanical problems at all. Overall, I consider this product to fully meet my needs and seems to be a good buy for the price!!
Nick
Small CD players
Cheap unit. Poor sound quality. Virtually no AM/FM reception. You get what you pay for.
diClazz
perfect for nightstand
I needed to replace my cd player in bedroom. & had gone thru 3 big (5 cd changer) shelf. units. Each lasting less than a year while paying lots of $$. This unit plays 1 cd plus has the radio & clock; & fits on nightstand. Perfect size very GOOD $$. Only problem - remote doesn't have volume control on it. Wondering why NOT
kid73
perfect for nightstand
it is a great product for it's size & price. How ever if you like to sleep in a dark room you will have to cover the top & front beacause it has a very bright blue light coming out of the top & in the front. The remote alows me to program it to play all night which is a big help to relax because of all the pain I am in. My son got it for me & it is a great product.