The Singing Machine SML385BTBK Bluetooth CD+G Karaoke System (Black)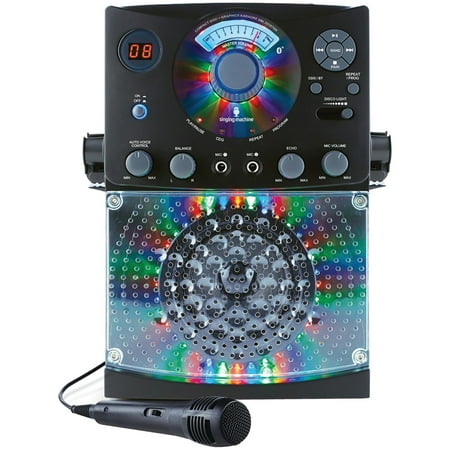 Sale :

$75.99

Sold & shipped by Walmart
Product Description

Additional Information

Reviews
Product Description
Turn your home into a virtual karaoke bar and host a dance party with this Singing Machine SML385BTBK Bluetooth Karaoke System. It features a top-loading CD player that plays music CDs and CD+Graphics CDs. This wireless karaoke system has 54 LED disco lights with dimmer settings that let you control the party ambiance. An auxiliary input port lets you connect to other audio devices, such as an MP3 player, smartphone, tablet, computer and more. RCA outputs connect to your TV to scroll the lyrics and the two microphone inputs allow you to sing a duet without sharing a microphone. This Singing Machine SML385BTBK Bluetooth Karaoke System has a built-in speaker that delivers powerful sound. An echo control feature allows you to add a touch of special effects. It even comes with five bonus song downloads, so you can get your party started right away.
Additional Information

The Singing Machine SML385BTBK Bluetooth CD+G Karaoke System (Black):
Plays CDs and CD+g
Bluetooth compatible
Hi-fi LED disco light effects
Auto voice control
Balance control
Built-in speaker
Echo control
Aux input
Includes 1 wired microphone, RCA cables, AC adapter and 5 bonus song downloads
Black
Singing Machine karaoke system has dimmer control
Comes in black and white
Reviews
Jmom
Great item!
Git this as a gift for my 3 year old. She loves it. Has great features including the light show you get while you're singing or if music is playing. The microphone cord is nice and long but not too long. Also nice that you can purchase another microphone for it (i also have a 4 year old that loves to sing with her sister). You can play cd's OR stream music via bluetooth from your cellphone. Great gift!
SalsaLadyShops
Karaoke System
My 3 year old grand daughter loved her birthday present from Nana. Her 16 month old sister would take the mic from her and say "uh" real loud and would laugh! They're both enjoying it and it wouldn't be the same without the disco lights flashing! Great gift!
SweetCS
Volume way to low will not go up to hear it !!
I was very disappointed with singing machine ,When volume does not go up loud enough to even hear what you are singing. That messes everything up and it's not worth even having, Very disappointed when my Grand daughter was trying to sing and she couldn't even hear what she was singing, worse thing I ever bought for a gift ,The rating and all read before I bought it made it sound like it was the best. If I would have know, I would have never bought it, A disappointed child that loves to sing and so was I You have to hear what you are singing, I have had plenty of them through the years never seen such a joke in my life. She is 2 years old ,and that's why I didn't get a adult one but thought this one for teens would be right for her. Made me feel so bad, I bought her something that you can't hear and to nothing with. This is all she ask for over everything. Wasted a lot od money for nothing worth using. If I take it back I will end up with same problem. Very Disappointed.
lorley
Excellent karaoke for kids and adults of all ages!
If you are looking for a fun machine for your family this is it. My kids are 1, 4, and they play with this nonstop. Yes even my 1 year old enjoys it. He loves the disco lights and dancing around while the older sisters sing. Easily hooks up to the tv to see the words if your kids are older or if adults want to do the "real" karaoke thing. Even when the kids aren't singing, I always turn it on just to play cds. You can control every volume (voice, mic and cd). The disco lights are really what makes this one special and very enjoyable. Has an extra mic plug too, so 2 people can sing at the same time. Very lightweight. My 4 year old can carry it by the 2 indented handles at the top from one room to the next. This will definitely be on the gift list for other family members. It is LOTS of fun. If you are expecting something that you would find out at a karaoke club, this is not it though. This is a good one for family fun at night :)
Cowgirlup3550
My son likes it
I bought it for my 12 year old's birthday. He loves to sing and play his guitar. It took a little longer that I liked shipping Site To Store. I did not think it would take that long and it took 1 week after his b-day party to get it. We had a little trouble with it and still do. After about 30 min on we have to turn it off wait a few min and turn it back on and we had trouble getting it to read the CD it came with. As long as it is on something and not our hardwood floor it does OK but if anyone walks too close it freezes up and we have to restart it. He thinks its great and plays with it all the time but as an adult and the one that paid for it I think it could have been better. If you are willing to do what we have to do or take the chance that it may have just been a not so good one then try it out. My son wants to keep it so I guess we will as long as he has the patients to deal with it. When it is working though it is pretty cool. I have just had trouble getting customer support from the Singing Machine on the phone or online. Hope this was helpful one way or another.