Gerber Baby Toddler Unisex Cotton Training Pants, 3-Pack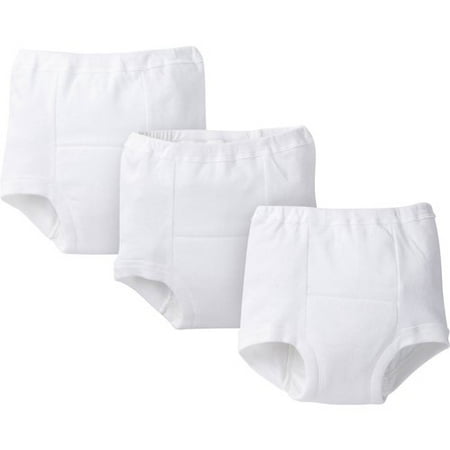 Sale :

$8.34

Sold & shipped by Walmart
Product Description

Additional Information

Reviews
Product Description
Gerber Baby Cotton Training Pants are designed to help your toddler stay clean and dry during potty training. Features of these Baby Washable Pants include 100 percent cotton panels and lining for absorbency and a gentle elastic waist for a comfortable fit. The Baby Cotton Pants, 3 Pack, are easy to pull up and down and are washable and reusable for your convenience.
Additional Information

Gerber Baby Cotton Training Pants, 3-Pack:
Pack of 3
Gerber training pants with 100% cotton panels
Absorbent lining
Gentle elastic at waist for comfortable fit
Easy to pull up and down
Washable and reusable training pants
Color: white
Available sizes: 2 toddler and 3 toddler
Reviews
DisneylandLover
Great training pants
I received these and am using them for my two-year-old boy. They are what my mom trained us kids on, and they work really well. They are very soft, which is good because he has decided that diapers are uncomfortable (yay!) and he really enjoys wearing these. They hold the liquid in well in case of an accident, although they don't hold everything which is also good for toilet training. My son HATES to be dirty, so this helps a lot-lets him get the feeling of being wet, but doesn't leave a lot on the floor for me to clean up. These last really well, too. My aunt has given me hand-me-downs of these same undies (still in really good shape) and they've been used for 3 previous boys!
mommyd
The best training underwear
These are the best training underwear, in my opinion. I've purchased these for my first two, so with the third, I did no different. They are soft, wash well, and offer just enough stretch and support. The leg gussets are big enough for chubby toddler legs and they are about mid rise, so will not let little booty cracks peek. What I love best about these trainers is that they offer thicker material/layers in the middle so your child can usually make it to the potty without getting their whole outfit wet, granted they are aware when it is occurring. Meaning, if they piddle a little, recognize this, and hold the rest in to use the potty, then all you will likely need to do is put on a fresh pair of undies and not a new outfit. I use these trainers almost exclusively for the first year or two after potty training because I prefer to give my child the chance to have a little accident and not have a bigger one in flimsy, regular underwear. If you are potty training a child, these are the only trainers you should have. I don't believe in disposable trainers because those act and feel just like disposable diapers. With these, your child will start to recognize there is something going on down there and they will find out that they don't like being in their own mess (hopefully!).
KateB76
Good cheap training pants
They are good training pants, and they do what training pants are supposed to do. They aren't the most waterproof option in the world, and if the child has an accident, you will still need to clean up a mess. So if you want something leak-proof, you better stick with pull-up diapers... but I like these because they make the child feel wet and gross and not want to wet their pants anymore. They're a good alternative to Pull-up diapers which don't make the child feel uncomfortable. My daughter wears them during the day while we're at home. We still do pull-up diapers at night or when we go somewhere where accidents are a big deal.
Forscooter
Very soft and just what I was looking for
My daughter's preschool teacher recommended these for potty training. They are thin enough to allow my daughter to feel that she is wet or dirty but have just enough thickness in the crotch area to buy you a minute or two to get to the bathroom before an entire outfit is ruined. Definitely not meant to hold accidents (that would defeat the purpose), but great for training. Only negative would be the leg holes are a bit tight. My daughters legs are a little chubby but pretty normal for a toddler her size. I just pulled the seams to "pop" a few stitches and that gave a little more room. She is 3, 37" and 34# and the 3T fit good. Do wish they had additional colors or prints though.
MelissaAnnH
A great step up from pull-ups
I love these training pants. They are uber soft and not nearly as bulky as a pull up. Make my little boy feel big! I used them with his sister, too. Pull-ups tend to absorb too, quickly and my little ones never knew they were wet. Hard to train that way. Neither of my kids needed these pants for very long before they got the hang of the potty. Just two weeks for my son to be completely trained! So, the cost is a bit on the high side for the length of time we used them. But who can put a price tag on quick potty training?