Anti-Parasite Medicated Fish Food, 1 oz.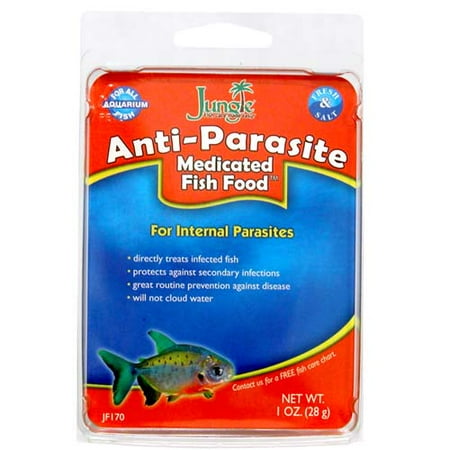 Sale :

$4.94

Sold & shipped by Healthypets
Product Description

Additional Information

Reviews
Product Description
This Anti-Parasite Medicated Fish Food makes it easier for you to take care of your pets. All you have to do is give it to them at feeding time. This aquarium supply is safe to use on a regular basis. It can prevent future infections, as well as treating current infestations of parasites. This food has a light formula that doesn't cause an unsightly cloudy condition in your tank. It's suitable for use in both fresh and saltwater tanks.Anti-Parasite Medicated Fish Food, 1 oz:
Additional Information
Provides nutrition and protection at the same timeFor all aquarium fish (fresh and saltwater)Directly treats infected fishWill not cloud waterHelps to protect against secondary infectionsSafe to use as part of a preventative routine1 oz pack of medicated fish food for internal parasites
Reviews
Jettangel
I suppose it works
Ordered this since medicated food is always a better route than using meds directly in the water and risking the demise of the biological filtration. One of my fish had one or two very small "holes" in his head... which was either Hole-In-The-Head disease or these were natural blemishes common in parrot fish. I see no other signs of illness, so it's hard to tell. However, all the fish eat it (good prevention care for the others) and the original fish that was of concern has not formed any new holes. The existing ones are still there, but even when the disease is cured, sometimes these holes never do go away. Overall, I think this is worth it (great price) to try rather than treating the water directly and medicated foods are far better at addressing the problems anyway. Hard to say if it really works, but it certainly didn't hurt matters.
robinbot
ok for smaller fish
The food is very tiny balls and are way too small for larger fish like Oscars.I did try putting some inside of peas but it was such a pain I was not consistent.They are literally the size of the star above the number eight on your keyboard.
BuyMadeUSA
Works but used gently
I used this as an INTERNAL medicine so they could digest the food plus help with any parasites too. I used this as directed but a little at a time to be sure it was not too strong for sensitive fish like plecos and catfish. Cleared up digestive track and now the fish are active again.
PattyInFabrics
Not a great idea for small fish
This food is small pellets too big for my guppies. You have to crush it in order for them to eat it. In the end it did not help my poor guppy. I had one sick guppy who despite eating well still appeared very thin. I thought she had an internal parasite. This medicine may work for someone else's fish. Mine was probably too far gone. On the positive side, all my other guppies are still doing great. ;) I'm not going to recommend this. I think there's gotta be a better method.