Tetra Whisper 10-30 Gallon Internal Power Filter for Aquariums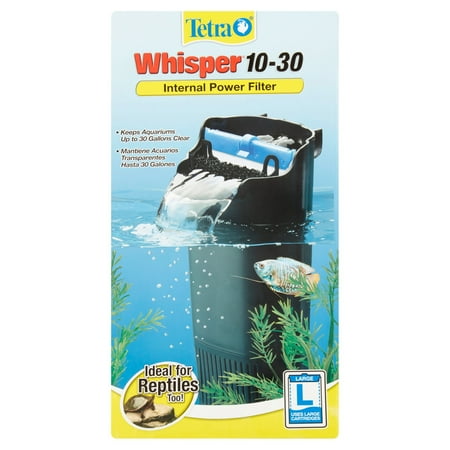 MSRP :

$20.17





Sale :

$21.17

Sold & shipped by Walmart
Product Description

Additional Information

Reviews
Product Description
The Tetra Whisper 10-30i Power Filter is a reliable and convenient filter alternative for many types of aquariums. This Aquarium Power Filter mounts to the inside of the aquarium, allowing the tank to remain flush against the wall for saving space. The underwater motor also allows this Fish Tank Power Filter to run in soothing silence. The Tetra Whisper Power Filter offers comparable performance to an external aquarium power filter, but is able to be adjusted to high or low water levels with mounting suction cups and/or brackets. In addition, this power filter adds extra versatility because it can function in as little as 2 inches of water or in tanks as large as 30 gallons. This Fish Tank Power Filter comes with one pre-assembled Whisper filter cartridge.
Additional Information
Product Features
For 10 - 30 Gallon Tanks
Provides an effective combination of mechanical and chemical filtration
Ideal for reptiles as well as fish
Register today for free TetraCare support
Incredibly easy to set up and easy to clean
Can be used in as little as 2 inches of water
Reviews
hardtoplease39
Low profile
Very low profile, very quiet and self priming and easy to replace cartridges. Works great in my 55 gallon aquarium that I purchased from Wal-mart. My tropical fish doesn't seem to be bothered by it. Puts out perfect water flow without disturbing my Tropical fish community. The cartridges are available can be assembled or dissembled for those who wants to add more Carbon or anything else to it. I make my own filter and it works great. These internal pumps are very easy to set up and very versatile. It has suction cups or a hang on for the inside of your tank. Doesn't take up much space either. The filter that comes with it, the white jacket can be removed very easily so you can add more Carbon or whatever you want to put in it. It's not permanently fixated it can slide off and filled with media of your choice. I hope this review was helpful. I also included a picture of what it looks like inside the aquarium.
Gamer213
Crystal clear water! Works in 2" of water, silent!
Ok first off this filter is totally silent I cannot even hear it run whatsoever, except if your water is low you will hear the waterfall sound, solved simply by filling it up to the lip of the filter, at first I was skeptical its huge, it goes inside the tank, didnt seem right, we used to have the aqua tech 30 gallon model on it and the day after we checked the filter catridge it was full of junk the other filter never cleaned out!!! The fish don't mind it at all even sometimes play in the current, and the suction is perfect for smaller fish although watch out for the bettas the sometimes get stuck on this and this filter might not be for your betta, or get a smaller model...we currently have 4 of these in different sizes on tanks and they are all crystal clear silent and even cheap!!! $.97 on amazon for unassembled cartridges look no further!!!! Oh and they will also work in only 2" of water has to above the filter slots a little bit you just slide the clip off and put the included suction cup on the back, kinda a pain and put it as high or low as you want in the tank, another thing to note is this may grind quite a bit but if you adjust it properly, clean it out, it will work like a charm, also it's a breeze to clean just pop the bottom off with a screwdriver and wipe it off unlike the u tubes which are impossible to fully clean
cbeans
very pleased
These are cool filters, the water outlet design makes for truly quiet operation. Most filters make a splashing sound when the water comes out. With this filter the water slips into the tank without disturbing the suface tension. This is a big plus for planted tanks! The pump is completely submeged too so no noise there either. Operates in as little as 2" of water, like a turtle tank would have. The filter pad is genius, it's built so you can open it and replace carbon. Rinse it off and it's like new, you hardly ever have to buy new filter pads. Very affordable in the long run and a decent price to begin with. Oh and the pump itself can be removed and used independently as a fountian pump. I like these :)
yousofunny
Dead in 8 days.
Received a starter kit for Christmas that included this filter. It has been in my tank for 8 days and died. Went through the troubleshooters on their website and called them to no avail. They will replace with a receipt however I don't have one. I'm not going to ask the gift giver if they still have the receipt. It would be embarrassing for the both of use. Bottom line is it was worthless to me.
Mandela
I can turn on the aquarium light again!!
I have a 10 gallon tank with just three lonely, smallish fish and the tank was constantly filthy. To keep it clean, I'd have to empty it each week (which I never had time nor the energy to do!) The last filter simply didn't work so I figured I would give this one a try given the favorable reviews. I set it up in less than 5 minutes and it is amazingly quiet. I couldn't tell it was on when I sat on our couch which is located directly in front of the tank. I thought I would have to clean the tank because of all the old food that settled in the gravel. No! I stirred the gravel a few hundred times throughout the evening and watched it all get sucked into the filter. This morning, the tank was completely clean and I was able to turn on the light without grimacing and feeling sick. Love it!!