Tetra PondFood Premium Diet Pond/Koi Fish Food, 1.25 lb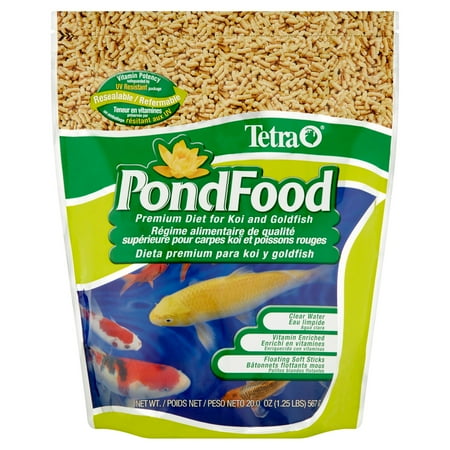 Sale :

$10.78

Sold & shipped by Walmart
Product Description

Additional Information

Reviews
Product Description
Keep your outdoor fish happy with Tetra Soft Stick Pond Fish Food. Fifty years of extensive research in fish nutrition have made Tetra a world leader in fish food. Pond Sticks is the company's most popular pond food featuring premium balanced-diet formulas for optimize growth, health and vivid coloration for koi and goldfish. An ideal maintenance diet, this koi fish food is suitable for use in spring, summer and fall, when water temperatures are 50degreeF and above.
Additional Information
Product Features
Premium diet for Koi and Goldfish
Food sticks that soften quickly for easy consumption
Resealable packaging for lasting freshness
Floating food sticks that are highly digestible for pond fish
Easy digestion leads to clear water
Vitamin enriched food for your Koi or Goldfish
Reviews
ThoughtfulSpouse
Tetra Pond Products
Very fast delivery. Packaged well. Box even arrived clean, now that Walmart is using FedEx instead of UPS. I have used this product for years and find it to be filled with all the ingredients I need, to help keep my pond fish healthy. During times when the temperatures drop below 60 degree's, I use a Tetra Pond Product for cold water feeding. (Fish should not be fed at all, in water temperatures below 40 degree's, as their digestion shuts down.) It contains less protein, since fish cannot digest alot of protein when the water temps fall, thus polluting the pond with undigested food fish waste. I have been an aquarist for over 30 years and have always trusted Tetra products. When you buy the cheaper products, you really do get what you pay for. I spend a little bit extra to achieve my success with healthy fish, with a product that even includes all the vitamins the fish need to stay healthy and extremely colorful. Walmart has the best price I have found on their pond products.
DropBeforeYouShop
TETRAPOND FOR GOLDFISH ETC
My goldfish are not in a pond but they are big in a big aquarium and these pellets are perfect for them because they flout and do not fall to the bottom right away like the flakes. Just do not overfeed them then you have a problem with softened pellets in the pump. I use a smaller canister with a smaller amount in it to feed from and keep the rest tightly sealed in a cool dry place to keep better when not opened every day. The fish like them and grow fast and stay healthy. I bought 5 for a quarter each 5 years ago and one is a really quick eater and weighs a pound and a half - the others are following in size and weight but "Barracuda" is fast during feeding times so he has grown to a really big beautiful goldfish with a gorgeous tail and fins!! Remember - keeping your fish healthy and alive depends most on how clean the water is - so keep changing their water and keep your tank clean!
1alleycat
Perfect koi food for our pond
This was a good size for this time of the year. Professionals say not to keep koi food around too long because it will lose it's effectiveness. Since winter is on the horizon, the smaller size will be used up before then. It was a good value also.
Wingman2
Fish like it
Floats for a long time but it need to be crushed into smaller bits for the small fish. Not the same product they sold in the past.
doughbiz
My picky fish like this food !
I have a large pond with many goldfish...they love this food. It floats on top of the water instead of just ending on the bottom like flaked food.