Badger Basket Covered Convertible Cedar Sandbox with Canopy and 2 Bench Seats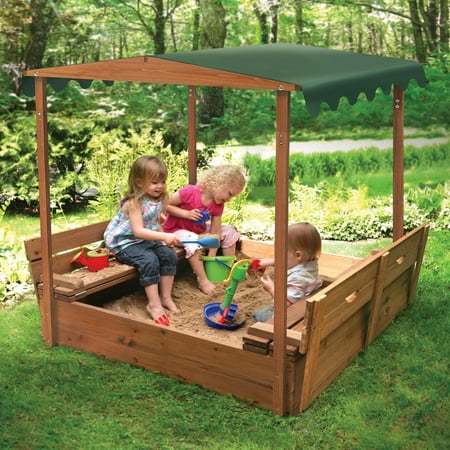 MSRP :

$146.99





Sale :

$132.99

Sold & shipped by Walmart
Product Description

Additional Information

Reviews
Product Description
Badger Basket's unique Covered Convertible Sandbox with Canopy is sure to become a favorite hangout for the neighborhood kids! This cedar sandbox features two comfortable benches and a canopy top for shade. There's plenty of room for several kids to dig, build and explore together. The bottomless construction of this Badger Basket Sandbox with 2 Bench Seats helps with drainage, and allows you to adjust sand depth (sand not included). But wait, there's more! The benches fold flat to cover and protect the sand when playtime is done! When the benches are unfolded for play, the open sand area measures 31 inches by 46.5 inches (there is also sand under the benches).
Additional Information
Badger Basket Covered Convertible Cedar Sandbox with Canopy and 2 Bench Seats:
Hand grips make it easy to fold and unfold
Bottomless construction helps with drainage
Canopy top: 100 percent polyester fabric with a polyurethane (PU) coating
Made with heat-treated, stained cedar wood and rust-resistant hardware
All finishes are non-toxic
Holds approximately 750 lbs of sand to fill it 6" deep
Each bench can support up to 200 lbs
Adult assembly required
Illustrated instructions included with the Badger Basket Covered Convertible Sandbox with Canopy
Meets all current, applicable safety standards
Measures: 46.5"L x 46.5"W x 9.5"H (57"H to top of canopy)
30-day parts warranty of to the original purchaser
Reviews
Kirk
We like it. Negative reviews are too harsh.
I was in a hurry and ordered it. I thought I didn't have to design, buy and cut the wood. Then I read the reviews, and many were negative. We disagree. Will it last ten years? Probably not. I say at least 3 or more. It went together easily, and we were putting sand in it the next night. We put ten 50 lb bags of sand in it. That was plenty. I think it calls for 5 more (750lbs.). The only negatives we have, is the top tends to hold some water. My Grandson loves it. We love it. Solved a problem, DONE. I say the negative reviewers were looking for too much from it. If you were procuring a sandbox, and having it shipped from China to Wisconsin, then shipped to you, how much should it cost? I say Thank you to Badger Basket for a good product.
JfowlerPS
Great design, love it - except the roof.
I love this concept - as you may know, wandering kitties will potty in your sandbox if it's not covered, and since my back yard is visible from the road, I wanted something pleasant to look at, and easy to cover. And this is perfect for that. It is well built and this design is great - the time and money you'd spend trying to build this from scratch makes this a great deal, with the exception of the roof. They do offer a roofless one for about $40 less, which I would suggest - or if you want the roof, plan to devise one yourself that will hold up. The framing is there but the material that comes with it doesn't hold up. I've attached a picture of ours after 1 month. The material keeps separating from the wood, falling, and we have tried stapling it, still didn't hold, and we tried screwing it with and without a washer. My son is sensitive to the heat so I do want the roof, but we will have to put a real roof on it. The sand box is cool enough to constitute the work we're about to put into it! Notes: 1. The instructions do tell you you're going to need more sand than you really will. It called for about 20 bags and we wound up with 3 extra bags. 2. Plan on having a second adult available during assembly. Most of it can be done by one adult but you'll need the second adult toward the end 3. Mom & Dad - don't expect these benches to be for you - they are much too small, but great for the kids. 4. Know that any larger toys will need to be removed in order for it to shut properly - my son just lines his up on the back side of it when he's finished.
Adrienne
Poor wood quality
After 3 uses, the screws in one bench ripped out of the wood, leaving sharp screws sticking up where the kids sit. (And the backrest totally detached.) After about 10 uses, the same exact thing happened to the other side. The wood is spitting, and is too soft to hold the weight of the rest of the cover when opening and closing.
Diversdownunder
Canopy lasted less than 2 days
The canopy was shredded in 2 days by normal wind 10 mph. We didnt even have the sand in it yet. Benches are nice but whole product is lower quality than expected. I'm not going to take it apart just to send it back, but not worth the price. Base is very shallow. We will build a platform under it for more sand.
Scrappygrammy
Christmas Gift a Really Big HIt!
Grammy and Pappy, the aunts and uncles, and Mommy and Daddy went together to get his sandbox for our two youngest grandchildren. We had it shipped directly to their home since we were flying there for Christmas. Grammy and Pappy put it together in less than three hours. The directions were very easy to follow and everything was precisely pre-drilled making the assembly easy. All the parts were there and we only had one extra very small screw. We put landscape fabric under the sandbox before adding the sand. We started out with 7 50# bags of sand and will probably add another 2 or 3 which is about 2/3 of the recommended amount. The looks on the faces of our 4 and 6-year-olds was worth every cent we paid. Once they saw the sandbox, they played in it the rest of the day. We know we didn't make a mistake with this gift. If there had been a way to include a picture, I would have.