OFF! FamilyCare Insect Repellent I, Smooth & Dry, 4 Ounces, 1 count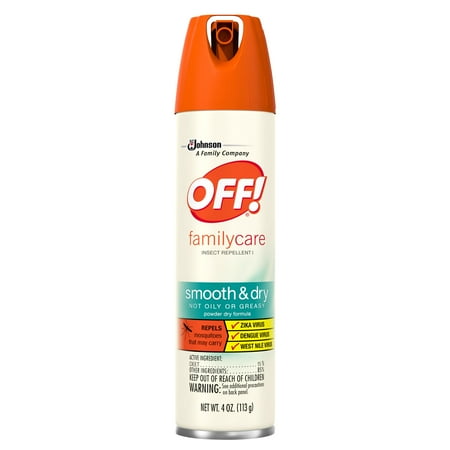 MSRP :

$6.32





Sale :

$9.6

Sold & shipped by OTCRx4U
Product Description

Additional Information

Reviews
Product Description
The Off! FamilyCare Smooth & Dry Insect Repellent will keep away insects such as mosquitoes, ticks, chiggers, flies, gnats and fleas. It will help prevent encephalitis by repelling mosquitoes carrying the West Nile virus. This Off! insect repellent's powder dry formula will make you feel comfortable all day and leave no stains on your clothes. Just apply it evenly on your skin or clothing for protection while camping, hiking or working in the garden. This non-greasy insect repellent is environment-friendly, as it is completely free of CFCs and other ozone depleting substances.
Additional Information
Formulated with DEET
Powder-dry formula—not oily or greasy
Repels mosquitoes that may carry the Zika, Dengue, or West Nile viruses
Repels mosquitoes, biting flies, gnats, ticks, chiggers, and fleas
Aerosol spray allows for easy application in a continuous sweeping motion
Reviews
bloggerrama
best offers product
it lot of fer ...........best buy price yuor product visit on https://www.bloggerrama.com/offers/
MosquitoesDinner
not what i expected
It didn't repel the mosquitoes like it says. It seemed as if it attracted them. I don't really like it.
Watcheveryday
It really works
With no stickiness.
Nanie3
OFF insect repellent
The results after OFF family care were immediate. I went out to sit on my deck to relax and enjoy the evening, I was bitten right away twice. I went back inside to retrieve my OFF family care insect repellent smooth and dry. I sprayed the repellent on my arms and legs, the results were immediate. I was able to enjoy my evening without any problems of pesky insect bites.
ASTORIAN
good product
Great buy, works well, and price was fair, and very light in weight, so easy to carry in your bag. I bought two of them for my vacation trip to a tropical island, and uses it most of time.