Raid Ant & Roach Killer Spray, Outdoor Fresh, 2 ct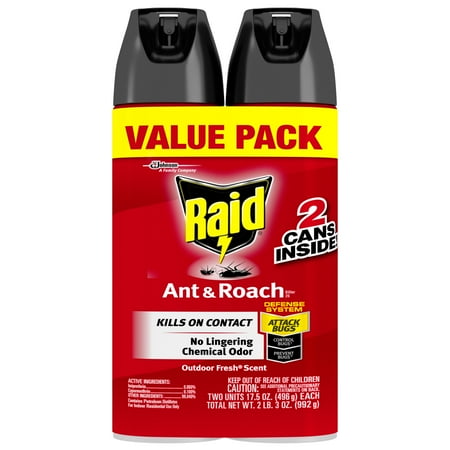 MSRP :

$11.11





Sale :

$7.48

Sold & shipped by Walmart
Product Description

Additional Information

Reviews
Product Description
Raid Ant and Roach Killer kills ants, roaches and other pests on contact. The residue from the spray keeps on killing bugs for up to four weeks after you apply it. This insecticide comes in an easy-to-use aerosol can. Just shake, point and spray at the bugs or use it on a surface where they travel. Raid Roach Killer can be used to spray from a distance. It has broad spray patterns to cover a large surface area inside the home. Spray it on your floors, doors, baseboards and windows. It has an outdoor fresh scent that leaves behind a pleasant fragrance. This product also works on waterbugs, crickets, spiders and more. This value pack contains two cans.

Additional Information
Roach Spray kills on contact and keeps killing with residual action for up to 4 weeks
Kills Roaches, Ants, Silverfish, Crickets, Earwigs, Household Spiders, Multicolored Asian Lady Beetles, Stinkbugs, Scorpions, and Black Widow Spiders
Leaves no lingering chemical odor
This easy-to-use roach spray can be applied to surfaces where ants, roaches and other listed bugs may be infesting
Retreat every 4 weeks as necessary to maintain control of indoor surfaces
Reviews
EddieWannaBee
Sprays thick like a hose
As soon as you press, this strong stream comes out which reminded me when I turn on the hose. No spray here, making it very hard to use correctly. Let's say a nice size spider or roach, full of vitality, is spotted on the wall in the master bedroom. If you miss with that first aggressive glob of insecticide, which will basically soak the target area with one strong hit, by the time you realign the next messy shot, the spider or roach will be long gone laughing all the way to their hideout, leaving you with this very inefficient type product wondering when you will meet again. I returned this product to the store, and just to appease my curiosity, I went to the aisle where this product is found and I tried using a new one to see if it would spray instead of shoot out. No luck. Perhaps it is manufactured this way but I can see how very fast it would go from full to empty. Bought a nice one, with a decent spray/mist, that most certainly be more of an asset in the battle between man and roach. This one I strongly recommend against it. 1 Star.
Pooh
Kills roaches dead on contact
Shake the can and it sprays very well. I have had no problems with spraying after I shake the can.
YAYA
Raid
Price was good Product do not spray well Came out as a stream not spray
DaddyEvil
The Ants Keep Coming
I used Hotshot for ant problems before and it's always worked well. But this 2 pack was cheaper than Hotshot when I went to buy more so I got it. And boy do I regret that choice. The ants kept right on crawling around even when I sprayed them. They would get knocked down - because this is a thick hose-like spray and not a mist of spray like most insect killers - but they'd climb right back up and continue on their merry way. And an hour later they were still climbing in and out of the area they had been coming through which I thoroughly soaked down with the Raid. Tried spraying the area a couple more times, but it made no difference to the ants. Bottom line, this stuff is more like an ant bath than an insecticide. It doesn't do anything.
HighMaintenance4Quality
I hate the function of the spray
I am a loyal customer of Raid; however, the last four cans I purchased (two twin packs) the spray seems to be faulty. Instead of spraying out in a saturated, heavy mist (like most aerosols do), it sprays out in a heavy, full stream (as if you were using a water hose) exerting way too much chemical (can you say "rapidly empty can"?) which literally leaves puddles and streaks running down walls. What a waste.