Lasko Electric Ceramic 1500W Heater, Silver/Black, 754200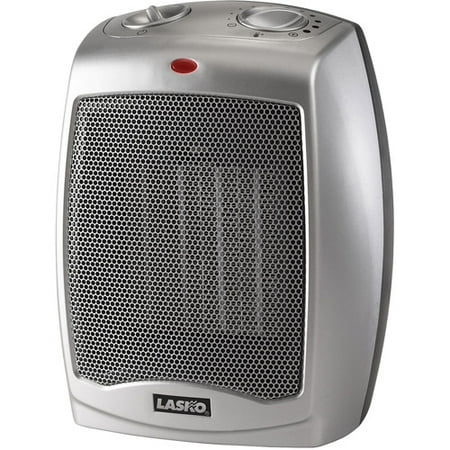 MSRP :

$35





Sale :

$22.19

Sold & shipped by Walmart
Product Description

Additional Information

Reviews
Product Description
The Silver/Black 754200 Lasko Electric Ceramic 1500W Heater is made for those chilly days in your house or at the office. Its smaller size provides effective, consistent warmth and won't get in the way. This Lasko heater offers a convenient carry handle that makes it easy to transport. Take it from the floor to the table or wherever it is needed the most. With three settings and an adjustable thermostat you can set it to your liking and comfort level. This home heater is also suitable for use in a garage, basement, cottage or cabin. It features a self-regulating ceramic element. This Lasko heater comes with an automatic setting that prevents it from getting too hot.
Additional Information

Lasko Products Ceramic 1500W Heater, Silver/Black:
Home heater has an adjustable thermostat control for personalized comfort
Silver/black 754200 Lasko electric ceramic 1500W heater offers 3 quiet comfort settings
Self-regulating ceramic element
Lasko heater has automatic overheat protection
Home heater comes with a convenient carry handle
3-year warranty
Lasko heater model #75420
Note: Most Lasko heaters require 12.5 or 12.7 amps of power and should be plugged into an outlet capable of handling this load. Check your particular unit's specifications for the exact requirements. If you do not have an outlet capable of handling the requirements, arrange to have an adequate outlet installed. This work must be done in accordance with the National Electrical Code (NEC) and all applicable local codes and ordinances. This work must be done only by a qualified electrician, using only copper wire.
Depending on your unit, it will generate different amounts of heat. Many Lasko heaters have a high setting capable of generating 5118 BTUs of heat. Refer to your unit's specifications for more information.
Lasko heaters have safety features built into the units that will cause the unit to shut off. Check your specific unit's instruction sheet for more information.
Reviews
beachfl2k
Great Purchase!
I needed a new heater for my office and before I brought it in I opened it at home and tried it out. I was impressed b/c it puts out more heat then my $50 heater I have at home. I'm very pleased. Only thing is, I wish the light would go out when it is in the off position. If you want the light to be off you must unplug it. Also has a fan setting that could work when you want cooler air...very neat! It makes noise but it's not noisy..it's a calm noise but atleast you know it's on aside from the light. I use the lower heating setting the higher one is max and if you need that you won't be disappointed.
SpendtotheEnd
GOOD HEATER
This heater is under-rated on this website. I've had it for a year, and it's a good, practical tabletop heater. It puts out a lot of heat for it's size, and the heat it blows is HOT. The fan also blows the heat a good distance. This would make a good bathroom heater; when I use it in the bathroom I find it effective if it's placed on the floor (since heat rises). Close your bathroom door for a few minutes, and it will warm up your bathroom. It also makes a good personal/spot heater for the kitchen or living room. It won't heat a big room, but it will heat an area. And if you leave it running long enough, the ambient temperture of the whole room will rise a little. It also has a thermostat knob that you turn to adjust the level of heat. I took off one star for value, as I paid about $10 less for it than the price listed here. But since Walmart.com is such a great place to shop, I wouldn't hesitate to purchase it on this website. By the way, this heater was listed as a "best value" heater on various consumer websites across the web. You can't really go wrong. Versatile size, decent price, blows hot heat, and seems durable.
SpendtotheEnd
Excellent Heater -- Great Buy
I recently reviewed my electric bill, and saw it doubled between OCT to NOV. Something needed to be done about this bill because I was not prepared or willingly expecting to pay an expensive electric bill this winter. My wife and I found this heating element (Lasko Electric Ceramic 1500W Heater), and purchased two of them. We placed one heater in our bedroom and placed the second in our living room. It has worked so well, we decided to turn-off the apartment's heater, and just rely on two Lasko Electric Heaters for warmth. As we move from one room to another we just unplug the space heater, and take it with us. Also, we unplug it before leaving for work. I have been pleasantly impressed by this somewhat unassuming heating element, and highly recommend it to others. Thanks for reading this post, and hope it helps. P.S. – Personally, I would rather spend $300 dollars on something other than a high electric bill. Satisfied Consumer, Analyst
texaschristina
Awesome little heater
Heats a small room or bathroom really quickly. bought it for my elderly mom who moved in and is always cold. She is nice and toasty now in her room and bathroom without roasting the rest of the family.
Clearlake
Great heater! It really puts out the heat!
I read most of the reviews before making my purchase. Thank you to all of the people who take the time to write an honest review! Bless you! I live in a 1bdrm apartment and I paid $ 200 last year for a heating bill; never again. I have one of the wall heaters that were made in the 50's or 60's and wow is it expensive! This year I decided to try space heaters and I am so happy that I did. I got both of them home and plugged them in. Wow, they really do put out the heat. I also bought an electric blanket but I don't know that I will need it; honestly. It does tend to get really cold where I live. With all of that being said, the heaters work great and I would buy them again! There are worth every penny.