Lasko Electric Ceramic 1500W Heater, Silver/Black, 754200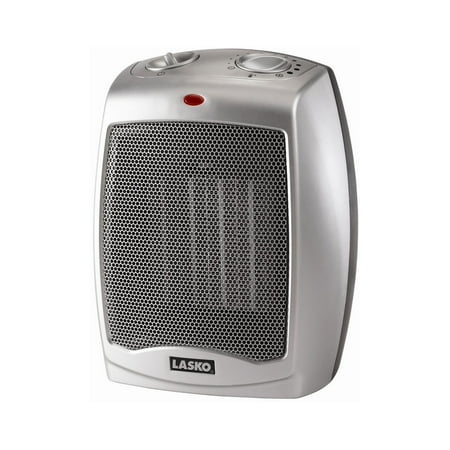 MSRP :

$35





Sale :

$28.22

Sold & shipped by Walmart
Product Description

Additional Information

Reviews
Product Description
The Silver/Black 754200 Lasko Electric Ceramic 1500W Heater is made for those chilly days in your house or at the office. Its smaller size provides effective, consistent warmth and won't get in the way. This Lasko heater offers a convenient carry handle that makes it easy to transport. Take it from the floor to the table or wherever it is needed the most. With three settings and an adjustable thermostat you can set it to your liking and comfort level. This home heater is also suitable for use in a garage, basement, cottage or cabin. It features a self-regulating ceramic element. This Lasko heater comes with an automatic setting that prevents it from getting too hot.
Additional Information

Lasko Products Ceramic 1500W Heater, Silver/Black:
Home heater has an adjustable thermostat control for personalized comfort
Silver/black 754200 Lasko electric ceramic 1500W heater offers 3 quiet comfort settings
Self-regulating ceramic element
Lasko heater has automatic overheat protection
Home heater comes with a convenient carry handle
3-year warranty
Lasko heater model #75420
Note: Most Lasko heaters require 12.5 or 12.7 amps of power and should be plugged into an outlet capable of handling this load. Check your particular unit's specifications for the exact requirements. If you do not have an outlet capable of handling the requirements, arrange to have an adequate outlet installed. This work must be done in accordance with the National Electrical Code (NEC) and all applicable local codes and ordinances. This work must be done only by a qualified electrician, using only copper wire.
Depending on your unit, it will generate different amounts of heat. Many Lasko heaters have a high setting capable of generating 5118 BTUs of heat. Refer to your unit's specifications for more information.
Lasko heaters have safety features built into the units that will cause the unit to shut off. Check your specific unit's instruction sheet for more information.
Reviews
DaveyinDC
Very hot
I ordered this heater when on sale after lots of research and paid for two year warrantee since dealing with makers other folks said was a pain. I did as instructions said and plugged in an outlet with nothing else plugged in. I never use level 2 the 1500 watts due to it sometimes overloading and blowing a fuse according to other reviewers. I haven't had it turn off I have to do it when I'm hot enough. It blows hot air in about five seconds after turned on. I agree that it feels good when you are not far from it and you cannot feel it from far away, but I do not think it means it is not hearing the room up. I have no idea why a reviewer here thought it would warm them outside on the porch it is not meant for outdoor use. I got it same reason most sensible folks did here, my heating bill was $99. I didn't use the oven, unplugged all appliances unused, only cooked on a burner, and laundered in warm water only once this month, and showered quickly four times this month trying to not go broke. So it has to be the heater and I only used one in the bedroom and piled on coats in other rooms. If my bill goes down after using this heater a lot I will tell you.
tmiller
Nice
It's a nice little heater that'll warm you up when your cold. Only bad thing is, you have to be close to the heater to feel the heat.
tmiller
Excellent Heater -- Great Buy
I recently reviewed my electric bill, and saw it doubled between OCT to NOV. Something needed to be done about this bill because I was not prepared or willingly expecting to pay an expensive electric bill this winter. My wife and I found this heating element (Lasko Electric Ceramic 1500W Heater), and purchased two of them. We placed one heater in our bedroom and placed the second in our living room. It has worked so well, we decided to turn-off the apartment's heater, and just rely on two Lasko Electric Heaters for warmth. As we move from one room to another we just unplug the space heater, and take it with us. Also, we unplug it before leaving for work. I have been pleasantly impressed by this somewhat unassuming heating element, and highly recommend it to others. Thanks for reading this post, and hope it helps. P.S. – Personally, I would rather spend $300 dollars on something other than a high electric bill. Satisfied Consumer, Analyst
Satisfied
Small and effective
I wanted a heater to heat a small corner of one room in the house where my home office is. The room is directly over the garage and on the opposite end of the house from the master bedroom where the thermostat is located. The master bedroom gets to the thermostat set temperature yet the office is still much cooler. This little heater easily heats the space that I sit in so that I don't have to adjust the vents on the central heat to force heat down to the office or run the central heat much longer trying to heat the cooler office. The unit is very simple to operate; two speed fan and a thermostat knob. It is reasonably quiet but you can hear the fan running but it is not noticeable to people on the phone. With its compact size and substantial heat output, it does exactly what I need. I haven't tried to heat an entire room with it so I can't comment on its ability to heat large spaces but for focused, heat right where I'm sitting, it works as expected.
scissors19
Great Bathroom Heater
After trying every heater in town, I finally found this little heater for my bathroom. It was the first one I didn't have to stand right in front of to feel the heat, and the first one that didn't sound like a freight train. I have it plugged into an outlet timer, and it comes on in plenty of time to warm up early in the morning. It's so quiet that it doesn't wake me up. My bathroom entrance is an arch, and I did have to block it with a drape, since the little heater couldn't overcome cold air coming in. Once the bathroom was heated, it was almost too warm, and I've been using the thermostat to regulate it. I bought a second one for behind my desk in a small office area, and found that the fan sends the air slightly upwards, instead of straight out. I put a small block of wood under the back to tilt it forward just a bit, and now the hot air keeps my toes nice and toastie.