Lasko 18" Stand 3-Speed Fan with Cyclone Grill, Model #S18902, White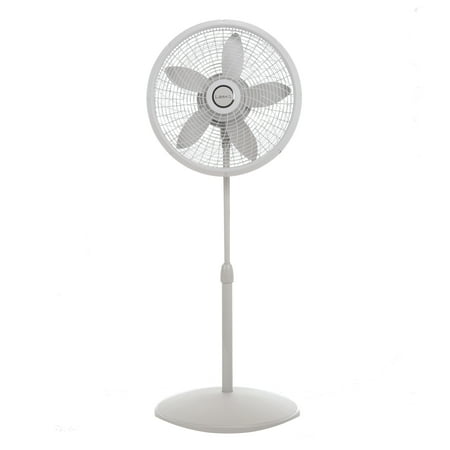 Sale :

$29.76

Sold & shipped by Walmart
Product Description

Additional Information

Reviews
Product Description
Stay cool with this Lasko 18" Stand 3-Speed Fan with Cyclone Grill. It is ideal for hot weather use in any area where you need air circulation. Its 18" blades is effective in cooling large spaces, and the cyclone grill provides superior performance and broader air flow compared to regular fans. The Lasko Stand Fan provides quiet cooling and it has three energy-efficient speeds. It also tilts and adjusts up to 54.5" in height so you can easily direct the air where needed. This fan features the Blue Plug, a patented safety fuse technology. The widespread oscillation helps to maximize the cooling area. Made for ultimate out-of-the-box convenience, this item is easy to assemble without the need for clips or tools. This Pedestal Fan is ideal for homes, schools, libraries, hospitals, meeting rooms and any other space where people work or spend periods of time. The portable design is also easy to move around. Lasko 18" Stand Fan with Cyclone Grill is great cooling fan for large living areas where there is ample floor space. Lasko has been engineering and building great-looking, high performance home comfort products in the U.S. and around the world for more than 100 years. The company has grown to an international organization and market leader in portable fans and ceramic heaters including room fans, high velocity fans, ceramic, low-profile heaters and many more.
Additional Information
Lasko 18" Stand 3-Speed Fan with Cyclone Grill, Model S18902, White:Quietly cools large spaces3 energy-efficient speedsPedestal fan easily tilts to direct air where neededAdjusts up to 54.5" in heightWidespread oscillationSimple, no tools assembly for out-of-the-box convenienceConstruction: plastic1 year limited warrantyIdeal for homes, schools, libraries, hospitals, meeting rooms and any space where many people work or spend periods of timePortable, move it from room to room easilyE.T.L. listedCord length: 76 inches
Reviews
FloridaKathy
Lasko 18 inch fan review
We already owned one of these fans n thats WHY I chose to order this fan when we were in need of another one. We were gifted the 1st one n have been very happy with it. Pushes out a LOT of air n with my occasional hot flashes AND intense heat in Florida and Alabama this fan has been a GODsend! Yes the base is a bit large compared to other fans and will take up a larger footprint. But with THAT being said, its also why this fan is VERY stable n has NEVER tipped over on us even on the highest setting. Oscillates very well. The adjustable height is fantastic. Its not "pre-set" heights, you can adjust it to any height with the adjuster ring. As other reviewers have stated, getting the front grill lined up perfectly n snapped into place is a tad challenging but certainly doable. I HIGHLY recommend this fan. The ONLY reason it got 4 stars instead of 5 is because of the added challenge/time necessary to install the front grill.
Dave
Good air, bad grill design.
Short and quick. blows good air, but you have to buy some zip ties to hold the front grill on. The clips/fasteners that hold the two grills together are worthless. Had to take the first one back because the housing on the motor was cracked. I've seen much better for the same price.
Tonya
Good air, bad grill design.
OMG spend the best fan I have ever bought and it lives up to its name it blows so hard it's it's awesome. I would recommend it to anybody that's looking for a fan.
Juliet
Lasko
Easy to assemble , good quality & affordable!
ChubbySisterSami
Lasko 18" Stand Fan
I was VERY happy to receive this item in a much shorter time than expected!! It turned out to be sort-of grey in color, not tan, which was Perfect for me! It was quite simple to put together, with no tools needed. I DID, however, use a flat-head screwdriver to help the tabs slip completely into the notches when I put the front 'grill cover' on. Very little effort was needed! :) It's a well-molded, heavy-duty plastic material, but that doesn't seem to make any difference in terms of use or effectiveness. The base is fairly large, which isn't a problem, and makes it very stable. I used it on Low speed setting, and that was a LOT of air-pushing! :) It was plenty. If I had a larger space to circulate air in, or to cool, I would possibly turn it up, but Low was plenty! Since I haven't had it very long, I cannot speak to value very MUCH-- except to say that it has ALL the functions I wanted: Tilts, varied speeds, oscillates or can stop in one place-- Just PERFECT for me! And reasonable in price, too!