Lasko 18" Stand 3-Speed Fan with Cyclone Grill, Model #S18902, White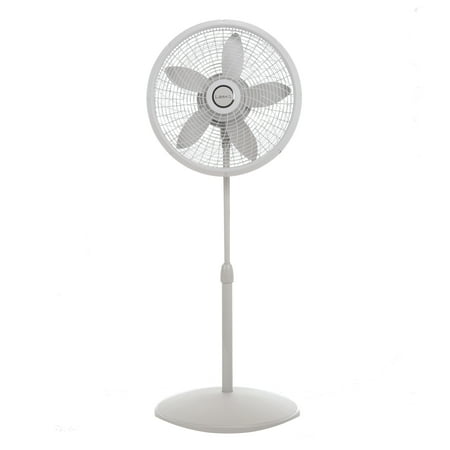 Sale :

$29.76

Sold & shipped by Walmart
Product Description

Additional Information

Reviews
Product Description
Stay cool with this Lasko 18" Stand Fan with Cyclone Grill Tan S18902. It is ideal for hot weather use in any area where you need air circulation. The Lasko stand fan provides quiet cooling and it has three energy-efficient speeds. It also tilts and adjusts up to 54.5" in height so you can easily direct the air where needed. The widespread oscillation helps to maximize the cooling area. Made for ultimate out-of-the-box convenience, this item is easy to assemble without the need for tools. The pedestal fan is ideal for homes, schools, libraries, hospitals, meeting rooms and any other space where people work or spend periods of time. The portable design is also easy to move around.
Additional Information
Lasko 18" Stand 3-Speed Fan with Cyclone Grill, Model S18902, White:
Quietly cools large spaces
3 energy-efficient speeds
Pedestal fan easily tilts to direct air where needed
Adjusts up to 54.5" in height
Widespread oscillation
Simple, no tools assembly for out-of-the-box convenience
Construction: plastic
1 year limited warranty
Ideal for homes, schools, libraries, hospitals, meeting rooms and any space where many people work or spend periods of time
Portable, move it from room to room easily
E.T.L. listed
Cord length: 76 inches
Reviews
Dave
Good air, bad grill design.
Short and quick. blows good air, but you have to buy some zip ties to hold the front grill on. The clips/fasteners that hold the two grills together are worthless. Had to take the first one back because the housing on the motor was cracked. I've seen much better for the same price.
Juliet
Lasko
Easy to assemble , good quality & affordable!
ChubbySisterSami
Lasko 18" Stand Fan
I was VERY happy to receive this item in a much shorter time than expected!! It turned out to be sort-of grey in color, not tan, which was Perfect for me! It was quite simple to put together, with no tools needed. I DID, however, use a flat-head screwdriver to help the tabs slip completely into the notches when I put the front 'grill cover' on. Very little effort was needed! :) It's a well-molded, heavy-duty plastic material, but that doesn't seem to make any difference in terms of use or effectiveness. The base is fairly large, which isn't a problem, and makes it very stable. I used it on Low speed setting, and that was a LOT of air-pushing! :) It was plenty. If I had a larger space to circulate air in, or to cool, I would possibly turn it up, but Low was plenty! Since I haven't had it very long, I cannot speak to value very MUCH-- except to say that it has ALL the functions I wanted: Tilts, varied speeds, oscillates or can stop in one place-- Just PERFECT for me! And reasonable in price, too!
ATXWoman
Fan Moves Lots of Air in HOT Texas Summer
I bought 2 of these fans last summer when we had 60+ days over 100 in Texas to supplement the AC and Ceiling fans. I was surprised how much air they can actually move efficiently being made of lightweight plastic. Although they are not my favorite decorating accessory in my living room and bedroom--they allow me to turn up my AC unit while I am at work and keep my dogs cool and happy! When I get home from work--I just turn down the air and the fans help distribute the AC. I bought the LASKO 20 inch Metal fan for my garage and it works well too but comparing the two--my pedestals work extremely well. I also have the floor model Lasko circulating or velocity fan--they run almost 24/7 in the summer and help to cool the house. For the price I would highly recommend these fans! These are so much stronger than regular pedestals and are not very loud. Easy to clean by just unclasping the grills and pulling the blades off to remove dust. I would DEFINATELY purchase again!
FrugalToAfault
Fooled me, old fiveanddimer
Bought this item over a month ago, and immediately came in here to review the plastic, cheap made piece of junk. But wait. Patience. I had read some reviews, and especially the one where the guy said he never turned it higher than the lowest setting. I'm old school, I like metal and sturdy and easy to get to fan blades in order to clean them. That's precisely why I didn't buy the other metal ones for sale at Walmart. They have these teenyTiny little screws you have to remove just to get to the blades. They are ridiculously hard to get back in, and time wasting, and just plain stupid thinking on the creator's part. This fan. Plastic. Will strike you as cheap made, disgusting really. But it's the world we live in. I suppose they keep cost down by using plastic. If all the slots and snaps fit correctly, you'll be happy with this one. The lowest setting will blow you away. I've never turned it up faster. The "white noise" another man mentioned is super awesome. Which is precisely what I was seeking. Nothing but good from me.