Lasko 20" Box 3-Speed Fan, Model #B20200, White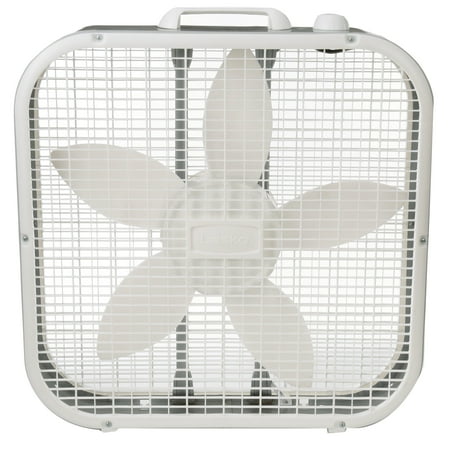 Sale :

$18.88

Sold & shipped by Walmart
Product Description

Additional Information

Reviews
Product Description
The Lasko 20" Box Fan creates efficient airflow to keep a home or work space cool and comfortable and dry out dampness. There are three quiet speeds to choose from. The metal frame is durable and the front grill and blades are removable for wiping and cleaning. Top-mounted controls provide quick and easy operation. A handle on the top allows this Lasko box fan to be lifted and carried to wherever it is needed. No tools are required for set-up or maintenance, adding even more convenience.
Additional Information
Lasko 20" Box 3-Speed Fan, Model #B20200, White
20-inch blade diameter
Three quiet speeds
Easy-carry handle
Steel body
Top-mounted controls
Weather-resistant motor
Patented Blue Plug safety fuse technology
21.5"L x 4.44"W x 22.56"H
1 year limited warranty
Cord length: 72 inches
Reviews
Johnny1718
Great box fan for the price!
This fan wasn't on stock at the local Walmart, so I bought it online and chose free store pickup. This fan is a small cyclone. Also this fan is great for those of us that like white noise for sleeping.
Augustmom2012
Buying my 4th one!
I have had 3 of these, use them throughout the house. The one in my 3 yr olds room finally gave up after 3 yrs, we use it every single day during her naps and night sleep mainly for white noise and to keep the air in her room circulating. So technically this fan has operated more hours in the 3yrs we have had it than most at an average of 13-15 hrs per day every single day since my daughters birth. The noise it makes is not a nuisance I can carry on a conversation next to it, but it is not silent, loud enough to drown out noise from connecting rooms so my daughter can sleep well. During the summer I put one at my back sliding door with the front door cracked and I makes it feel like fresh air is rushing in the whole house while the hot air gets pushed right out the front door, also do this upstairs by placing it in front of a window sitting in the window sill and have another window open to remove hot air. For the price it can't get better, stronger than the $47 tower fan I have for the family room (the only room I want a whisper quiet fan in)
TexasHoldem
Really good 20" Fans. Thumbs up.
For the price this fan is exactly what I was looking for. I need to help move colder air from one room to the rest of the house. People have said its too noisy, but how do you spin a 20" fan blade and move so much air without noise. Yes on high it is pretty loud. It definitely does consume much electricity. I measured the wattage with a plug in appliance current meter and found the following results: Low speed = 68 watts Med speed = 80 watts High speed = 90 watts As you can see it is about like a light bulb wattage. I bought two (2) and really like them.
Brie
Junk.
First impressions for the one I just bought are terrible. I had one of these about a year ago but left it with my roommate when I moved out, so I went and picked up another. One of the feet is defective and fused together so it will not slide fully into place. Not only that, but when starting up and turning off, the fan makes a horrible noise like the blades are scraping against the plastic. The fan is not bent and this should not happen and I cannot explain why it is happening. I would not purchase another.
JulesInCO
Bought two and each broke within 2 months
Look, it is an inexpensive box fan at $16. I bought two of them for my place in Colorado. BOTH of them, within two months after I bought them, were humming along and one of the blades of the plastic fan within the box just spontaneously ripped off. When it did this, it made an awful noise, and then the fan was off balance. One of them was on a shelf near a window, and after it made the awful noise and became off balance, it crashed onto the floor. I was sleeping 2 feet away from it when this happened and it scared the crap out of me. If the box hadn't had the plastic protective grill on it, I wonder if the ripped fan blade would have just come flying out and who knows what it would have hit. So, I would skip this one and go withe the "premium" one or some other brand. These are pieces of garbage.