Lasko 20" Box 3-Speed Fan, Model #B20200, White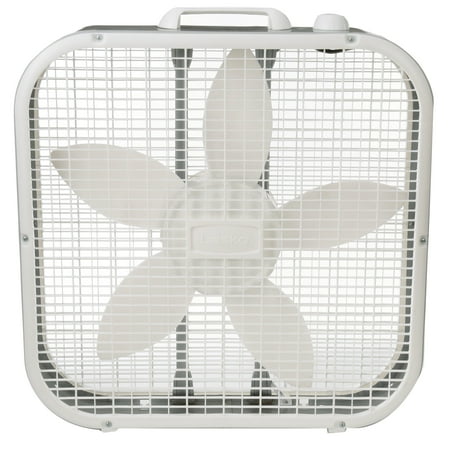 MSRP :

$24.99





Sale :

$18.88

Sold & shipped by Walmart
Product Description

Additional Information

Reviews
Product Description
The Lasko 20" Box Fan creates efficient airflow to keep a home or work space cool and comfortable and dry out dampness. There are three quiet speeds to choose from. The metal frame is durable and the front grill and blades are removable for wiping and cleaning. Top-mounted controls provide quick and easy operation. A handle on the top allows this Lasko box fan to be lifted and carried to wherever it is needed. No tools are required for set-up or maintenance, adding even more convenience.
Additional Information
Lasko 20" Box 3-Speed Fan, Model #B20200, White
20-inch blade diameter
Three quiet speeds
Easy-carry handle
Steel body
Top-mounted controls
Weather-resistant motor
Patented Blue Plug safety fuse technology
21.5"L x 4.44"W x 22.56"H
1 year limited warranty
Cord length: 72 inches
Reviews
Johnny1718
Great box fan for the price!
This fan wasn't on stock at the local Walmart, so I bought it online and chose free store pickup. This fan is a small cyclone. Also this fan is great for those of us that like white noise for sleeping.
Augustmom2012
Buying my 4th one!
I have had 3 of these, use them throughout the house. The one in my 3 yr olds room finally gave up after 3 yrs, we use it every single day during her naps and night sleep mainly for white noise and to keep the air in her room circulating. So technically this fan has operated more hours in the 3yrs we have had it than most at an average of 13-15 hrs per day every single day since my daughters birth. The noise it makes is not a nuisance I can carry on a conversation next to it, but it is not silent, loud enough to drown out noise from connecting rooms so my daughter can sleep well. During the summer I put one at my back sliding door with the front door cracked and I makes it feel like fresh air is rushing in the whole house while the hot air gets pushed right out the front door, also do this upstairs by placing it in front of a window sitting in the window sill and have another window open to remove hot air. For the price it can't get better, stronger than the $47 tower fan I have for the family room (the only room I want a whisper quiet fan in)
TexasHoldem
Really good 20" Fans. Thumbs up.
For the price this fan is exactly what I was looking for. I need to help move colder air from one room to the rest of the house. People have said its too noisy, but how do you spin a 20" fan blade and move so much air without noise. Yes on high it is pretty loud. It definitely does consume much electricity. I measured the wattage with a plug in appliance current meter and found the following results: Low speed = 68 watts Med speed = 80 watts High speed = 90 watts As you can see it is about like a light bulb wattage. I bought two (2) and really like them.
trelpe
Exactly what I wanted
I actually bought this fan based on the 2 negative reviews. The complaint was the fan was too loud, but that's exactly what I was looking for! I passed this fan up because it advertised "3 quiet speeds". I really need steady white noise for sleep. A quiet fan does me no good! So, when I read the reviews, I decided to give it a try. The medium setting is perfect for me!
Poorfarm
Great fan
Great fan for the price. I like having the handle and speed control on the top. The fan is light and easy to move and the speed control is easy to turn. The fan runs smooth and moves a lot of air on low. Noise level is typical for this type fan and not a problem.