Campbell Hausfeld 12V 2-in-1 Inflator with Flashlight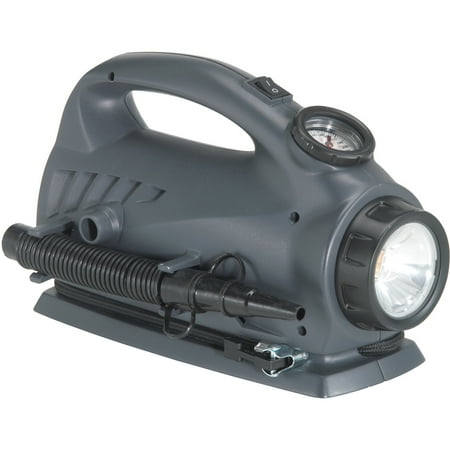 MSRP :

$22.17





Sale :

$16.55

Sold & shipped by Walmart
Product Description

Additional Information

Reviews
Product Description
The Campbell Hausfeld 12V Inflator with Flashlight is ideal for use while you are on the road. Two inflation nozzles and a needle are included so you have what you need to get started with use. This Campbell Hausfeld inflator also has a built-in pressure gauge and a light for those roadside emergencies. Keep it in the car so you are prepared for potential emergencies.
Additional Information
Campbell Hausfeld 12V 2-in-1 Inflator with Flashlight
Reviews
JustUS2FL
I've had for about 8-10 yrs
mine is so old it's hard to say what the new ones are like but it looks exactly the same, it is the same name and design. Mine has been good for many many years with occasional use each year. I used it on two smaller cars and a large custom van. it worked fine up until about a year ago when all the sudden it would no longer pump pressure above about 25-30 psi. I don't recall what I spent but I believe it was about $20 to $30. Considering the price and how long it lasted I would say I got more than my money's worth.
laurijean
Inflator with flash light
This is such a handy gadget inflator and flash light all in one and light weight just plug into your lighter and it gets the job done , not fast but done. we will use this a lot as we really didn't need a big compressor but this will fit the job just right . the flash light will be a blessing this is perfect for all home inflation needs tires and air mattresses rafts and sports balls . has on board storage that helps to keep all accessory's in one place. easy to use . has a 1 year limited warranty on product. included with the system 2 inflation nozzles m inflation needles, and raft hose . fits nice under your front seat or in a small space in your trunk for easy access . I believe this will come in handy for your everyday use , made for Campbell hausfeld.this has a pretty good air volume to it also comes with a 10 amp fuse all you need to get the job done. im a grandmother and I used it and I would recommend for emergency tire inflation or everyday use
2006Ninja250
Perfect!
For the price, this inflator can't be beat. I've used it to inflate myroad bike tire, presta valve, with the adaptor it came with. I've put air in my car and motorcycle tires. I've yet to use it to inflate an air bed or other inflatables but it's set up perfectly to do so and has all the necessary attachments. The flashlight is a bonus especially if you're inflating items and it's dark out. It's slow but is ideal for the amount you pay for it. I can't speak for it's durability or how long it will last. For the price, that's negligible to me.
steve1366
it works
I used it to add air to 4 tires and a spare on another car. I was able to add 4 lbs per tire in about 10 minutes also the spare took 10 lbs. it took ;longer . in palm beach there is no free air pumps. so this so far is working fine and I do not have to pay at a gas station with its short time limit.
Pixi7
Campbell Hausfeld-Inflator with Flashlight
My husband bought an infaltor different from this one a little bit smaller and without a flashlight and it turn out good but this Campbell Hausfeld 12V 2-in-1 Inflator with Flashlight is way better then the older one. First the flashlight makes the job easier at night and at camping it is just perfect! My husband loves it, it doesn't make the job that fast but neither does the older one so we already know that, so that is not an inconvenience but if you are not a patience person do not purshase it but I will recommend you give it a try, you won't be disappointed. It is compact so you can store it anywhere in the car or in your house and you can use it to inflate tires, air mattresses, sport balls, air pools and more, even balloons if you, like me, needed many balloons for a birthday party and didn't have time. Overall is a great product, easy to use and does a great job!