The Legend of Zelda: Breath of the Wild, Nintendo, Nintendo Wii U, 045496904159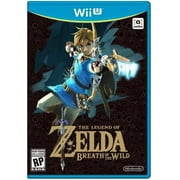 MSRP :

$59.88





Sale :

$44.99

Sold & shipped by Walmart
Product Description

Additional Information

Reviews
Product Description
The Legend of Zelda: Breath of the Wild for Nintendo Wii U
Additional Information
The Legend of Zelda: Breath of the Wild for Nintendo Wii U
Reviews
ZeldaMaster
Got a early copy!
I ordered the game here and I received it Nov 29 instead of July 13 2017 which is really cool! Totally reccommend this game!
Huggybear
Best Zelda ever
Nintendo has done it again, they are the best gaming console company and continue to produce hit after hit with Zelda being the highest rated game ever
Vinnie
Good Game But With It's Own Issues
I'm going to start off by saying I am a Legend of Zelda fan. However, I did not go into this game with rose-colored glasses. I was very nervous about having an open world LOZ, as I don't like most open world games(Skyrim being my first comparison). But I deeply enjoyed the game and when I finished it, I was at about 45hrs of gameplay. The graphics/art are beautiful (some frame drops but not frequent or overly annoying,) the story is a slight spin on classic LOZ, the side characters are engaging, the gameplay is fun and overall it still kept the LOZ feel in an open world. However, where this game failed for me was due to the open world. It was too big. The story was regulated to a few specific areas, meaning that side quests had to pick up the slack for the rest of the areas (of which there is a lot)... and they didn't really do that. There were areas I spent hours exploring that had little to nothing of importance, no shrines, no quests, nothing. Also, some of the gameplay mechanics, specifically the climbing, quickly became more annoying than exciting. Overall, I would recommend this game but don't expect perfection.
Linky
Best Zelda's game ever, thanks Nintendo
Except some little issues with the frames rate per second the game is awesome, can't wait for the Dlc it will worth it
Dawnb06
I have been waiting for this!!
I've only played for a couple of hours but this is amazing!! The Zelda we all love is back!