Ryu, Super Smash Bros. Series, Nintendo amiibo, NVLCAACH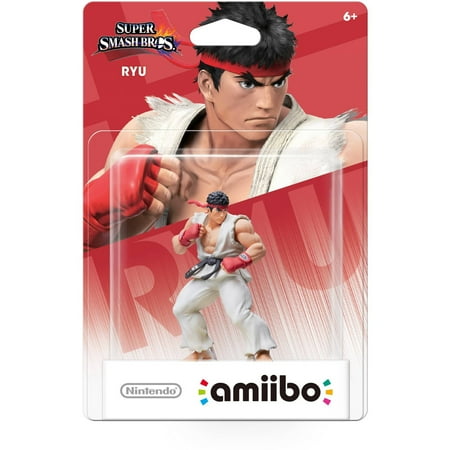 MSRP :

$12.96





Sale :

$14.98

Sold & shipped by Fulfillinc
Product Description

Additional Information

Reviews
Product Description
Additional Information
Part of the Super Smash Bros. series.
About Ryu - Ryu is one of the most famous characters in the fighting game genre, hailing from the iconic Street Fighter series. As a wandering warrior who trains rigorously in order to become a true martial artist, he travels the globe to test his skills and mettle against the best fighters in the world.
Discover the Power Inside!
Your favorite Nintendo characters come to life in surprising ways in different games.
Tap amiibo figures to the Wii U GamePad controller to interact with compatible games, no portal needed.
Each compatible game offers different ways to interact with your amiibo figure. Depending on the game, they can grow and learn as they compete alongside you, give you access to specials items, or let you customize your characters and your gameplay.
Games with amiibo compatibility in 2014 include Super Smash Bros. for Wii U, Mario Kart 8 and Hyrule Warriors. Additional games with planned amiibo functionality include Mario Party 10, Kirby and the Rainbow Curse, Captain Toad: Treasure Tracker, Yoshi's Woolly World and more!
Visit amiibo.com to learn more about upcoming amiibo figures and compatible games! Compatibility and functionality may vary per game.
Compatibility with Nintendo 3DS coming in 2015.
amiibo in Super Smash Bros. for Wii U: Customize your amiibo figure as the ultimate sidekick, and level it up to CRUSH your opponents. Train your amiibo to supercharge its stats and expand its abilities. Customize your amiibo by adjusting its attack, defense and speed stats. Fight your amiibo against a friend's to make them tougher and see who the best trainer is. Team up with your amiibo, or battle against friends in multiplayer amiibo action.
amiibo in Mario Kart 8: Receive special racing suits for your Mii character based on each amiibo character's look. Dress up your Mii like fan-favorite characters such as Mario, Yoshi, Kirby or even Samus Aran. Compatible with the following amiibo figures: Mario, Luigi, Peach, Yoshi, Donkey Kong, Link, Captain Falcon, Kirby, Samus, Fox.
amiibo in Hyrule Warriors: Tap the Link amiibo figure to receive a new weapon to use in battle: the Spinner from The Legend of Zelda: Twilight Princess game. Tap the Zelda amiibo figure once per day to get a weapon rated 3 stars or higher. Tap any other amiibo figure once per day to get randomly selected materials, weapons or Rupees in the game.
Reviews
RafelitoR
Very Nice!
Very nice figure. Ryu is a great character, and this figure has lots of nice detail. I'm very impressed at the quality for this price point. Even if I didn't have a WiiU (I do), I might pick this up just to have it as a figure.
Robert
Item had damage
Order online to ship to store got my package and open to see it was damage, I'm a in box collecter and wasn't too happy
Legend70
Ryu Smash Bros.
Fantastic Amiibo! The quality alone is great! The detail that goes into these are top notch! Nintendo has been a company that cares about the quality of there products to pass down to the customer. Happy customer here :-).
Brian
love this
very detail figure. I buy it for decoration since i don't have the wii system.
gaby91
Amiibo collection
I can't speak to how it work's with games since I collect them but I really like the colors and detail for Ryu!