New Super Mario Bros 2, Nintendo, Nintendo 3DS, 045496742072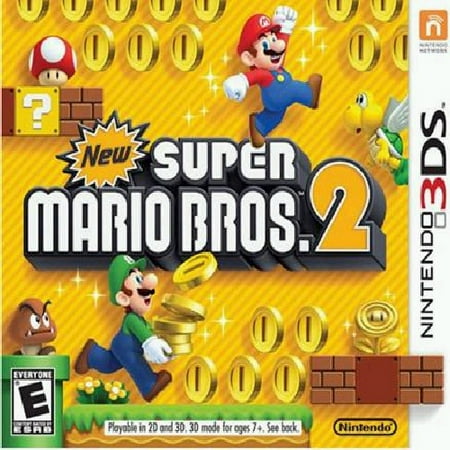 MSRP :

$29.99





Sale :

$29.96

Sold & shipped by Walmart
Product Description

Additional Information

Reviews
Product Description
The New Super Mario Bros 2 Nintendo 3DS (045496742072) picks up the story of the first New Super Mario Bros. game. You can choose to play as either Mario or Luigi. You can lay alone or you and a friend can play together via local wireless connections. Use various power-ups to gain access to more coins in each level to see if you can beat the highest scores. This game features the same type of 2D action that originated in the first Mario titles, but with updated graphics. Face classic enemies like the Koopas, Reznors, Goombas and more.
Additional Information
New Super Mario Bros. 2 for Nintendo 3DS:
Playable in both 2D and 3D modes
Super Mario Bros video game features exciting side-scrolling action
Note that this is a different game than the classic Super Mario Bros 2 (which is also available for 3DS via Virtual Console)
Reviews
bat27man
Fun
My son and my wife fight over the 3ds to play this game... enough said
inthemoodforfood
Good solid 3DS game!
This another great Mario game that is loosely based on Super Mario Bros. 3. It brings back the 7 Koopa Kids as well as Raccoon Mario. In addition to the Super Leaf, the game also emphasizes coin collecting with the new Midas Flower powerup. The ultimate goal of the game is to collect one million coins. Any fan of Mario will enjoy this game.
SasquatchWasHere
It'sa me Mario!
Classic Mario all the way. I highly recommend this game, and a eshop card to buy the DLC. Can you collect 1,000,000,000 coins? (the real goal is 9,999,999,999 coins!!! $_$)
annamal1999
Great Game!
We got this game for our six year old son. It has been a great game for him so far. It's challenging yet still easy enough for him to enjoy it without being to difficult. Reminiscent of the original Mario's 1 and 3 with a modern twist.
Eric7606
Its a Mario Game.
This is a Mario game. Not much to say about it. Nintendo recycled the plot from EVERY Mario game ever made (again) where Bowser kidnapps Princess Peach (Toadstool). The twist is that there are coins everywhere. I mean ALL OVER the levels. You can use SpotPass to submit your coin count to the regional total. The final boss (I won't offer any spoilers) is pretty hard. That's a good thing. I just wish they could have put thought into the plot, instead of just another Bowser-Mario pantomime. The levels are fun, the bosses are challenging, the plot is horrible, its a Mario game. If you like Mario games, then this game is for you.