Mario Kart 7, Nintendo, Nintendo 3DS, 045496741747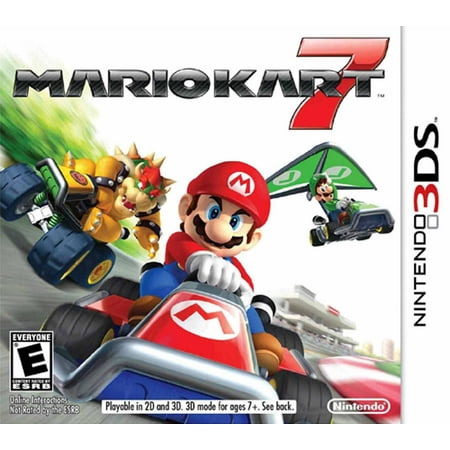 MSRP :

$29.99





Sale :

$28.94

Sold & shipped by Walmart
Product Description

Additional Information

Reviews
Product Description
Mario Kart 7 delivers frenetic racing fun by air, land and sea. Longtime fans of the franchise will encounter new features and customization options, while newcomers will love racing with their favorite Mushroom Kingdom characters against opponents near and far. Using a broadband Internet connection or local wireless built into the Nintendo 3DS, players can race against their own friends or even against opponents worldwide. The new Community feature allows players to create groups with other Mario Kart fans while setting up specific rules to make customized racing environments.
Additional Information
Mario Kart 7 for Nintendo 3DS:
Mario Kart 7 game features fun, arcade-style races
Compatible with the 3DS
Rated E for everyone
Play with up to 7 of your friends
Reviews
rsrchb4ubuy
a must have for 3ds
My son had MarioKart DS for his DSi XL and that was one of his favorite games. This year he received 3DS XL for Christmas along with this game and he enjoys playing it. pkaying it too. Soome levels are from MarioKart DS, some are from MarioKart Wii, and others are completely new to us. The game play is fun with a glider added to the kart so on higher jumps you can fly. 3D looks pretty good most of the time, although on some occasions is looks like I am "seeing double", but then I just switch tho 2D. The game is easy on the easy (50 cc) difficulty. I unlocked all courses for my son in less than one day. Overall, this is a very enjoyable racing game.
MzAlabama
Action! Action! Action!
This game is filled with ACTION love it! The graphics are great makes me wish I was one of the characters in the game. So fun to play, FUN for the whole family.
ThePerfectNarutoRater
Mario Kart 7
Hey everybody! ThePerfectNarutoRater here with another review! This review will be over Mario Kart 7! Merry (late) Christmas, by the way! In the case: Mario Kart 7, which Instruction Booklet and Club Nintendo Points. Review: This game is amazing! I love it and it takes full advantage of the 3D! There are 16 new races, and then 16 races from previous games. Except, the old races have a lot of extra "little" things added! And there are several Characters! You can even customize your kart any way you want to! There is Local Play and Online play! In which for both (even in single player mode) you can do Time Trials, Balloon Battle, and Coin Battle! And all courses for the battles are all NEW! Except one, which is from the Wii. They even have a Mario Kart Channel like the Mario Kart Wii, there you can race Ghost Data over SpotPass and StreetPass, and receive notifications when something happens! This game has Better graphics then Mario Kart Wii! If you thought that was good, this is better! This game is Amazing! Please, don't let others let you down by saying this is a bad game. It's truly not, and you will Love it! It's amazing, and you wont regret buying this! I'll answer any questions about this game until Jan. 1st! If you want to, you can even leave a comment for us to exchange Nintendo 3DS Friend Codes! Just leave a comment with any question or Friend Code, or both, and I'll respond to all by Jan. 1st! Thank you for reading this review!
msdeedee504
Great game for Mario fans!
My son loves to play Mario Kart on the Wii, I recently purchased him an 3DS XL and this was the first game I purchased.
Myamiheatdiva6
Great Product
My daughter loves this game and I do too. It is very fun.