The Legend of Zelda: Breath of the Wild, Nintendo, Nintendo Switch, 045496590420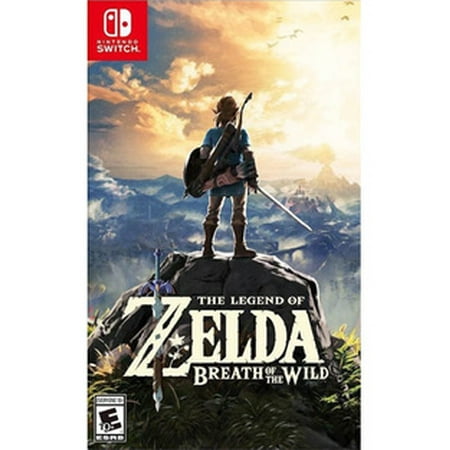 MSRP :

$59.99





Sale :

$44.99

Sold & shipped by Walmart
Product Description

Additional Information

Reviews
Product Description
After waking from a 100-year slumber, Link must explore the wild to regain his memories and save Hyrule. This bundle is perfect for first-time heroes; it contains the game, a two-sided map, and an Explorer's Guide with lore and learnings from the Legend of Zelda™: Breath of the Wild game. Time to explore the guide, the map, and the world of Hyrule!
Additional Information
LEGEND OF ZELDA: BREATH OF THE WILD
Reviews
MeYeahMe
Best Zelda Ever
After putting 20+ hours into this game over the weekend I have decided it is far and above my favorite Zelda game. My most wonderful experience so far has been seeing an island a ways off the map, getting on a raft and leaving the map to check out said island, and it has a challenge where you lose all your items and have a mission to complete on the island. I sadly didn't beat the challenge (having 4 hearts is why) but it was an experience off the map (literally) and one you had to look our for to find. The game rewards you for leaving the path that letting you run wild. I feel as if I have done so much, but at the same time keep realizing I have barely scratched the surface of this masterpiece. GOTY for sure. This game is worth both the 60 dollars for it, and the 300 dollars for the switch.
Jeffo
Return to Hyrule
Ive played this game for about 40 hours so far and all I can say is wow. It returns to the original Zelda format of no set structure to how you play. I was about 20 hours in before I even went to the first story line dungeon. There is just so much to explore and get side tracked by. Climb a mountain on the way to a far off village and discover 2 or 3 things you want to go before you get to you ultimate goal. Every where you go there is something that peaks your interest or it just pure beauty. This may become my favorite zelda game ever and yes ive played them all
Vance
Return to Hyrule
Didn't even have to leave the house to get this for my son's birthday.
Sonia
The Legend of Zelda Breath of The Wild
My son loves this games, playing all day even taked with him, evey where.
Arroneous
Beyond excellent!
Easily the best game in years, and it arrived ahead of schedule according to my order.