The Legend of Zelda: Breath of the Wild, Nintendo, Nintendo Switch, 045496590420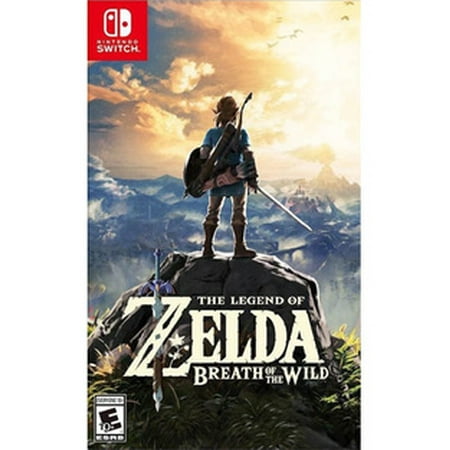 MSRP :

$59.99





Sale :

$59.88

Sold & shipped by Walmart
Product Description

Additional Information

Reviews
Product Description
Forget everything you know about The Legend of Zelda games. Step into a world of discovery, exploration, and adventure in The Legend of Zelda: Breath of the Wild, a boundary-breaking new game in the acclaimed series. Travel across vast fields, through forests, and to mountain peaks as you discover what has become of the kingdom of Hyrule In this stunning Open-Air Adventure. Now on Nintendo Switch, your journey is freer and more open than ever. Take your system anywhere, and adventure as Link any way you like.
Additional Information
Explore the wilds of Hyrule any way you like—anytime, anywhere! - Climb up towers and mountain peaks in search of new destinations, then set your own path to get there and plunge into the wilderness. Along the way, you'll battle towering enemies, hunt wild beasts and gather ingredients for the food and elixirs you'll make to sustain you on your journey. With Nintendo Switch, you can literally take your journey anywhere.

More than 100 Shrines of Trials to discover and explore - Shrines dot the landscape, waiting to be discovered in any order you want. Search for them in various ways, and solve a variety of puzzles inside. The tasks you must perform in each Shrine varies, and you'll never expect the challenges you'll face until you enter. Some will involve realistic physics, and some will require you to harness the power of nature, including electricity, wind, fire, and more. Work your way through the traps and devices inside, utilizing your runes and think outside the box to earn special items and other rewards that will help you on your adventure.

Be prepared and properly equipped – With an entire world waiting to be explored, you'll need a variety of outfits and gear to reach every corner. You may need to bundle up with warmer clothes or change into something better suited to the desert heat. Some clothing even has special effects that, for example, can make you faster or stealthier.

Battling enemies requires strategy – The world is inhabited with enemies of all shapes and sizes. Each one has its own attack method and weaponry, so you must think quickly and develop the right strategies to defeat them.

amiibo compatibility – The Wolf Link amiibo from Twilight Princess HD, the Zelda 30th Anniversary series amiibo, and The Legend of Zelda: Breath of the Wild series amiibo are all compatible with this game. Tap the Wolf Link amiibo (sold separately) to make Wolf Link appear in the game. Wolf Link will attack enemies on his own and help you find items you're searching for. Tap a Zelda 30th Anniversary series amiibo to receive helpful in-game items or even a treasure chest!

Reviews
MeYeahMe
Best Zelda Ever
After putting 20+ hours into this game over the weekend I have decided it is far and above my favorite Zelda game. My most wonderful experience so far has been seeing an island a ways off the map, getting on a raft and leaving the map to check out said island, and it has a challenge where you lose all your items and have a mission to complete on the island. I sadly didn't beat the challenge (having 4 hearts is why) but it was an experience off the map (literally) and one you had to look our for to find. The game rewards you for leaving the path that letting you run wild. I feel as if I have done so much, but at the same time keep realizing I have barely scratched the surface of this masterpiece. GOTY for sure. This game is worth both the 60 dollars for it, and the 300 dollars for the switch.
Jeffo
Return to Hyrule
Ive played this game for about 40 hours so far and all I can say is wow. It returns to the original Zelda format of no set structure to how you play. I was about 20 hours in before I even went to the first story line dungeon. There is just so much to explore and get side tracked by. Climb a mountain on the way to a far off village and discover 2 or 3 things you want to go before you get to you ultimate goal. Every where you go there is something that peaks your interest or it just pure beauty. This may become my favorite zelda game ever and yes ive played them all
GMB523
Best Price Around!
Product as described for a great price! I shopped around and found Walmart to be the cheapest. Ordered online for In-Store Pickup. Pick-up was easy and fast, and the attendant was pleasant to interact with. My kids LOVE the game!
happyintheheartland
Buy This
Absolutely epic. Gorgeous visuals. Masterful story.
Jybrd607
Hot game item!
Bought as the Christmas gift. It's a 1 player game, but the kids love it!