Nintendo Switch Pro Controller, Black, HACAFSSKA, 00045496590161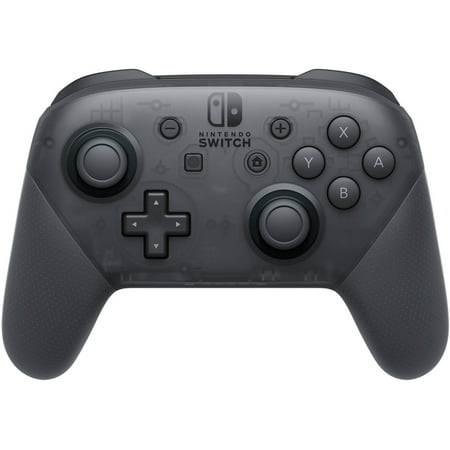 Sale :

$59.8

Sold & shipped by Walmart
Product Description

Additional Information

Reviews
Product Description
Take your game sessions up a notch with the Nintendo Switch Pro Controller. Includes motion controls, HD rumble, built-in amiibo functionality, and more.
Additional Information
Motion controlsHD RumbleBuilt-in amiibo functionality
Reviews
readyshopperone
Switch Pro Controller is well designed
I highly recommend the pro controller for some games. It's nearly a perfect a controller and while the detached joycons are fantastic, this is great for games such Mario Kart on the Switch.
Miranmiran
Switch Pro Controller is well designed
This was a gift for my son and he is happy with it he's had it about a week
Joel
Best way to play longer home/table top mode
Wow!!! I must say the controller feels awesome!! It actually feels more comfortable then the Xbox one controller to the hand, nintendo shocked me on that. Another note might i add, it comes packaged with a nintendo brand type c usb thick charging cable that alot of ppl failed to mention...so there you have it ppl the extra $10 bucks is for the cable...I mean ...what do you want for nothing?
WVTester
Excellent gaming controller
I've only used this for 2 games so far, Zelda and Mario Kart, but I love it. It's weighty in a good way, and everything feels great. Worlds better than the joy-con controllers. I even like it better than the PS4 dual shock so far. Pricey, but worth it.
InnovaX5
Great Controller
The Pro Controller is a very comfortable controller. As a sufferer of arthritis, two hours of more of use of the joycons in the grip hurt my fingers and wrists quite badly. I have no problems with extended play using the Pro Controller. It has a 40 hour battery life on one charge and it feels quite good in your hands. I do have to say that as of the time of this review, the controller does not work with many of the e-shop only titles. However, this does seem to be getting patched on a game by game basis. If you like the dual shock 4 or Xbox One controller, you'll love the Pro Controller.