Nintendo Switch Pro Controller, Black, HACAFSSKA, 00045496590161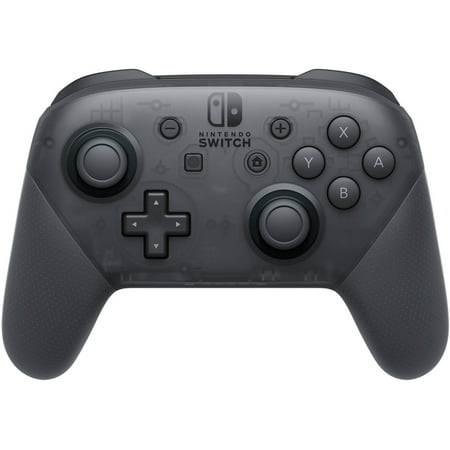 Sale :

$63.5

Sold & shipped by Walmart
Product Description

Additional Information

Reviews
Product Description
Take your game sessions up a notch with the Nintendo Switch Pro Controller. Includes motion controls, HD rumble, built-in amiibo functionality, and more.
Additional Information
Motion controls
HD Rumble
Built-in amiibo functionality
Reviews
readyshopperone
Switch Pro Controller is well designed
I highly recommend the pro controller for some games. It's nearly a perfect a controller and while the detached joycons are fantastic, this is great for games such Mario Kart on the Switch.
Bad2TheBone
Must Have
It is just the right size and allows easy access to all buttons. The joysticks are very smooth and make for enjoyable game play. Although it is on the expensive side, its so worth it!
Joel
Best way to play longer home/table top mode
Wow!!! I must say the controller feels awesome!! It actually feels more comfortable then the Xbox one controller to the hand, nintendo shocked me on that. Another note might i add, it comes packaged with a nintendo brand type c usb thick charging cable that alot of ppl failed to mention...so there you have it ppl the extra $10 bucks is for the cable...I mean ...what do you want for nothing?
WVTester
Excellent gaming controller
I've only used this for 2 games so far, Zelda and Mario Kart, but I love it. It's weighty in a good way, and everything feels great. Worlds better than the joy-con controllers. I even like it better than the PS4 dual shock so far. Pricey, but worth it.
Steffikins
Great buy!
This was a gift for my fiance for father's day, that he was given early. He is a big guy, so he has large hands and struggles with the normal Switch remote. He loved this from the moment it came out of the box. It's sturdy and solid, very comfortable in the hands. It comes with a charging cable that is USB, so it can plug into a phone charger or the Switch itself. The only complaint he had was that the vibration is very weak, like the controller has too much mass for the size of the rumble pack they used, but it's not much of an issue. Overall, this was a great buy and I might be getting another for myself in the future.