Nintendo Switch Pro Controller, Black, HACAFSSKA, 00045496590161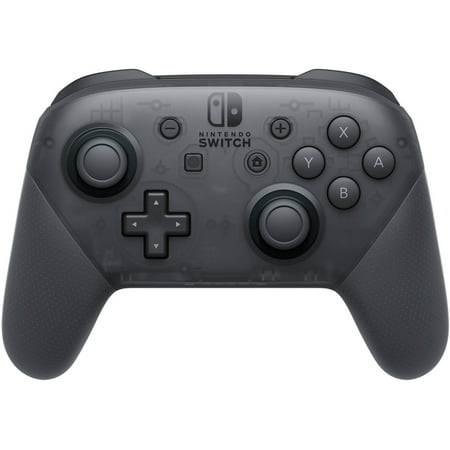 Sale :

$59.8

Sold & shipped by Walmart
Product Description

Additional Information

Reviews
Product Description
Take your game sessions up a notch with the Nintendo Switch Pro Controller. Includes motion controls, HD rumble, built-in amiibo functionality, and more.
Additional Information
Motion controls
HD Rumble
Built-in amiibo functionality
Reviews
UKYB
Great, not perfect.
I love the pro controller, but it's not perfect. As many others have said, the control sticks on the pro controller are far larger than the joycons, allowing for far more accurate movements. While this seems minor overall, it is a necessity at the pro level. I can only imagine how much I'll love this thing when smash 5 comes out (this was written october 13, 2018). The A B X Y buttons on the pro controller are far larger as well, and placed in a more convenient location relative to the lower joystick. The buttons also have a more solid feel to them, as opposed to the clicky ones on the joycons. Many people praise the pro controller for having a d-pad, because the d-pad allows for better movement in older games. Personally, this doesn't really affect me too much as I didn't buy my switch to play the NES. However, it looks more natural then the 4 directional buttons on the left joycon, so I'll give it a very small plus. However, to be fair in this review, my d-pad has that age-old problem where if you spam any two corresponding directions, you will occasionally get another random input mixed in. You can easily fix it by putting a small amount of tape over the ends of the d-pad sensors, but you shouldn't have to modify an official product to get the intended use. Once again this doesn't affect me too much as I don't heavily use the d-pad, but it still exists regardless. The L R and ZL ZR buttons are much larger and feel very comfortable. Much better than the joycons. My only complaint on them is they don't make any sort of satisfying noise when you use them, but eh that's extremely minor. At the time I'm writing, I'm not actually sure about the battery life. I just use my pro controller for a fairly intense hour-session of splatoon 2, and then plug it back in. I've never seen the battery decrease below full, however. The HD rumble is there, which is nice, however it feels a lot weaker than the joycons. Strangely enough, I really loved the HD rumble on the joycons, so this is a little aggravating, but whatever. The amiibo reader is also built in to the controller, roughly around the switch logo. However, I don't really use amiibo, but I'll say the location seems better than the joycon's reader. Is it worth $60? Yes, but don't spend any more than that. The limited editions look VERY cool, but it's not worth an extra $20 to color the grips and maybe some fancy patterns on the middle. The pro controller already looks cool enough on it's own with the translucent top.
readyshopperone
Switch Pro Controller is well designed
I highly recommend the pro controller for some games. It's nearly a perfect a controller and while the detached joycons are fantastic, this is great for games such Mario Kart on the Switch.
Joel
Best way to play longer home/table top mode
Wow!!! I must say the controller feels awesome!! It actually feels more comfortable then the Xbox one controller to the hand, nintendo shocked me on that. Another note might i add, it comes packaged with a nintendo brand type c usb thick charging cable that alot of ppl failed to mention...so there you have it ppl the extra $10 bucks is for the cable...I mean ...what do you want for nothing?
Miranmiran
Best way to play longer home/table top mode
This was a gift for my son and he is happy with it he's had it about a week
WVTester
Excellent gaming controller
I've only used this for 2 games so far, Zelda and Mario Kart, but I love it. It's weighty in a good way, and everything feels great. Worlds better than the joy-con controllers. I even like it better than the PS4 dual shock so far. Pricey, but worth it.