Pokemon GO Plus Accessory (Android & iOS Compatible)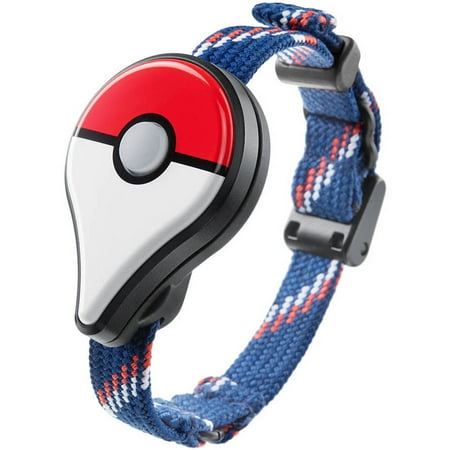 Sale :

$61.7

Sold & shipped by ProElectronics Distributing Inc.
Product Description

Additional Information

Reviews
Product Description
Explore the world with Pokemon GO Plus at your side! The Pokemon GO Plus is an accessory that is compatible with any smart phone that has the Pokemon GO application installed. When a Pokemon is close by, the Pokemon GO Plus will begin to vibrate. Simply click on the button and you will able to catch a Pokemon while you are out and about. With the Pokemon GO Plus, users can catch Pokemon with a simple click of a button. When the Pokemon GO Plus is paired via Bluetooth LE to a phone that has the Pokemon GO application installed, players can encounter and catch Pokemon like never before. Users will also encounter set locations called Poke Stop, where you can collect items like Poke Balls, Berries, and even Pokemon Eggs. The Pokemon GO Plus is easy and convenient, allowing the player to continue with their daily activities without having to look at their phone.
Additional Information
Pokemon GO Plus:
Catch Pokemon like never before
Nearby Pokemon will vibrate the accessory, ensuring you never miss a catch
Pairs via Bluetooth LE to any smartphone with Pokemon GO installed
Works with both Android and iOS
Continue catching them without looking at your phone
Reviews
kingslayer2007
A POGO must
If you play Pokemon go I highly recommend you get a go plus to play without having your phone screen on.
Namenick
Good product
Mahhhhh haa
tjstalcup
Best Gadget of 2016
After using the PoGo+ for 2 weeks, I cannot recommend playing PoGo without it. Yes it only catches 1/2 the Pokemon, but it flashes yellow if it is a new pokemon, giving you the option of opening the app. Since I can now play 24/7, rather than the couple of hours a day I used to play, 100% of those Pokemon are ones I never would have caught. Now, be aware that you will need A lot of Pokeballs, I have to buy 200 balls every day, even if I actively go out to Pokestops. Just sitting at work playing, I catch 150-250 pokemon every day. That also means you will want to upgrade your storage to the max of 1000 for Pokemon & Items. Thanks to the new Mass Transfer feature, it is super easy to do a daily clean-up. This device has also brought back family time. Both me and my daughter play, and now we can both passively play 24/7 and spend time together as a family doing other things, like playing Pokemon TCG.
Squirtle
Pokémon Go Plus
Works great for pokestops. Will throw 1 regular ball at Pokémon. 50/50 chance of catching or running away. Will not throw anything other than regular balls. Seems to pick up stops and Pokémon from farther away. Battery won't drain from phone as quickly. Downside can't see what you are throwing at so may toss a regular ball at something that needed more. Overall good buy for gamers
Poirier1111
Ok
It's ok it catches Pokemon about 10'precent of the time the rest of the time they flee It's good for Pokemon stops and driving to hatch eggs U don't have to press are u a passenger all the time