Cosco 6 Foot Centerfold Folding Table, Multiple Colors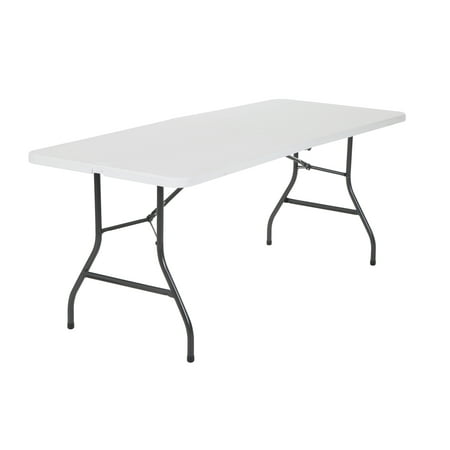 Sale :

$42.44

Sold & shipped by Walmart
Product Description

Additional Information

Reviews
Product Description
These high-quality tables cater to any occasion. Dress them up for the holidays or take them outside for a barbecue. The 6' White Centerfold Blow Molded Table features a waterproof top that resist spills and weather. This versatile piece saves space and time with table legs that fold in and a center folding feature that makes transport and storage virtually effortless! Its rectangular length provides additional seating at both ends of table! Table has a heavy duty strong steel frame, steel legs and a low maintenance, sturdy easy to clean top.
Additional Information
Cosco 6 foot Centerfold Table with metal legs, White:
Moisture proof top for weather resistance
Cosco 6' table has a fully molded top
Easy to clean surface
Easy to carry
Heavy duty table folds in the center
Folded dimensions: 37.5" x 29.6" x 3.5" for easy storage
Model# 14678WSL1
Available colors: black, white
Use for catering, barbecues, family gatherings, holidays, tailgate and more
Set multiple pieces together for larger events
Dress with runners, tablecloths and place settings for a stylish look
Reviews
HopefullyHelpfulForYou
Mainstays entire table line - Excellent!
I have purchased two of the Mainstays 6' tables. Not because I was replacing one either. These tables are the most useful, durable tables on the market. For common uses such as extra food table on holidays or as the dinner table. Yard sales, arts and crafts, etc. I actually purchased the second table for my son to use in his room as a computer table/homework desk. His is black. They are extremely easy to clean and even easier to store. They fold down to inches and have a small latch to keep closed while you carry. An easy carry 'padded' handle. Has two safety features when set up. One on the hinge of the legs and another you press to fold close. Easy store under the bed or the closet (anywhere). Setting up, taking down, storing and storing are all so easy. *Have I mentioned how 'easy' these tables are to own?* I'm making fun of myself for using the word easy so much but they are. I can set up the 6' foot table. However, 6' and up may require two people for set up. I don't want to use the word heavy but our seniors may have problems trying by themselves (and they do need to be trying alone, they have us!) These tables are very durable. The table, the legs, everything. However, in saying that I have always used mine as a normal household table. I have never tried to put excessive/unnecessary weight on it. I will defiantly purchase again if I need another table. I have included two photos. Sorry for nighttime shot. I tired to show the folding latch and the carry handle on bottom view.
APitch
Mainstays entire table line - Excellent!
It was damaged when it arrived. It works great, sturdy, and I love the black instead of the typicall white. But it had a dent when it arrived.
Huelwic
The Delivery Is Bad
When I received the table, it was nearly the same look as the photo. The problem was that one of the table corner was squeezed. I really want to know how did they ship this table? why it was broken when delivered??????
Mate
Damaged table
I received the table, it wasn't the quality I was expecting, and it was damaged on one corner; I don't have time to go to the store to return it, it was the reason I purchased online. Walmart doesn't have no other option, only you have to return the item to the store.
Mo
Works as as expected but other issues
The biggest flaw was a 2-3" crack on one of the side corners. The edges we're very roughed/scratched up on both ends. I received the table in it's plastic covering. Table works fine just disappointed in it's appearance and the small crack of course. Should have returned it but needed it for an event and not enough time to order another one.