Lansinoh Disposable Nursing Pads - 100 ct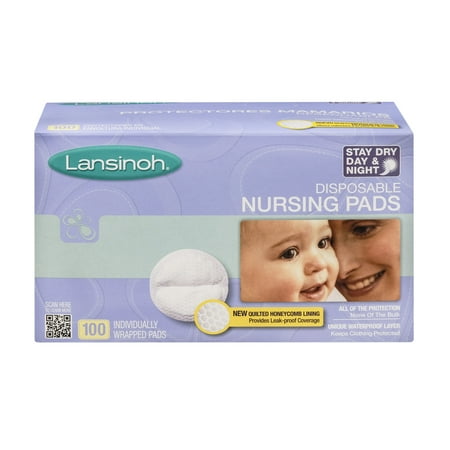 MSRP :

$16





Sale :

$16

Sold & shipped by Breakout Bras
Product Description

Additional Information

Reviews
Product Description
Lansinoh® Disposable Nursing Pads. Maintains form & smooth shape even with the heaviest flow. Revolutionary technology molds pads to your individual shape. Moisture lock activator wicks away leaked milk. It is a unique waterproof layer with leak-proof coverage.
Additional Information
Lansinoh - Disposable Nursing Pads, 200 ct:
1-Pack = 100 count
2-Pack = 200 count
Super-absorbent, stay-dry lining wicks away leaked milk
Individually wrapped for cleanliness and convenience
Only 2mm thick
Designed for 1 time use
This 2-pk of 100 count breastfeeding pads are ideal for avoiding milk leakage
Reviews
Zoah
Soft enough
I used this product for all 3 of my breastfeeding periods. No matter what product you use ladies need to remember to replace even if they are a little damp. Thrush is a big deal and can be painful if your breast are infected. You and your baby could be giving each other the infection. Make sure to wash your area with water before you apply a new pad.After each feeding wipe the child's face and your breast so that you both do not catch thrush. If you notice white dots on your child's tongue, lips or mouth then your child has thrush. Again this product works well, feels soft and I would most likely never use a different brand. Thrush is not really talked about when you are at the hospital and this product does hold up well for leakage. Just remember no matter what nursing pads you are using always change when it feels a little damp. Just one mom trying to keep moms out there from going through a very painful breastfeeding experience which caused me to stop breastfeeding.
RoseEnK
The Best Out There!
These are hands down the best breast pads I have ever used for the following reasons: 1. They are soft and not irritating. Even when my nipples were incredibly sore/cracked, these did not irritate them at all. 2. They are very absorbent and have no problem holding all the milk that leaks. The best part is that you don't even notice you've been leaking because they absorb every bit. I have had them be almost completely FULL and still they held all the milk. My skin wasn't wet/irritated. 3. They are smooth and do not show up under my clothes. I have worn these with both lined and unlined bras, and you would never be able to tell I was wearing them. They do not wrinkle/bunch up. They also are not bulky, so it doesn't LOOK like you have an extra circle of material under your bra even when you do. I will continue to purchase these for as long as I am breastfeeding and will always recommend them to other breastfeeding moms.
proudmommy1224615
The Best Out There!
these are the best breast pads i have ever used! nuk and avent breast pads couldnt hold a flame to them! they worked wonders when i was "drying up" when i decided to only formula feed my son and they work amazing while breast feeding my daughter! overnights in them are never a hassel. i dont have to change them 2 to 3 times a night like i did with nuk and i dont have to by seperate ones like with avent. i even went to a field day and forgot to take them out before doing the dunk booth. went to change them and they were right full of water and still didnt leak! dont bunch up in your bra and the sticky pads dont leave the residue on your bra (even if you have mommy brain and forget to take them off before throwing it in the wash)
pregs5
best pad out there
These are the best nursing pads available! Having nursed 5 babies, I have tried a lot of different brands, and these by far are my favorite. They are discrete, never looking bumpy under clothes. They are the most absorbent pad I have tried. They keep even keep me dry overnight! I have never leaked out of these pads. A must have!!!
BlessedMommy
The best nursing pad out there, hands down!
After several failed attempts of purchasing cheaper priced nursing pads, I finally hit the jackpot when I tried the Lansinoh disposable nursing pads. I have received Lansinoh samples through baby registry gifts and have loved them. So I knew what to expect. The price was a little higher than I wanted to pay on my tight income but they are the only ones and only brand that gets the job done and I do not have to worry about leaking through. They're very soft, super absorbing, and comfortable. I would only recommend this brand. My preferred pads are the new honeycomb weave Lansinoh nursing pads.