Kingsford Original Charcoal Briquettes, Two 16.7 lb Bags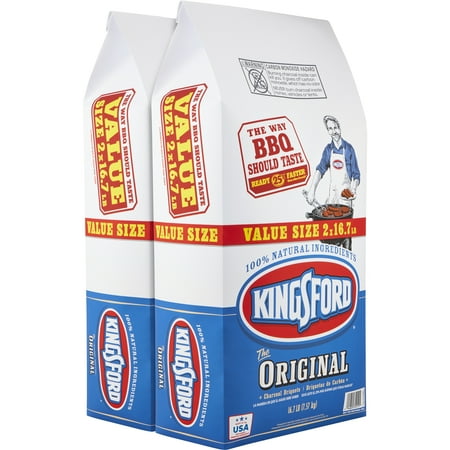 MSRP :

$19.99





Sale :

$16.96

Sold & shipped by Walmart
Product Description

Additional Information

Reviews
Product Description
Tailgating with friends, picnicking with family and relaxing in the back yard are just not the same without good barbeque. With our featured Sure Fire Grooves, these deep, wide and long grooves mean the briquets light easier and heat faster, while burning just as long as before. As always, each briquet is made with natural ingredients and real wood, resulting in the authentic smoky flavor that Kingsford has long been known for. Make everyday a grilling occasion with Kingsford Charcoal Briquets.
Additional Information
Two 16.7 pound bags of Kingsford Original Charcoal Briquettes
Ready to cook in about 15 minutes, 25% faster than other charcoal brands as compared to other nationally available charcoal brands
Sure Fire Grooves help coals light faster
More edges for quick, easy lighting as compared to other nationally available charcoal brands
Made with 100% natural ingredients and real wood
Improved airflow gets hot to the core fast
Perfect charcoal for every grilling occasion
Reviews
parrillero
Greatest charcoal!!
Nearly impossible to beat this prices, Walmart does it again!!! Kingford original, no need for anything else.
real griller
Greatest charcoal!!
really the only product i use. i cook 3-2-1 ribs, rib-eye, skirt steak, veggies , a bunch of other food. i use it on my oklahoma joe smoker, chargriller outlaw and a small portable chargriller. people saying that its not good , don't know what they are doing (now the product that i would say burns too fast is the charcoal with mesquite in it.- i only used it once)
Cooper
not my beloved blue bag
Been defending Kingsford as the preferred BBQ fuel over Wood Pellets and Wood for years, but my recent purchases do not reflect the product I grew to love. It's taking longer to start, isn't burning as hot and generates a lot of ash. It's fine for typical backyard cookouts, but if you are more adventuresome (ribs, steaks, slow cooking) the current product is not what I remember. Where in the past I used to be able to get Blue Bag close to 600 degrees to sear meat, it's now closer to 450. The ash generated is enough to choke out other coals. I'm using Blue Bag in both the traditional Weber Kettle and a championship grade smoker. I haven't measured the time to start, but it sure seems like it's taking a lot longer to get the red coals needed to really do the job right. I've refused to go the wood route, but it's something I'm going to need to ponder. It's not worth having a championship smoker if the fuel doesn't get the job done.
Christopher M
Great charcoal
This charcoal burns the best you can't beat it top notch product
Billy J
Poor heating quality throughout the meal.
Bought a new Weber grill a week ago thinking I would like to get into charcoal grilling again.Picked up a bag of Kingsford Original Charcoal.I am very unhappy with the heating time of the charcoal.Heated up hot for the first 15 minutes and after that could not get anymore heat out of the coals.