Clorox Splash-Less Bleach, Clean Linen Scent, 116 Ounces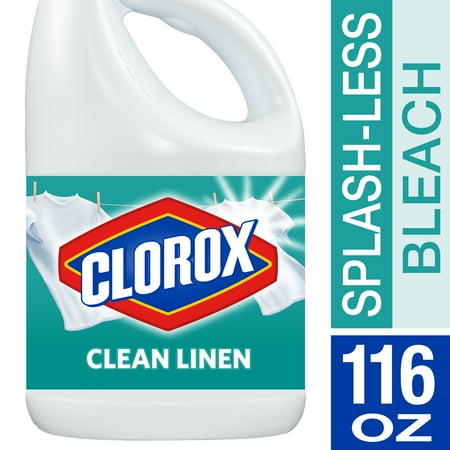 Sale :

$3.97

Sold & shipped by Walmart
Product Description

Additional Information

Reviews
Product Description
Hello clean. Get a thicker household bleach in a splash-less formula with a Clean Linen scent. Turn your dirty, dingy clothes white with the cleaning power of Clorox Splash-Less Clean Linen Concentrated Bleach. This household bleach has a thick, smooth-pouring, concentrated formula that gives you the control to pour it just where you want it to go. And because it's concentrated, you get the same amount of clean in this smaller, easy-to-handle, 55-ounce bottle. For use in both traditional and high-efficiency washing machines, so your clothes come out dazzling clean. This household bleach works great for stain removal, whitening clothes and cleaning and deodorizing your home. The Clean Linen scent leaves your clothes and home smelling pleasant. Use as directed.
Additional Information
One 55 ounce bottle of Clorox Splash-Less Bleach in Clean Linen Scent, to whiten, brighten, and provide 10X deep cleaning benefits while leaving a long-lasting fragrance
Splash-Less Bleach in Clean Linen scent is formulated with new scent technology that masks the aroma of bleach and only leaves an intense smell of clean
Concentrated, Splash-Less formula delivers a more controlled pour resulting in the same powerful clean as regular bleach but with less spills and splashes
Confidently use Clorox Splash-Less Bleach to remove tough laundry stains like grass, juice, dirt and blood from white clothing to cleaning countertops, floors, sinks, trash cans and more
The trusted leader in cleaning, Clorox Splash-Less Bleach can be used in standard and high efficiency washing machines and is great for everyday cleaning
Reviews
Wonderful
UPC : 044600310541 - Clorox Splash-Less Bleach, Clean Linen Scent, 116 Ounces - PickPanda.com
great
coppertop
Avoid this "bleach" if you want disinfection
I bought this bleach thinking it was just the standard clorox, but less likely to splash. It is NOT. There is tiny print on the label that tells you it can't be used for disinfecting, so small you'll miss it and buy it by accident. This product should not be called bleach if it isn't the same.
Oldgood53
White gooey clumps in bleach
Have always used Clorox Bleach, purchased the splash-less for the first time. Will go back to the regular bleach. This splash-less has gooey clumps of white stuff in it. Will not use in my laundry, fear it will cause a problem. Will save this for toilet bowls and coffee cups so will not be wasted. Clorox, please continue manufacturing the good old trusted bleach.
CoupQueen
Love this!!
Tried this a few months ago and have bought only splashless ever since! Love the easy pour and works great as usual with their bleach line!!
DunzysWife
A Cleaner Smell!
Our hound Frank gets some serious body odor during the summer months (since he LOVES to be outside running)! We would love to bathe him every wk but since his skin is so sensitive we have to be careful. The more running & playing, the more my laundry room ends up being almost unbearable to even walk into...much less spend a day washing & folding! The last round of dog beds, blankets & towels I ran through the wash 3 times with different detergents & scent enhancers to no avail! The fourth time, I added some Clorox Clean Linen. As soon as I pulled everything out of the wash, I was AMAZED! ALL the terrible, doggie B-O smell was GONE! I was only upset with myself for not trying it in the FIRST load! The true test will be on my daughters Nike'sshe left (WET) in a plastic bag for over a week! The smell is so hazardous, it stunk up my house in 30 minutes & smelled like a hoard of cats had been inside marking their territory! My fingers are crossed!!