Fresh Step Extreme Scented Litter with the Power of Febreze, Clumping Cat Litter, 25 lbs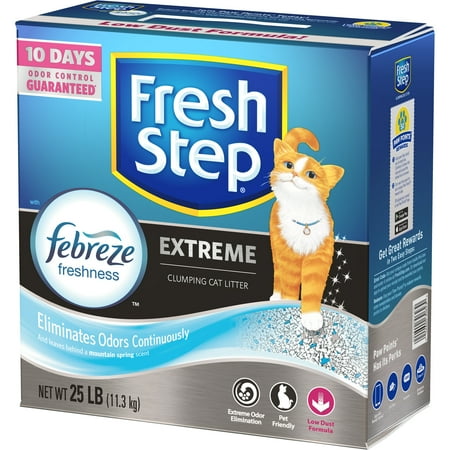 MSRP :

$24.81





Sale :

$14.44

Sold & shipped by Walmart
Product Description

Additional Information

Reviews
Product Description
Fresh Step Extreme, Scented Scoopable Cat Litter, handles the smelliest litter box messes with its scented formula.
Additional Information
CLUMPING LITTER: Fight litter box odors with the strength of Fresh Step Litter partnered with the power of Febreze in our easy to scoop, clumping clay cat litter in a Mountain Spring scent that deodorizes extreme cat litter smells
ODOR CONTROL CAT LITTER: Specially formulated for the stinkiest litter boxes, this Fresh Step litter has a 10-day odor control guarantee with activated charcoal that traps and eliminates kitty litter odor
LOW DUST LITTER: For cleaner surfaces and clearer air, we developed a low dust formula with paw activated fragrance that's released every time your cat uses the litter box in four compact, convenient resealable packs that make litter easy to carry, pour and store
SCOOPABLE KITTY LITTER: Make cleaning easy with the clumping formula that absorbs liquid and forms tight clumps leaving behind no stinky crumbles with ClumpLock technology
FRESH STEP CAT LITTER: Made for extreme litter box odors, this scented Fresh Step scoopable cat litter is created with your cats health and happiness in mind
Reviews
TeddyBearSideKick
Great product, poor package
Please fix the packaging. The bags are easier to store and are more cost-effective, but two of the four bags in my very first purchase had burst at their seams making a total mess. The multiple holes made my attempt to salavage some of the product even more difficult. I managed to funnel some into a partially empty box of litter so it was not a total loss but still far from the quality and convenience I expected.
ISA209
BEST THING SINCE SLICED BREAD!
LOVE LOVE LOVE THIS CAT LITTER.. I WILL NEVER BUY ANYTHING ELSE AS LONG AS I LIVE!.. I GOT MY KITTY A FEW MONTHS AGO I'VE NEVER IN MY LIFE HAD A CAT SO ALL THIS LITTER BUSINESS WAS NEW TO ME.. I TRIED ABOUT 3 OR 4 LITTERS BEFORE I TRIED THE FRESH STEP EXTREME ODOR CONTROL AND LET ME TELL YOU NOTHING COMPARES!! I WAS HOPING TO FIND SOMETHING THAT WOULD COVER THE ODOR BECAUSE NOTHING WAS WORKING I WAS SOOO DIGUSTED BY THE LITTER BOX SMELL AND I WAS GOING NUTS BECAUSE MY ENTIRE HOUSE SMELLED SOOO BAD!! I WAS ABOUT TO GIVE UP THINKING WELL THIS IS JUST HOW IT MUST BE I HAVE TO LIVE WITH THIS ODOR FOREVER.. BUT THEN I CAME ACROSS FRESH STEP EXTREME ODOR CONTROL AND DECIDED WHAT THE HECK LET ME GIVE IT A TRY.. AND BOY I'M SURE GLAD I DID!! MY HOUSE NEVER SMELLS AND I SOMETIMES I HAVE TO REMIND MYSELF TO CHANGE THE LITTER JUST BECAUSE IT NEVER GETS A BAD SMELL !! AFTER MY CAT USES THE LITTER HE HAS THIS FRESH SMELL ON HIM IT'S WONDERFUL!! DEFINITELY WORTH THE PRICE AND MY CAT LOVES IT AND I LOVE IT!! THANKS FRESH STEP YOU SAVED MY LIFE!
AllieD
WONDERFUL!
A few years ago, my family and I moved into a gated community where outdoor cats are not allowed. It was very important to us, since we would be in closer quarters with our former-outdoor-cats' bathroom than before, that we used a quality litter that was easy to clean and had strong odor control. Over the years, we have used several brands of litter trying to find that perfect combination. If it was priced right, it was bad quality. If it was of a decent quality, it was too expensive for how little it lasted. Needless to say, we and our cats were very disappointed. That is, until we started using Fresh Step :) Fresh Step was the one brand we had yet to try, but it should have been the first. It's wonderful! The litter is small enough that it doesn't hurt our cats' feet; it has a fresh scent to it--even after it's been used several times; it clumps and scoops cleanly and easily; and lasts for a long time! My family, and my cats, are extremely satisfied. We will NEVER use another brand, ever again. We highly recommend this to all of our friends :D
Gloria
SUPERIOR odor control!
This litter is amazing as far as odor control goes. I forgot I even had a litter box to clean. I have 2 cats and normally clean it every day or every other day. I changed out my usual brand of litter to Fresh Step on a Monday. Friday I realized........OH NO! I forgot to clean the litter box! My poor kitties. Amazingly even after all that time with 2 cats there was no odor! I was like WHAT!? Even while scooping out the clumps....virtually no oder what so ever. I've never experienced anything like that and I have been a cat owner for over 15 years. The clumping is excellent as well. Way better than Tidy Cat. The only negative thing is the dust. This litter is rather dusty. It puts off a bit of a cloud when you clean it out. Other than that.....the positives definitely out weigh the negative dust. I can live with it!
Armando
AMAZING !
I been having so many issues when it comes to litter, I own 4 cats and I finally feel like I found the litter that is perfect for them I have tried so many brands and none of them EVER EVER ! controlled the smell like this one, Thanks so much Fresh Step for making the Extreme control litter I guess the name says it all, I thought it wasn't going to work since many litter brands use the same description but this time you guys made it happen, 4 cats and i have only 1 litter box that I clean twice a day, you can't smell bad odors at all, even when is low, the Lavender smell makes it great too ! my kitty's love it, Do not dare to get rid of this product since now you have a lifetime customer, Again thanks so much ! I get to clean once a day now thanks to you guys :)