Fresh Step Extreme Scented Litter with the Power of Febreze, Clumping Cat Litter, 25 lbs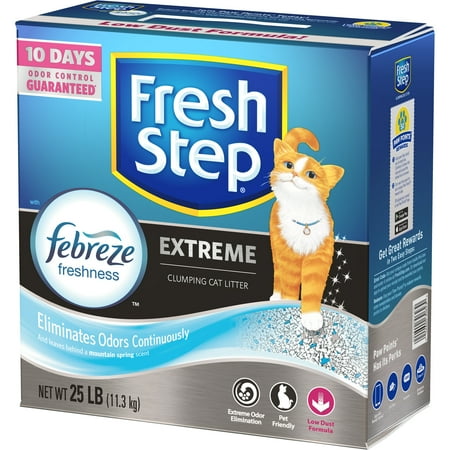 MSRP :

$24.81





Sale :

$14.44

Sold & shipped by Walmart
Product Description

Additional Information

Reviews
Product Description
Fresh Step Extreme, Scented Scoopable Cat Litter, handles the smelliest litter box messes with its scented formula.
Additional Information
CLUMPING LITTER: Fight litter box odors with the strength of Fresh Step Litter partnered with the power of Febreze in our easy to scoop, clumping clay cat litter in a Mountain Spring scent that deodorizes extreme cat litter smells
ODOR CONTROL CAT LITTER: Specially formulated for the stinkiest litter boxes, this Fresh Step litter has a 10-day odor control guarantee with activated charcoal that traps and eliminates kitty litter odor
LOW DUST LITTER: For cleaner surfaces and clearer air, we developed a low dust formula with paw activated fragrance that's released every time your cat uses the litter box in four compact, convenient resealable packs that make litter easy to carry, pour and store
SCOOPABLE KITTY LITTER: Make cleaning easy with the clumping formula that absorbs liquid and forms tight clumps leaving behind no stinky crumbles with ClumpLock technology
FRESH STEP CAT LITTER: Made for extreme litter box odors, this scented Fresh Step scoopable cat litter is created with your cats health and happiness in mind
Reviews
Dcox
Extreme with Febreze
Unless there is two days worth of cat turds in the box I don't smell anything. It seams to work quite well. The clumping part of the litter works well except when my cat peas on the wall of the box and not in the center. [This review was collected as part of a promotion.]
Dolares77712
Happy with this litter
I have a white kitty and every single litter I used was sticking to the top of his paws. He would try to lick it off to no avail. He would stick his paws in his water bowl and it would stay stuck on like glue. I got to the point where I was constantly picking him up and trying to get it off his paws and it just would NOT come off! I used many different litters trying to find one that did not stick because I did not want him ingesting litter trying to get it off. FINALLY I FOUND ONE THAT DOES NOT STICK TO HIS PAWS!! SO HAPPY WITH THIS CLEAN PAWS LITTER! Oh and every litter can get dragged out of the box but this one is pretty good with that too. I keep a small rug I had cut for the outside of his box and if anything is on it just tip back into box but it has been so much better. This really works for me and my Cat beautifully! [This review was collected as part of a promotion.]
Charlies Mom
Passed the "Gone three days" test
I was in the hospital for three days and I really thought I'd go home to a smelly house. I braced myself when I opened the door. NO smell! I was amazed. I will always use this litter. [This review was collected as part of a promotion.]
Mitchell Mom 1112
Fabulous
I have been searching for the perfect litter as my husband is quite sensitive to the dust that is created when scooping. We have two older male kitties. As they age - their urine seems to be a stronger smell. So glad I found and have started to use this litter. Little to no dust - and for two big boys.. the freshness really lasts 10 days!!
Bubsnmarmz18
Only litter I use for my 2 cats
The only litter that works for my big boy Maine coon, who is 17 pounds and my Orange Tabby without odor, well worth it and the scent lasts to block odors. [This review was collected as part of a promotion.]