Liquid-Plumr Pro-Strength Clog Remover, Urgent Clear, 17 oz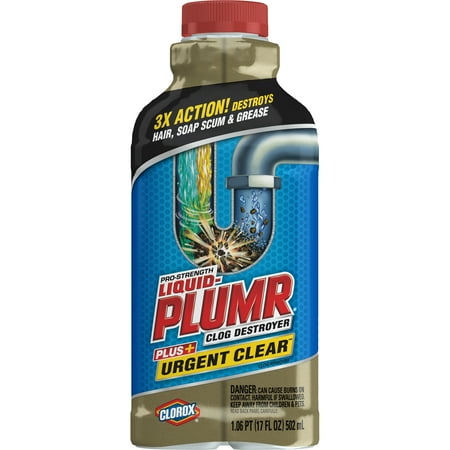 MSRP :

$11.25





Sale :

$3.87

Sold & shipped by Walmart
Product Description

Additional Information

Reviews
Product Description
Liquid-Plumr Pro-Strength Urgent Clear unclogs fully blocked drains in just 7 minutes.
Additional Information
17 ounce bottle of Liquid-Plumr Pro-Strength Clog Remover, Urgent Clear that is made with two gels to remove the toughest clogs in just 7 minutes
Easy to use Urgent Clear clog destroyer is made with a triple action formula that pours through standing water to blast through clogs and clean pipes
First gel quickly fills the whole pipe, dissolving hair, soap scum build up, food and other organic matter while the second gel clears slow drains to restore a fast and clear flowing drain
Designed to blast away the toughest clogs in just 7 minutes, it works on hair, soap scum, and grease making it ideal to use in bathtubs, kitchen sinks and garbage disposals
This Liquid-Plumr Pro-Strength Urgent Clear triple action gel formula is safe for all septic systems and pipes, including PVC, plastic, copper and old pipes
Packaging May Vary
Reviews
QueenKleen
Removed The Clog in my Bathroom Sink and Tub
This product worked as it said it would when nothing else would. For 2 days prior I tried a bargain drain opener and it loosed the clog a little but the clog in my sink kept backing up in my tub but not all the way for me to remove the debris. Therefore, I tried Liquid Plumber Urgent Clear. As instructed, I poured the entire bottle down my sink drain and let it sit. About 45 minutes later, I poured a pot of boiling water down the drain and finally what was clogging the sink drain backed up fully into my tub for me to manually remove the debris using plastic gloves and disposable shopping bags to throw the contents in. It looked yucky but oh so good when I was able to run water down my sink drain and tub drain and it went down as normal. The water flushed to contents out of the pipe. It said to use tap water but I saw on line everyone else using boiling water and voila clog gone.
Yaemi
Super cheap and gets the job done
My shower drain was filled with hair and other black junk. It would fill up my tub (while showering) within minutes. Very gross. I brought this, followed the directions, and cleared my drain 100%
ladybug
works very well very fast
Had a bad clog and it worked fast
Mike
A cleaner for your kitchen and bathrooms.
It works well and I've used it for several years. It is cheaper than most and I wish someone had told me about it.
CrazyChihuahua
Works every time
When we visit our summer house in San Diego we always use this on any clogs. Works great though we do often let it sit while we clean other areas before flushing the drain. Result is always full clog to fully cleared.