Fresh Step Crystals, Premium Cat Litter, Scented, 8 lbs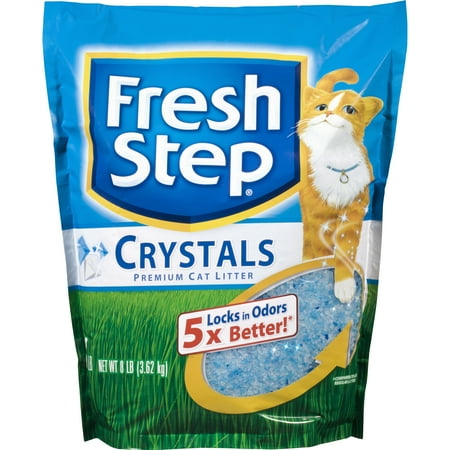 MSRP :

$15.5





Sale :

$14.48

Sold & shipped by Walmart
Product Description

Additional Information

Reviews
Product Description
Fresh Step Crystals, Premium Cat Litter is a long-lasting, lightweight premium cat litter with odor and moisture locking crystals.
Additional Information
One 8 pound bag of premium crystal scented cat litter
Crystal cat litter locks in odor and absorbs moisture on contact
Scented cat litter stops odor 5x better than regular clay litter
Lightweight cat litter crystals are easier to carry, scoop, and clean up
Small crystals are easy on cat's paws and minimize dust
Reviews
TomKat81
Crystals rock
Bass and Lily really love their new litter and have never had any issues with the crystals and love us so much for buying them the crystals. No dust, and Acey is a 2 year old growing larger by the day Maine coon. We love him. And Lilly is the most finicky female calico and simply has never questioned the crystals
Stacimi
Fresh Step Crystals
My dad got this for his cats and am I definitely going to start using this. I love regular, non clumping Fresh Step, but the crystals are even better! No dust and very little scent. They seem to make less of a mess with litter outside the box.
Moser
Nothing but the best for the boys and girls
My wife and I adopted or should I say they choose us, a litter of 6 kittens 2 years ago. They are all inside cats so to keep the smell down and the users happy it takes a special kind of litter. At first we went cheap but we would have "accidents" on occasion. The dust on the generic brand would end up downstairs in a 2 story house and really we were only saving a few cents per pound of litter. After the switch to Fresh Step the dust has been dramatically cut and we have not had one single "accident". I know they all are satisfied since we have four litter boxes and six cats and they share or use which ever box hasen't been used or used the least. Also with the store bought brand if we didn't scoop at least 3-4 times a day we were just asking for trouble and inviting them to find another place to go potty. Now we easily get by with a cleaning in the morning and one at night before bedtime. What makes me happy is the cats seem content enough not do dig to "China" and getting the liquids stuck on the bottom of the litter box. That saves a lot of cleaning of the boxes.
Lizeth Torres
I love this product!
This product I been using for the past 4 years and it doesn't leave smell, my cats love it!! I used to care for the tuxedo cat of my sis and he loves it too I call him my cat too and fight with my sister because I don't like her yelling or treating him back besides my four cats he's my baby too his name is Sylvester and I love him so much and well also my other sorry 5 cats not four I recently lost one but she is still with me with us me and my husband their names are: Sylvester, Hopey, Gordita, Negrita, Negrito and Tiger all of them besides my husband Evan belong to my family love them and we are very happy with this product!! [This review was collected as part of a promotion.]
adomenech
Excellent
My 2 cats are used to crystal litter because I used to use Scoop Away but stopped because it was too expensive. Now I use s regular litter box but with the Fresh Step Cystals and my cats and I couldn't be happier. [This review was collected as part of a promotion.]