Fresh Step Crystals, Premium Cat Litter, Scented, 8 lbs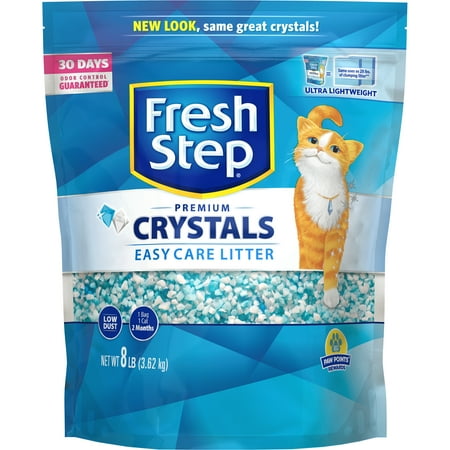 Sale :

$14.48

Sold & shipped by Walmart
Product Description

Additional Information

Reviews
Product Description
Fresh Step Crystals, Premium Cat Litter is a long-lasting, lightweight premium cat litter with odor and moisture locking crystals.
Additional Information
CRYSTAL CAT LITTER: Litter box maintenance made easier with odor locking litter crystals that absorb moisture
ODOR CONTROL CAT LITTER: These Fresh Step Crystals have 30 Days of Odor Control Guaranteed. Our longest lasting odor control (vs. other Fresh Step litter)
ULTRA LIGHTWEIGHT: 8lb bag of Crystals is the same number of uses as a 28lb bag of clumping cat litter
LOW DUST LITTER: For cleaner surfaces and clearer air, we developed a low dust formula
FRESH STEP CAT LITTER: Fight litter box odors with scented Fresh Step Crystals that's created with your cats health and happiness in mind
Packaging May Vary
Reviews
crimsonwish
Luv this Litter
I have had cats all my life and have tried and tested many litters. By far this is hands down the best at odor control and value. At this time I only have 1 cat and the bag lasts for a month. Normally I had been purchasing this at another store in town and was extremely upset to find it no longer on their shelves. Not sure why they stopped carrying it but it really ticked me off. Happy to find it at Walmart as I didn't want to have to switch my cat again. She took to this litter with no trouble and unless you see her you can't even tell we have a cat.
Jadesky
Love this for arthritic cats!
I love using this litter! I use it a bit differently than others because I mix 2-3 cups of it into my cedar pine litter and it is amazing at keeping things dry, non - smelling and the absorbtion is amazing! I have two cats, with one having arthritis in her back legs and has to sit instead of stand to use the bathroom. Below is how I use it and I hope it helps: I tried this litter on a whim, and it was amazing. The pine litter combined with about 3 cups of crystal litter has been amazing! 1. Smell after use: The litter has no urine smell whatsoever! the urine clumps beautifully and the crystals help to dry out both the urine and feces so fast that cleaning the litter box is a breeze. No issues. Also, this will sound gross, but when you clean it the litter is lighter, but I wanted to see how good this locks out the smell, and the clumps of feces and litter in the garbage bag (so much lighter in weight) smelled like fresh pine! Unbelievable! :) What's amazing is that I can sit right next to the litter box after it's used, and I smell absolutely nothing, nothing at all. I highly recommend this!
catladee16
BEST KITTY LITTER EVER!!!!
I adopted my 1st cat less than a month ago. The shelter recommended clumping cat litter, so that's what I bought and I spent 2 weeks of my life completely miserable. There was dust everywhere along with dusty paw prints and all I could smell was cat litter. Scooping the cat p*op was fine, but ur*ne was absolutely disgusting. It would be caked to the bottom of the litter box and wouldn't just come off with a tap...pieces would break off that would then get mixed in with the litter....so there was a weird odor in the apt. I was cleaning it twice a day, using special cleaning wipes in the litter box and even bought litter mats. I finally discovered Fresh Step crystals. My cat had no problem adjusting to the crystals and it now takes me less than 2 minutes to clean the litter box...probably only 10 seconds if he has only p*ed in it. You just have to stir the crystals if there is just ur*ne and scoop out the p*op. This is the only kind of kitty litter I will ever buy and use. There is no more odor in our apt and if we didn't have a cat tower, food bowls out etc then you wouldn't be able to tell that we had a cat :)
colbyfromage
This is my favorite litter!
This has no smell until near the end of its life which is several weeks at least. I'm a person who hates litter boxes, but our last cat passed away from being outside so we have kept our Monty inside for his whole life. He's such a voracious litter user that I ended up using a large storage box with the lid taken off put in between the washer and dryer so he doesn't kick up litter everywhere, so it is left open and we could smell it if this litter didn't absorb the odor so well. There is also very little tracking. It's not a clumping litter, it just dries up the poops and I scoop them out, then absorbs the urine until it can't anymore. At that point I change it, about once a month. It's the only thing I have on Amazon subscription because it's like clockwork when I have to change it once a month.
Shade
We love these crystals!
We have our kitten living with us in a small RV. Smelling like kitty litter was a Major No No for me but our little ones were so excited to have a pet. I tried out the crystals and fell in love! They are easy to clean and last for forever! And the best part is NO SMELL!!! We were in shock! The only time we smell is for a few after she's done her business and when the crystals are at the "end of their life". Definitely worth it! [This review was collected as part of a promotion.]